Eachine Turbine QX70 in-depth review
As I said in one of my recent reviews, during cold winter days I prefer smaller FPV drones like this Eachine QX70. Adopting ducted propellers they are totally "harmless" for indoor practice. Even my curios cat is safe with them :)
This "ducted" madness started with the Tiny Whoop, whose biggest downside was the high price. Later, manufacturers like Eachine tried to offer under the same coat much cheaper products.
I have just read a review of the Eachine QX70 where the author was disappointed by this model. He claimed that this Turbine QX70 has only 2 minutes of flight autonomy. If it's true, the owners will need more than one spare battery in order to enjoy it.
Like other Eachine FPV drones, this QX70 comes with 3 variants of RX (FlySky, FrSky, and ). Because I own two FS-i6 transmitters with whom I'm very familiarized I opted for FlySky one. The receiver is integrated into the flight controller board, so no protocol switch.
Eachine QX70 quadcopter review
I received this mini FPV quad together with the FatBee FB90 about two weeks ago from Banggood in order to make an honest impartial review. Thanks again for their professional attitude and continuous support.
Inside the box, besides the tiny QX70, I found a complete set of spare propellers, USB charging cable, USB to FC cable, propeller removing tool, and a detailed user guide (English). No spare battery or spare motors included like we were accustomed to similar products from Eachine.
Eachine Turbine QX70 features and specs
Ducted propellers (Industrix design);
F3 Evo brushed flight controller with CleanFlight;
Integrated RX module (DSM2/DSMX, FlySky or FrsKy);
Multiple flight modes (Angle, Horizon and Rate/Acro);
5.8G VTX FPV camera;
8520 coreless (brushed) motors with connectors;
40mm 4-blade propellers;
MicroLOSI battery connector (recommended 1s 600 mAh);
Status LED strip;
Eachine QX70 review – At a glance
In order to fit into the box, the AIO FPV camera comes soldered but not mounted. The motors come with connectors that allow easy soldering free replacement.
Excepting the camera, everything is yellow: frame, propellers, battery holder even the camera mount. On top of the camera is an omnidirectional clover antenna which I'm not sure how many crashes will survive…
The 600 mA battery comes loaded. Firstly I thought the vertical orientation of the battery would give more stability but later I decided it is a big cons.
As I previously mentioned, the RX module is integrated into the flight controller. A tiny wire serves as RX antenna.
Instead of a more generic micro USB port, the FC features a 4pin connector (for fine-tune and firmware upgrade), so keep the included dedicated cable in a safe place. Buzzer pins are present on the FC but nothing connected.
Thanks to the very bright tail light, the Eachine QX70 Turbine is very visible in low light conditions. The four RGB LEDs are pre-configured and indicate when the motors are armed/disarmed, turning left/right or backward. Through the CleanFlight APP you can customize them as you wish.
Eachine QX70 Review – Camera
Apparently, the QX70 adopts the same 520TVL camera as its "bigger" brother, the FB90. The advertised output power of the integrated 48CH 5.8G VTX is 25mW.
On top of the camera, there are two control buttons. By long pressing (for 2 seconds) the frontal one you can toggle between PAL and NTSC video standards. The rear one allows changing the frequency group and channel number (long press for Band and short press for CH).
On the rear part, there are two rows of status SMD LEDs. While the bottom row has 8 LEDs and shows the selected channel, the upper row has 6 LEDs and shows the actual transmission band.
Although the QX70's camera is one of the smallest VTX cameras that I had in my hand (sizes only 14 x 12 x 5 mm), it offers good light handling and nice vivid colors. The FPV range is also quite good for such a small drone. I received a good signal through two thick brick walls.
Eachine QX70 Review – First setup. Binding with RC
Thanks to the "Bind" button, pairing the QX70 with your transmitter is safer (eliminating accidental short-circuits) like in the case of Eachine QX95.
Following the instructions from the QX70 user manual anyone can easily pair the drone with their remote controller in just a few minutes.
After you are done with the binding process you need to assign the aux channels for motor arm/disarm and for flight mode switch.
In order to review the failsafe settings and flight modes, you need to install CleanFlight utility.
Eachine QX70 Turbine Review – First usage & Test
Based on my experience with the much larger X5C-1, which has about 5-7 minutes flight time and it is powered by a similar 600 mAh battery like this tiny QX70, I would have expected to fly it till I get bored. But NO!, indoor, after only two minutes, the Eachine QX70 started to lose altitude and wobble. I tested it with two different fully charged batteries, the results were the same.
Although on the box of the drone it is specified: "Micro FPV Racing drone", I find the QX70 very slow. Absolutely it doesn't have the speed of the FB90 or even the QX90.
Outdoor, it definitely has no fun. Flight time is about 1 minute. On the slightest breeze, the large propeller protectors and vertically installed battery acts as a sail.
I read that replacing the stock propellers with Hubsan 3-leaf propellers can be improved both flight time and flight performance. I already ordered 4 sets of them, hopefully, they will worth it.
Price–performance ratio

Build quality

Camera & FPV

Flight performance

Flight time
Eachine QX70 review - Verdict
Although at the beginning I had great expectation from this QX70, I was totally disappointed in terms of flight time and flight performance. Too shame, the F3 is a nice and versatile flight controller.
The tiny FPV camera performed surprisingly well, in image quality and FPV range.
In case after reading my review you are still interested to purchase this QX70, you should know that can be found here with 10% off for $61.99 (with FlySky receiver and free shipping). Spare batteries are available beginning with $4.5.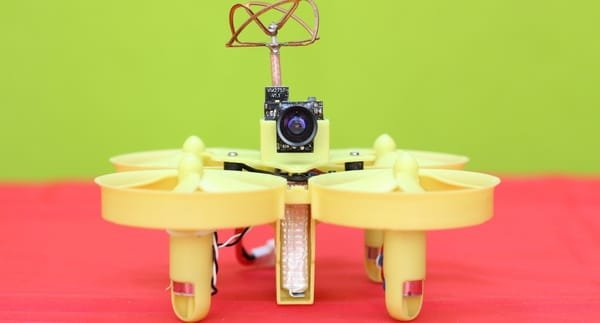 The good
Versatile flight controller with integrated RX module;
Safe for indoor flights;
Bind push-button;
Motors with connectors;
Spare parts availability.
The bad
Underpowered;
No wind resistance.
The ugly