Eachine Fatbee FB90 review with pros and cons
Lately, due to unfavorable weather for outdoor flights, I started to play indoor with my micro FPV drones. Luckily this month I got another 3 models for review including this Eachine Fatbee FB90. Honestly, among all the micro FPV quads, FB90 has a much friendly design.
Unlike most of the mini brushed FPV drones which are powered by 1s batteries, the Fatbee FB90 is powered by 2cell Li-Po batteries (7.4v). Usually higher voltage means faster motors (RPMs), more power but also much more noise. Hopefully, Eachine used adequate motors and they will not burn out after few flights.
Following the success of the TinyWhoop, Eachine announced many FPV quadcopters with ducted fan design. In order to make this approach even more attractive, FB90 aka FatBee comes with a nice bee look. BTW, in my opinion, the bee alike canopy not just looks good but also protects the VTX camera and the flight controller during crashes.
Eachine FB90 features and specs
Carbon fiber airframe (90mm wheelbase);
Protective nylon canopy;
Ducted fan design;
SP Racing Evo brushed flight controller;
Cleanflight ready and Betaflight compatible;
Multiple flight modes;
3 variants of RX (PPM, SBus or DSM/DSM2/DSMX);
8520 brushed motors (2s);
520TVL HD CMOS 1/4″ camera with integrated 5.8G 25mW VTX;
Four-blade propellers;
RGB status LED lights;
About 5 minutes of flight time.
Eachine Fatbee FB90 quadcopter review
Although, I have read this FatBee it's too fragile and noisy I was happy to accept Banggood's offer to review it. My 7 years old son saw this model on YouTube and he liked it instantly for its design so he wanted one for himself. He also asked me to give him one of my drone backpack in order to keep his toys safely. I think we have a new RC addicted in the family :D
I received the package after about 6 weeks after we agreed on the Eachine FB90 review. Damn long time, my son asked me almost every week whether we have to wait more to receive it.
Surely, the FB90 package is very rich. I found inside the box, besides the yellow "Fatbee" with FPV camera, the following:
2 pieces of 7.4v 400mAh Li-Po batteries (2s);
USB charging cable;
2 pieces of spare motors (CW and CCW);
1 set of four-blade spare propellers (yellow ones);
Blade removing tool;
Self-adhesive Velcro tapes;
Detailed user manual.
Thanks to the yellow/black canopy, the FB90 looks more like an adorable bee than some random TinyWhoop clone. The canopy is very lightweight (less than 1g) so will not affect the overall weight.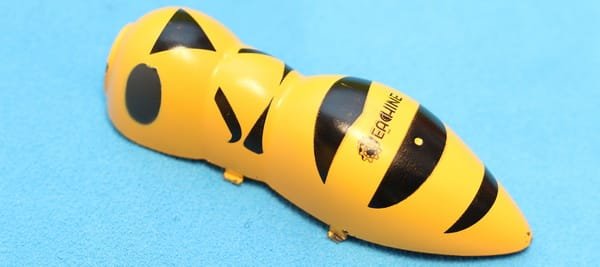 Instead of compound eyes – hundreds of single eyes (like real bees have), the Eachine FB90 features two RGB status LEDs  (one on each side). The LEDs are configurable through the CleanFlight APP.
In order to allow great impact durability, the 90mm sized (wheelbase) frame is made from carbon fiber. The FPV camera comes preinstalled on front of the frame.
Compared to other micro FPV drones which have two separate boards (flight controller and receiver), the FB90 has one single mainboard. Practically the RX module is integrated into the SPF3 flight controller.  This 2in1 concept reduces the number of wires and the overall weight but is also limiting the possibility to switch to another TX protocol.
Motors are connected to the flight controller through connectors, which allows easy and soldering free motor replacement. The battery can be attached under the belly of the FatBee using the included Velcro tapes.
The propeller protectors are made from some very thin plastic and they seem fragile as the wings of a bee. BTW, they are also ridiculously expensive, one set costs $4.25. Big cons!
Eachine FB90 review – Camera / FPV system
The 520TVL FPV camera weighs about 4g and sizes 14 x 12 x 5 mm. The specified output power of the integrated 48CH 5.8G TX is 25mW.
On top of the camera, there are two control buttons. While the frontal one allows switching between PAL and NTSC video standards, the rear one allows changing the transmission band and channel.
On the rear part, there are two rows of status SMD LEDs. The upper row has 6 LEDs and shows the actual transmission band. The bottom row has 8 LEDs and shows the selected channel.
Although the FB90's camera is one of the smallest AIO cameras that I had in my hand, it offers good light handling and nice vivid colors. It looks like size does not always matter :D
The FPV range is also quite good for such a small bird. I received good signal about 70 meters far from me (perfect for proximity park flying).
Binding the Eachine FB90 with the FS-i6 transmitter
As I previously mentioned, you can opt for 3 different RX variants (8CH S-Bus FrSky, 6CH PPM FlySky AFHDS, and 6CH DSM2 Spektrum). The RX module is integrated and can not be replaced.
Thanks to the detailed user manual, even if you are new in the field, you will manage to bind the Eachine FB90 with the transmitter in no time. You just need to follow these 3 steps (for FS-i6S TX):
Go to "RX Setup" on the transmitter and set "RX Setup" to "AFHDS Mode", then save by long-pressing the "Cancel" button;
Switch ON the transmitter while you are pressing the "Bind" button;
Connect the flight battery while you short-circuit the bind pins with a screwdriver. When the bind LED (the blue one) turns eternal ON, you are done.
I assigned on my FS-I6 transmitter CH5/Aux1 to "SWA" (motor arm/disarm) and CH6/Aux2 to SWC (flight mode switch).
Eachine FB90 review – First usage & Test
Immediately after I finished the binding my son wanted to test the Eachine Fatbee FB90. After I armed the motors the quad started to rise with full throttle hitting the ceiling. Our first 2 seconds of flight ended with two broken protectors and one broken propeller :(. Second try – same, on slight movement of the throttle stick the motors started to spin with full throttle.
In order to see what may be the problem I connected the Eachine FB90 to my PC and I run the CleanFlight APP. I calibrated the accelerometer and I reviewed the CH assignment.
Third attempt – finally the drone started to respond properly to my controls. It was damn noisy compared to my Eachine QX95. I read somewhere that both flight performance and flight time can be improved by using 3-leaf propellers. This mode will probably reduce also the noise.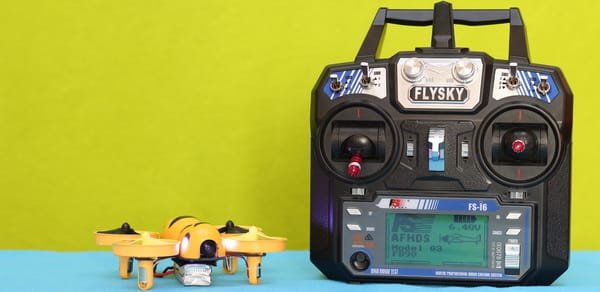 I will update this section with the flight video when I receive the new props and blade protectors.
Price–performance ratio

Build quality

Camera

Flight performance

Flight time
Eachine Fatbee FB90 review - Final words
Excepting the extremely fragile blade protectors and annoying propellers which fly off easily I was pleased by this Eachine FatBee FB90. I'm planning to eliminate these inconveniences by cuting down the inductrix protection and adding better 3-leaf propellers.
Thanks to the 2s Li-Po battery the FB90 is a fast and agile little bee. The VTX camera offers enjoyable first person view flights.
If you like the nice bee design, this mini FB90 quad can be found here for $68.99 ~ 72.99 (the price difference comes from the RX version). I recommend additionally drop into your shopping chart at least one set of propeller protectors.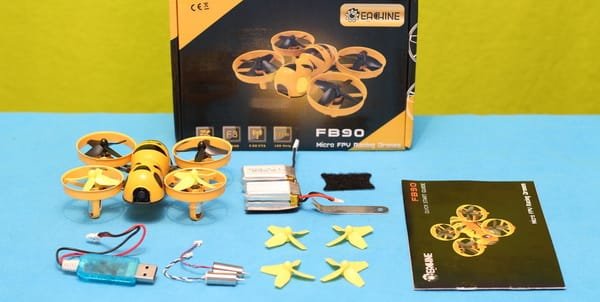 What I liked
Nice design;
F3 brushed flight controller with CleanFlight (BetaFlight compatibility);
Multiple RX/TX options;
Much punch compared to 1s platforms;
Motors are equipped with connectors (easy replacement);
Included spare motors and spare battery;
Spare parts availability.
What I didn't like
Extremely fragile propeller protectors (thin plastic);
Propellers can pop off too easily;
Noisy;
Too heavy;
Bind pins instead of push-button.