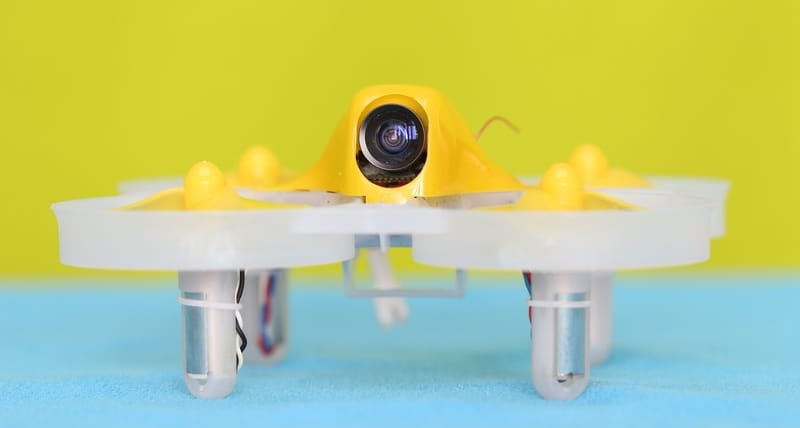 Till I get the genuine one, I thought to review the KingKong Tiny 7. As you can see in the image above, it is a very good replica of the popular Inductrix FPV.
The ducted propeller design proved to be not just cool but also very safe. When flying indoor or close to people, accidents are almost inevitable. Due to its large blade protectors the KingKong Tiny7 can't produce any major damages.
Currently, the King Kong Tiny 7 is sold in two versions, "Basic" and "Advanced". The main difference is the content of the package. The "Advanced" comes with 4 sets of propellers, 4 cockpits (white, yellow, pink and red), 5 batteries and 5 way charger. Both variants can be ordered with one of the following radio receivers: DSM2, FASST, FlySky or FrSky.
KingKong TiNY7 quadcopter review with pros and cons
I happily accepted GeekBuying offer to review the KingKong Tiny7 because I was curious to test a TW clone with BetaFlight software. I read that it fits better for this design than CleanFlight.
Thanks to SF Express, the package arrived fast and smooth. No paperwork or custom fees.
I hoped to get the "Advanced" edition, but opening the package I found out that is only the "Basic" (aircraft, canopy, battery and charger). FlySky radio receiver included and glued on top of the flight controller.
Features and specs
Ducted propellers and Protective canopy;
Tri-blade propeller;
Multiple color options (White, Pink, Yellow and Red);
Versatile F3 flight controller with integrated 25mW 16CH VTX;
BetaFlight firmware;
Multiple flight modes (Angle, Horizon and Acro);
Multiple radio options (AC800/FrSky, FS PPM/FlySKy, DSM2 and FM800/Futaba);
800TVL camera;
500mAh 30C flight battery;
Up to 5 minutes of play time.
First impressions
Compared to the Eachine QX70, the Tiny 7 has much better built quality. As I previously mentioned, the FlySKY RX is wired and glued on the top of the FC.
Three-blade propellers (all yellow). No buzzer nor status LED bar.
In order to allow easy motor replacement, they come with connectors.
The 25mW, 16CH, 5.8G VTX is integrated into Micro F3 flight controller, no soldering needed.
All the electronic parts are well protected by the nylon canopy. Thanks to the micro USB port you will be able to fine tune the flight controller's settings. BetaFlight Configurator allows not just to change the PID values but also to assign TX AUX channels.
The nylon Whoop frame is reinforced and looks very solid. In my opinion, even if it is not made by carbon fiber, I'm sure it will survive to small crashes without any problem.
The 500mAh battery can be recharged using the included bulky USB charger (no case just PCB). The charger has two connectors and a micro switch for current adjustment (200mAh or 500mAh). Note: The Tiny7 can be powered only with 1s LI-PO's.
Camera / FPV system
The TiNY7's camera measures 12 x 12 x 13 millimeters and weights only few grams. The camera is linked to the FC through 3 wires (power and video signal).
A 31mm long coper wire (not shielded) serves as 5.8G antenna.
Using the "Freq" micro push button you can switch between channels.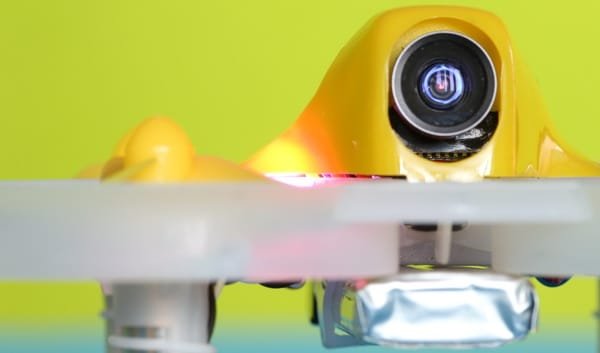 The tiny camera offers pretty good quality and the range is just perfect for proximity park flying. Unfortunately, no OSD.
Binding the KingKong TiNY 7 with FlySky FS-i6 transmitter
Although the included "user manual" does not mention anything about pairing the KingKong TiNY 7 with the transmitter, the process is very simple and can be done in just few minutes.
Firstly, power ON the FS-i6 transmitter while you push and hold the "Bind" button. Next step is to power ON the quad while you push the RX's bind button.
After you are done with the binding process you need to assign the aux channels for motor arm/disarm and for flight mode switch. I assigned on my FS-i6 RC "SWA" for motor arm/disarm and "SWC" for flight mode switch.
Note: Every radio brand has its own binding steps.
Flight performance
Give it some throttle, I noticed that it is much lauder than the Cheerson CX-17, but somehow is a steady and pleasant noise. Yes, it is also much faster than toy drones.
By default you can't flip it. The angle of inclination is set approximately to 45 degrees. Through BetaFlight Configurator you can add Acro mode (recommended only for experienced pilots).
The average flight time is about 4 minutes. Not bad but I will need couple of spare batteries.
After few crashes it still looks like new.
Next week I'm planning to do some FPV tests using my Walkera Goggles 4 and I will come back with more impressions.
Price–performance ratio

Build quality

Camera & FPV

Flight performance

Flight time
Worth to buy it?
Anyone looking to move from toy drones to something more versatile, the KingKong TiNY7 is a great choice. For extra $21, the "Advanced" package includes 5 batteries allowing more practice time.
I liked the excellent built quality. The reinforced frame seems to be very durable. Both image quality and transmission range are reasonable.
If you don't want to invest $200 in the genuine TW, you can grab the KingKong Tiny7 from here. There you can also find the KINGKONG Tiny 6 which has about the same features in a more compact size.
What I liked
Nice design with protective canopy;
Reinforced frame;
720 brushed motors with connectors;
Easy to replace battery;
BetaFlight firmware;
Easy binding with TX.
What I didn't liked
No spare motors included;
NO OSD.