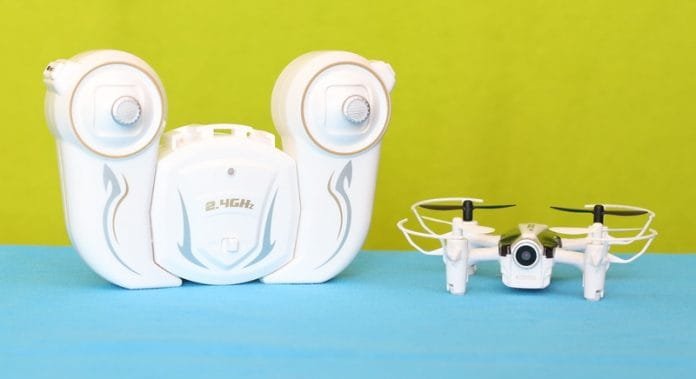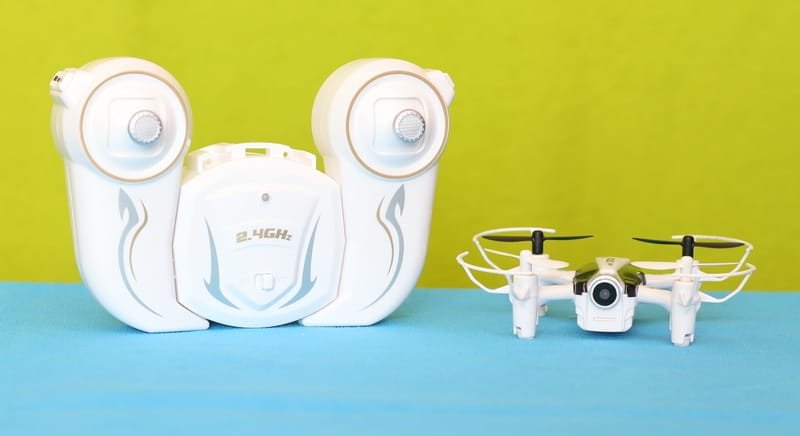 Testing and evaluating the Cheerson CX-17 mini Wi-Fi FPV drone
Went for a walk, recently, in the nearest forest, excited to enjoy some fresh spring air and beautiful flowering trees. In one pocket I had my smartphone. In another, I had a mini-quadcopter, the new Cheerson CX-17.
I like these small drones because you can take them everywhere with you – to the park or even to the office. You can play with them outdoor as well as indoor during raining days.
Lately, I reviewed plenty of small quads like this CX-17 Cricket that claimed to be "Selfie drones". But frankly, because of the poor image quality, none could be used as personal flying camera.
Cheerson CX-17 highlights
Compact size with integrated propeller protectors;
Extendable remote controller with phone holder;
Altitude-hold;
Headless flight mode;
Hand launching;
Multiple control modes (physical RC, virtual sticks and G-sensor);
Wi-Fi real-time image transmission.
The CX-17 was announced in 4 different glossy colors: green, blue, red and black, so every member of the family can pick one :)
Cheerson CX-17 review with pros and cons
About two weeks ago I was contacted by GeekBuying if I would be interested to review the FQ17W aka Eachine E55 and this CX-17. As my son loves to play with drones that fit in his palm I happily accepted their offer.
The Cheerson Cricket comes in a nice stylish box with two transparent windows (one for the aircraft and one for RC).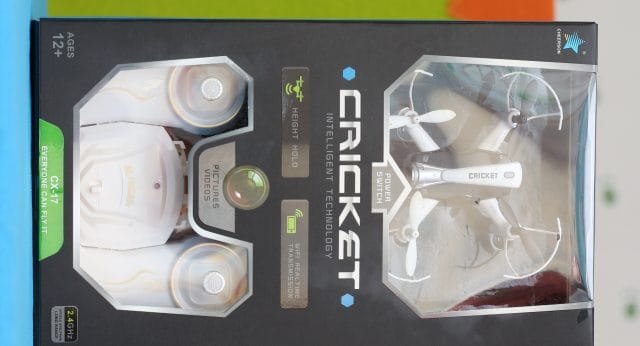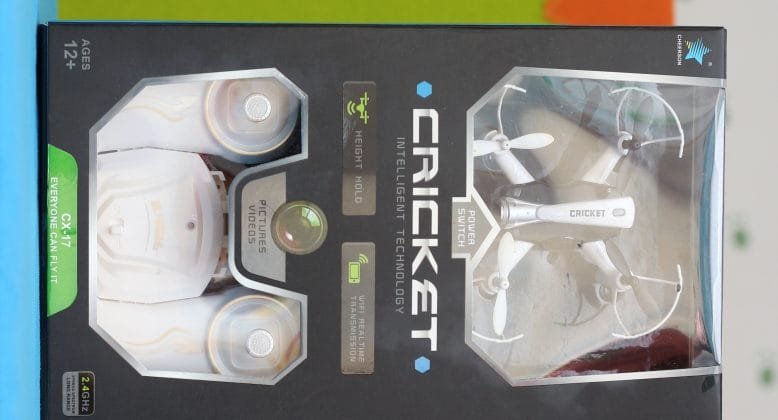 Besides the small aircraft and its expandable transmitter I found inside the box: phone holder, USB charging cable one set of spare propellers and user manual (A4 printed).
First impressions
It comes ready to fly (RTH) with everything assembled. You need just to charge the battery and you are ready for some fun.
Although the Cheerson CX-17 features headless flight mode, it has propellers of different colors (white on front and black on rear).
The tiny drone measures 116 x 112 x 34 millimeters and weights about 38 grams (including battery).
A short wire comes out in the back and serves as 2.4G radio antenna.
According to the specs, the 400 mAh clip-on battery allows about 6-7 minutes of play time. This is about double compared to its little brother.
During night flights you will be guided by 3 LEDs (two blue in front and one red in the back). Unfortunely, the LEDs are located on the top of the aircraft and they are not too visible.
Camera and WiFi FPV
The 0.3MP camera is integrated and does not allow any angle adjustment.
No memory slot, the captured files are stored on the smartphone internal memory (CX_17WIFI folder).
While photo resolution is 640×480 pixels, video resolution is only 640×360 :(
On original resolution the videos are enjoyable but switching to full screen they look like were recorded 30 years ago with the cheapest camcorder.
FPV range is pretty good but with significant latency.
Transmitter / Remote controller
The included remote controller is very similar with the one that comes with the Cheerson CX-10WD. It also comes without any trimming buttons.
Besides the two control sticks (both centered in the middle) there are two shoulder buttons. The left one allows to switch between controller modes (mode 1 and mode 2) respectively the right one controls automatic take off and automatic landing.
By gentle pressing the left stick as a button, you can toggle between speed rates (30%, 60% and 100%). By pressing in the same way the right control stick, can be activated the 3D flip mode.
The biggest trick of the transmitter is the option to slide the part containing the control sticks in order to make it larger and this way more comfortable for adults.
If the aircraft starts to fly abnormally you can try to re-calibrate the accelerometer by moving both sticks to the lowest right position.
The package includes a phone holder that can be easily attached on the top of the remote controller.
CX-17WiFi APP
The Cheerson CX-17 Cricket features multiple control modes. It can be controlled with physical transmitter or through your smartphone – using virtual sticks or gravity sensor.
In order to control the drone using your phone, you need to install the CX-17WIFI APP, this is available for both popular mobile OS (Android and iOS). Curiously, while the APP was published on February 19 2017, it has only few downloads.
The APP allows not just to control the aircraft movements but also to display the camera's live-video feed.
Thought the APP can be activated the "Selfie" mode, which is something new for me and I need to test it more detailed in order to see exactly what it does.
Test flight
This weekend I had couple of test flights with this new RC toy. The aircraft being very lightweight, it has a good impact resistance. After few crashes (on grass), no major damages only few scratches.
Although it is not the fastest micro quad that I ever tested, even at 30% speed rate behaves very well at moderate wind.
The altitude-hold works very precise. The motors are almost instantly stopped when the aircraft touches the ground.
Flips can be done easily in all directions. Kids will love this feature.
The CX-17 is much quiet compared to the Tiny Whoop clones that I personally reviewed.
Price-performance ratio

Camera / FPV

Transmitter

Flight performance
Verdict
Overall I was pleasantly surprised by this Cheerson mini drone.
Thanks to the altitude hold feature even first-time pilots can learn to control this multirotor in no time.
As "standard" for cheap mini drones, the image quality is where the CX-17 Cricket fails.
Those who are still looking for a nice Easter gift should know that this micro FPV quad can be ordered with 44% discount and free shipping here.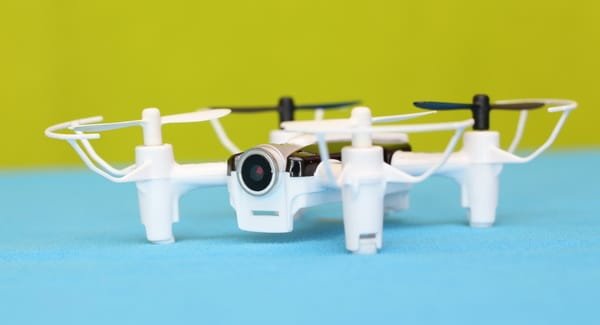 Pros
Lots of features (including Alt-hold);
Nice extendable transmitter;
Power switch;
Good flight play time;
Decent wind resistance.
Cons
Video/Photo function works only with mobile device;
Poor image quality;
Lack of spare parts.