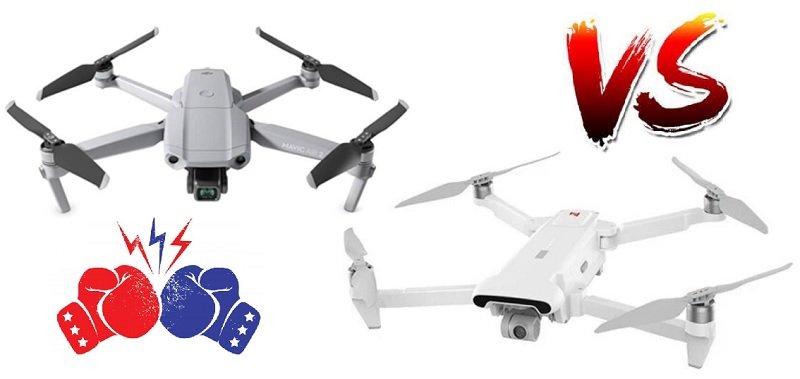 Both, Mavic Air 2 and FiMI X8 SE 2020 are relatively new drones, revealed this year. Featuring compact size with foldable arms, they are travel-friendly flying cameras. While the Air 2 weights 570 grams, the X8 SE 2020 765 grams. Xiaomi's drone is not just 200 grams heavier, but it's also a bit larger compared to its DJI contender.
In the last few weeks, I had the luck to play a lot with these two drones. My recently published in-depth Mavic Air 2 review includes battery life and flight ranges tests. I concluded that DJI's official specs are close to its real-world performance. In terms of no-fly zones (geofence), the FIMI X8SE 2020 was less restrictive compared to the Air 2. I was able to take-off and fly in zones where I couldn't even arm the Mavic's motors.
While both, features an active tracking system, only the Mavic Air 2 has an advanced 3 direction (front, rear, and bottom) collision avoidance system which allows it to track you even in the forest.
Mavic Air 2 vs FiMI X8 SE 2020: In-depth comparison guide
In the table below, I compared the most important specs of both 4K drones. I highlighted with red were the Mavic Air 2 shines and with green were the FiMI X8 2020 excels.
DJI Mavic Air 2
Xiaomi FIMI X8 SE 2020
Size

Folded: 180 × 97 × 74 mm




Unfolded: 183 × 253 × 77 mm

Folded: 204 x 106 x 73 mm
Unfolded: 287 x 247 x 96 mm
Weight

570 grams

765 grams
Camera

4K@60fps or 1080p@240fps

4K@30fps or 1080p@90fps
Image size

1/2″ CMOS

1/2.26″ CMOS
Max bit rate

120Mbps

100Mbps
Photo mode

12MP and 48 MP

12 MP
8K Hyperlapse

Yes

No
Gimbal
3-axis
3-axis
FPV
1080P
720P/1080P
Internal storage

Yes, 8GB

NO
Range

10 km (FCC)

or 6 km (CE)
8Km
Lights

Motor + Belly

Motor
Intelligent flight modes
Dronie, Rocket, Circle, Helix, Boomerang, and Asteroid
POI flight, Orbit and Drone
Active tracking
Yes
Yes
Obstacle avoidance

Yes (3 direction)

No
Geofence
Yes
No
Max flight speed

19 m/s (S Mode)


12 m/s (N Mode)
5 m/s (T Mode)
18 m/s
Wind resistance
≤37.8 kph

≤50 kph

Remote controller
Standard, NO Screen
Standard, NO Screen
Battery
3s/3500 mAh
3s/4500 mAh
Flight time
34 minutes

35 minutes

FAA registration
Yes
Yes
Regular price
$799 Order from DJI
$459 Buy from BG
Camera
The Mavic Air 2 features a powerful camera, capable of capturing great aerial footage. It can shoot 4K videos at 60 fps and to take 12 or 48-megapixel stills with a 1/2″ CMOS image sensor. In slow-motion mode can capture full HD (1920 x 1080) videos with 240 fps. Furthermore, it is capable to capture cool 8K Hyperlapse videos. Compared to these, the FIMI X8 SE 2020 has only a mediocre camera, with 4K@30fps video and 12mp photo resolutions.
In my opinion, Mavic Air 2's camera is powerful enough to appeal to both hobbyist and semi-professional users alike. For even better results, you can find a wide range of compatible optical filters (UV, ND, and CPL).
Air 2's QuickShot modes allow you to create easily super cool aerial footage. I liked most the 'Asteroid' mode, also know as TinyPlanet. Epic 360-degree panoramas have never been easier to do.
Flight range
Personally, I tested only Mavic Air 2's range. With the CE version, I got a stable signal from 5300 meters, so the advertised 6KM can be achieved for sure. In the US, FCC version can fly even further, DJI says that 10KM is the limit in an open field with low RF noise. On YouTube, I saw lots of FIMI X8 SE 2020 range tests, where it was able to fly far as 8500 meters from its pilot.
Bottom line
To finish off this comparison, it seems the Mavic Air 2 won this battle. It's superior over the FIMI X8 2020 in most aspects.
If you are marketing for a flagship-like drone with 34 minutes of flying time, 10 km (6.2 miles) range, 4K@60fps camera, and collision avoidance system, the Air 2 is the best in its price tag ($799).
On the other hand, in case you are on a tight budget, the Xiaomi X8 SE 2020 has probably the best battery life and wind resistance that you can get under $400.
Finally, if you are already a Mavic Air player and want to upgrade your old drone, the Air 2 would be a great choice. It has a lot of things you'd expect: extended flight time, longer control range better camera, upgraded obstacle avoidance, and quieter operation.