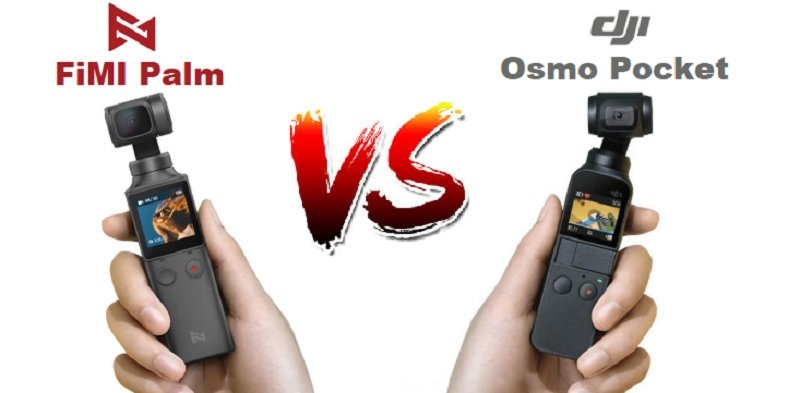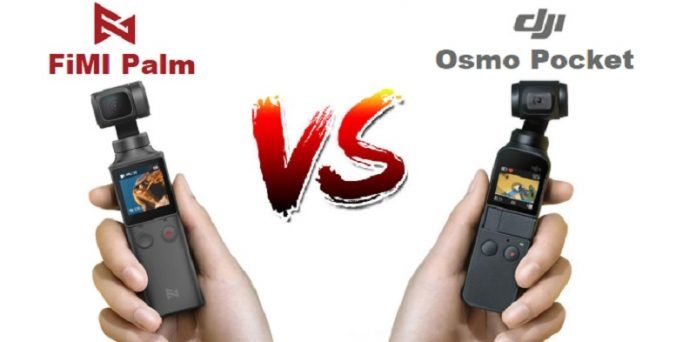 Till yesterday, the Osmo Pocket was a quite unique product on its market segment. There was no other handheld gimbal with similar specs and features. The just rumored Xiaomi FiMI Palm could be a good alternative for the Osmo Pocket, but only if Xiaomi will offer it for at least $100 less – especially that it has only 30fps at 4K.
If you look at the image above, you can see that these two handheld gimbals share similar form factor. While the DJI Osmo Pocket measures 36.9 × 28.6 x 121.9 mm and weights 116 grams, the Xiaomi FiMI Palm has 30.5 x 22.7 x 127 mm and 120 grams.
Sponosored AD
Biggest cons found during my Osmo Pocket review was the lack of native wireless connectivity. The FIMI Palm seems to solve this drawback by featuring built-in WiFi and Bluetooth. Furthermore, it has tripod mount and standard 3.5mm external microphone port.
DJI Osmo Pocket vs Xiaomi Fimi Palm: In-Depth Comparison Guide
In the table bellow I will try to compare the most important specs of both pocket gimbals. I highlighted with red were the Osmo Pocket excels and with green were the FiMI Palm shines. Note: I reserved a third column for another Osmo Pocket alternative which will be reveled next month.
Osmo Pocket
FiMI Palm
?
Size
122 x 37 x 29 mm
4.8 x 1.5 x 1.1″
127 x 31 x 23 mm
5 x 1.2 x 0.9″
N/A
Weight

116 g / 4.09 oz

120 g / 4.23 oz
N/A
Stabilization
3-axis mechanical
3-axis mechanical
N/A
Gimbal range
Pan: -230° – +50°
Tilt: -95° – +50°
Roll: -45° – +45°

Pan: -245° – +65°




Tilt: -105° – +105°




Roll: -90° – +90°

N/A
Gimbal modes
Follow, Tilt Locked and FPV
Follow, Pitch Lock, FPV and All Locked
N/A
Controls
Mode + Shutter buttons
5-way joystick + Shutter button
N/A
Display
1.08″ Touchscreen

1.22″ Touchscreen

N/A
Image sensor
12M – 1/2.3″ CMOS
12M – 1/2.3″ CMOS
N/A
LENS FOV
80°
128°
N/A
Max resolution

4K@60fps

4K@30fps
N/A
Max bit-rate
100 Mbps
100 Mbps
N/A
Audio
Built-in dual-microphone + external USB Type-C
Built-in dual-microphone + external 3.5mm
N/A
Active tracking
Yes
Yes
N/A
Creative modes
Panorama, Time-lapse, Motion-lapse and Hyper-lapse
Panorama, Time-lapse, Motion-lapse and Hyper-lapse, 8x slow-motion and 3x stabilized zoom
N/A
Battery
875 mAh

1000 mAh

N/A
Run time
140 minutes

240 minutes

N/A
Wireless connectivity
WiFi & Bluetooth with external accessory

Built-in WiFi & Bluetooth

N/A
USB port
Type-C
Type-C
N/A
Tripod mount
No

Yes

N/A
Price
$309 –

Order from DJI

$179.99 –

Order from GearBest

N/A
Bottom line
I hope I succeeded to give you a bit of an overview what's similar between Osmo Pocket and FiMI Palm and what's different. Unfortunately, for the moment I had the chance to test only the Osmo Pocket. As soon as I get the Palm for review I will add more thoughts.