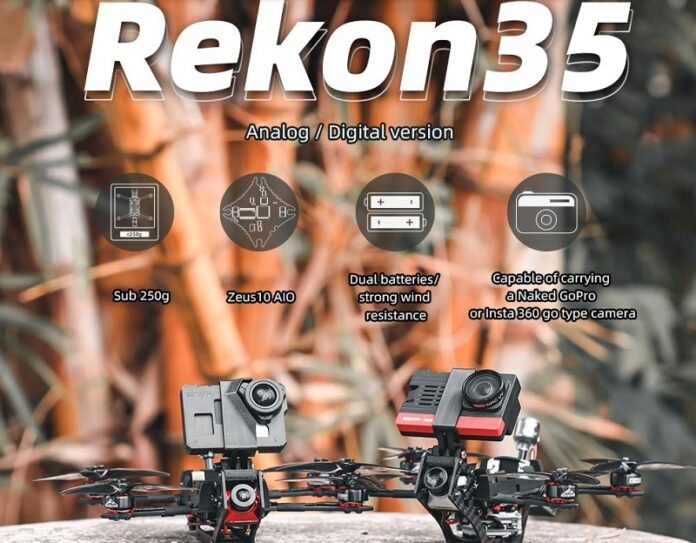 RekonFPV, HGLRC's long-range quadcopter subdivision just announced a new sub 250g drone powered by two 18650 LIION batterie. The Rekon35 has a similar design approach as the Eachine LR3 but instead to have one battery on top and another one at the bottom, both batteries are on the top. You can simply use cheap off-the-shelf 18650 batteries and the electronics are so reliable that in an emergency you can empty the Li-Ion batteries way below the recommended voltage without any impact on the FPV video feed and radio control link. The advertised flight time is around 13-15 minutes.
Rekon35 is available with analog and digital FPV systems. While the 5.8GHz analog Rekon35 has a Caddx Rate 2 camera and a Zeus Nano 350mW VTX, the HD digital edition has a Caddx Polar camera and Caddx Vista DVTX. Both variants are built around the same Zeus10 AIO flight controller.
Being equipped with powerful RekonFPV 1303.5 5500kV motors it can carry an Insta360 SMO 4K or Insta 360 GO 2 camera.
RekonFPV Rekon35 drone features and specs
Efficient and quiet sub 250g 3.5" platform with 13+ min flight time;
Analog and Digital FPV versions;
Fully long-range capable GPS and return to home functions;
Works with standard high-discharge 18650 LIION batteries (2s);
Powerful 1303.5 5500kV brushless motors + GEMFAN 3520 propellers;
Zeus Nano 350mW VTX + Caddx Rate 2 (Analog) or Caddx Polar + Caddx Vista;
Capable of carrying a Naked GoPro or Insta360 GO2 type camera.
Product photos