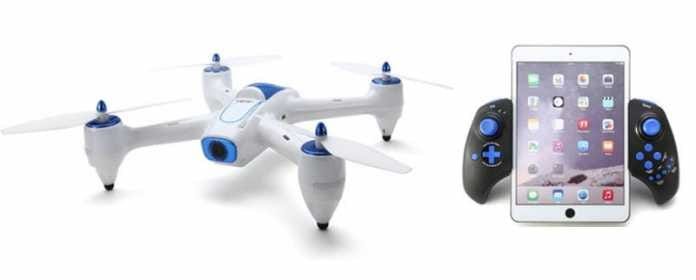 XBM-55 (aka T-Smart) quadcopter with altitude hold and one key take off/land
Certainly, WiFI FPV is one of the most handy first person view solution because it can easily be implemented and accepts as FPV display almost any mobile device. In order to be in trend, this XBM-55 T-Smart drone features a 720P WiFI FPV camera.
In my opinion, the designers of this XBM-55 were deeply inspired by those from Hubsan because it looks very similar with the H501S quadcopter.
The nice game controller style transmitter is extendable in order to allow the mounting of mobile devices of almost any sizes. Frankly, you will need a map to handle those bunch of buttons.
While the RC's left shoulder button allows to activate the 3D flip mode, the right one allows to switch between flight speed rates.
Thanks to the integrated barometric air-pressure sensor, the XBM-55 quadcopter is capable to keep its flight altitude very stable.
Powered by a 800mAh battery, the advertised play time is about 8 minutes, which in my opinion is actually not so bad. When the battery is near empty, the quadcopter will automatically land in order to prevent crashes.
XBM-55 drone features and specs
Altitude hold;
One key take off / land;
One key return to home (RTH);
Automatic land on low battery;
Multiple flight speed rates.
WiFi real-time video transmission;
720p camera for aerial videos;
About 8 minutes of flight time;
Up to 100 meters control range;
Up to 50 meters FPV range.
Included with the XBM-55 quad
Remote controller;
800 mAh Li-Po battery;
USB charging cable;
USB card reader;
1 set of spare propellers;
XBM-55 T-Smart user manual.
Updates
If you are interested on this nice drone, you can find more details here: XBM-55 review.