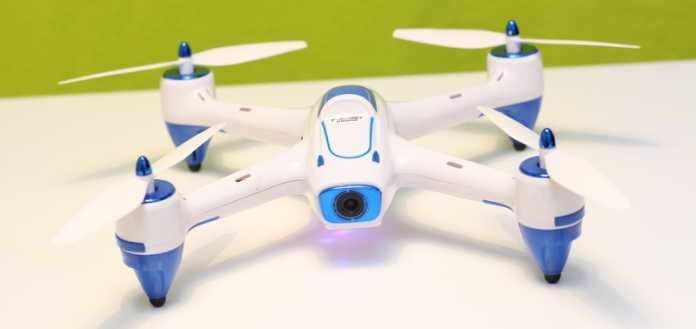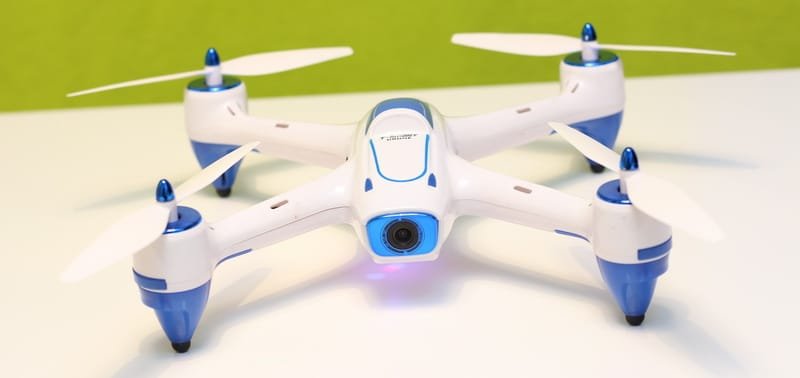 T-Smart XBM-55 drone with altitude hold and smartphone APP control
Yesterday, my wife came home with a package. I was not waiting for any quadcopter but out of boringness I imediately opened the box. Surprise! It was the T-Smart XBM-55. I was waiting to receive this drone for review for about two months and honestly I thought it was never sent or the package got lost so I completely took my mind of it….
At the time the XBM-55 quad was announced by XiaoBaiMa, features like altitude hold and smartphone APP control were totally new for such cheap RC toys. I am also impressed by the nice Hubsan alike design of this T-smart drone.
Later I found out that the manufacturer plans to release an upgraded, more powerful variant of the XBM55 which will be powered by 2s Li-Po batteries. Hopefully they will use appropriate brushless motors  (7.4V – 8.4V rated ones) otherwise they will burn out quickly.
XBM-55 quadcopter highlights
Altitude hold;
One key take-off/land;
Headless flight mode;
One key return to home (not GPS);
Path flight (follow finger / virtual waypoint mission – not tested);
Multiple flight speed rates (30%, 60% and 100%);
Triple control modes (physical RC, virtual sticks and gravity control through XMB-UFO APP);
WiFi real-time image transmission;
Micro USB charging port;
About 6-8 minutes of flight autonomy.
XBM-55 quadcopter review
Before I'm getting into details I should thank Alice from GeekBuying for their continous support through offering new interesting products.
The box of the X-Smart XBM-55 is very colorful and nicely designed. Inside, besides the quadcopter and its transmitter, I found the following: a complete set of spare propellers, flight battery, micro USB charging cable, USB card reader, screwdriver and user manual. Unfortunately the package does not include blade protectors and memory card.
XBM-55 review – First impression – Design and build quality
As you can see in the image above, both aircraft and transmitter have a nice design. The build quality looks a bit better than usual for such cheap RC toys. The design of the cockpit reminds me about a British fighter aircraft, called Supermarine Spitfire. The low-profile approach will prevent overturning even during hardest landings.
During night flights you will be guided by 6 LED lights. Green LEDs in the front and blue ones on the rear (one under each arm). Two white LEDs on front of the aircraft will additionally help the operator to determine the exact orientation of the drone.
The frontal HD camera is integrated and does not allow any angle adjustment. The micro SD card slot is located under the belly of the aircraft. Note: on the right side there is a second opening that looks just like a micro SD slot – don't try to insert anything there!
While the power button is located on the right side of the cockpit, on the opposite side you will find the micro USB charging port. A red LED will light when the charger cable is connected.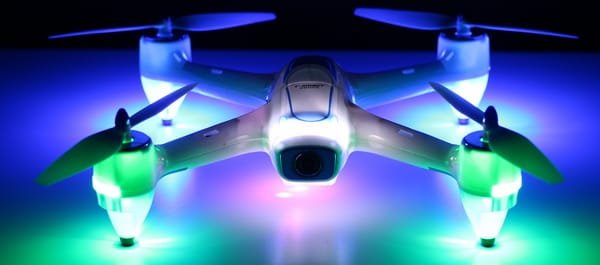 The 3.7V 800mAh battery pack can be loaded from the rear part of the aircraft. If you need spare batteries you can try to search for this code "DS 902351".
XBM-55 review – Camera & Wi-Fi FPV
According to the specs in the drone box, the XBM-55 can be purchased with two type of cameras. With HD 720P camera (as the one I received) or with a lower quality 0.3MP camera. As I previously mentioned, the camera is integrated so you can't upgrade from 0.3MP to 720P.
Thanks to the micro SD slot, you will be able to capture photos and videos without quality loss that are typical for records from Wi-Fi live video feed.
If the T-Smart quadcopter is connected to your mobile device through the XBM-UFO APP, the videos/photos can be remotely previewed and downloaded into your smartphone.
Two minutes of recorded video occupies about 51MB. While photos have resolution of 1280 x 720 pixels, the videos are recorded with resolution of 1280×738@25fps.
Regarding the camera's performance, I can say that no one should expect great  image quality from such cheap products even if they are advertised with slogans like "HD quality" or "Brilliant aerial videos". Anyway, I was positively surprised that the videos are sharper compared with those recorded by the more expensive Syma X8SW.
My biggest disappointment regarding the camera was the Wi-Fi FPV as it is not working properly. The live-video feed looks like it has been scrambled. I contacted the seller and they said the other reviewers did not experience this issue.
XBM-55 review – Remote controller & XBM-UFO APP
The XBM55 drone features multiple control modes. It can be controlled with the included transmitter or through your smartphone – using virtual sticks or gravity sensor.
The nice gamepad style remote controller is extensible in order to fit not just smartphones but also tablets. The RC is powered by 4 pierces of  AAA batteries which are loaded two-by-two on each side of the transmitter.
On the left side, bellow the throttle stick, is located the power button and a cross button. "Auto take-off" can be engaged using the "Up" key and "Auto landing" by using the "down" key.
The left side of the RC is a little more crowded. Under the direction stick are four trimming buttons and another 5 buttons for: Headless mode, One key return to home, Light On/Off, Photo/Video and Emergency stop.
While the left shoulder button allows to enable the 360 degree flip mode, the right one allows to toggle between speed rates (30%, 60% and 100% – full speed).
Although the XBM-UFO APP includes all the functionality of a transmitter, I recommend for newbies to begin to practice with the physical remote controller. BTW, using the APP I noticed some backwards flying.
Reading the XBM-55 user manual I found out that the APP offers some additional features like: Voice command, 3D view and Path Flight. I tested the voice control but it seems to be not implemented yet.
XBM-55 review – First usage / Test flight
Last weekend were just perfect winter days for test flights. Not too cold and not too windy.
Starting your flight is very easy, you just need to push the "Up" button under the throttle stick and XBM-55 will rise one meter above the ground.
Even at 30% speed rate is surprisingly agile. The altitude hold performs very well. At low wind gusts, the drone began to slightly shake but not very annoying.
The XiaoBaiMa XBM-55 is a quiet flyer for a brushed motor drone, which makes the aerial videos more enjoyable.
Unfortunately, the fun ended after 5-6 minutes and recharge takes almost 2 hours :(
Price–performance ratio

Design and build quality

Transmitter

Camera

WiFi FPV
T-Smart XBM-55 review - Verdict
Excepting the faulty WIFi FPV I can say that the T-Smart XBM-55 is a nicely designed drone with lots of features.
First time pilots will appreciate the "Emergency stop" feature. This will allow them to stop the motors instantly in case they lose the control over the aircraft or are about to hit something.
Thanks for your time spent on reading my
TSmart XBM55 review
. If I aroused your interest in buying this nice all-in-one drone, unfortunately you need to wait because currently is "out of stock". You can check the availability
here
. Hopefully after restocking will become available also spare parts like batteries and motors.
Pros
Cool LED light for night flights;
Lots of features;
Nice expandable gamepad style RC;
Silent brushless motors.
APP control is not the smoothest;
WiFi FPV not work correctly (at least for me);
No spare parts availability.