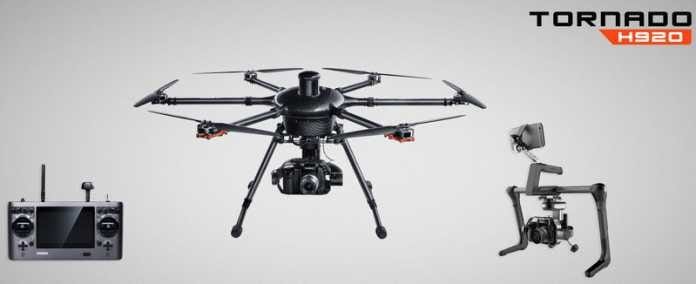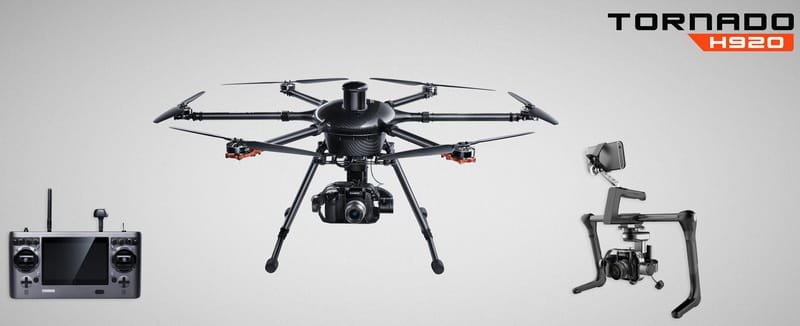 Yuneec Tornad o H920 Plus drone for unmatched aerial filming
After the HT520, Yuneec announced a more professional hexa-copter called Tornado H920 Plus. This new drone is suitable for industrial applications and professional aerial filming.
In order to allow easy transportation, the Yuneec H920 Plus features foldable arms. The landing gears are retractable, which is a must have for professional aerial videos.
The H920 Plus drone comes with the professional CGO4 camera with 3x optical zoom lens (14-42mm). If you need different focal length, the CG04 is compatible with other 3 Olympus M.Zuiko lenses (12mm F2.0, 45mm f1.8 and 14-42mm F3.5-5.6 EZ). You can opt to use instead of the CG04 camera the CGO3+ 4K camera which allows 360 degree rotation. Both cameras can operated either in Single Mode or Team Mode.
Like the Yuneec Q500 4K, the H920Plus also comes with a handheld camera grip. The ProAction Grip is a dual-grip ground handle that allows to use the CGO4 camera not just on the sky but also on the ground.
Yuneec H920 Plus highlights
Large six motor frame;
Foldable arms;
Retractable landing gears;
ST16 Pro Ground Station;
HD 720P downlink (real-time image transmission / FPV);
Intelligent flight modes like: Waypoints, Orbit Me, Point of Interest, Journey and Curve Cable Cam;
CGO4 camera with 4/3 CMOS sensor and 3x optical zoom (14-42mm);
Up to 4k@30FPS video recording with ultra-high bitrate (100 Mbps);
Compatible with CGO3+ 3-axis anti-vibration gimbal 4K UHD camera;
ProAction Grip for CGO4 camera;
6s 4000mAh 8C flight battery;
About 24 minutes of flight autonomy.
Powered by a 4000mAh (6 cell) battery, the advertised flight autonomy is about 24 minutes, which is a bit less than other professional drones.
Thanks to the professional ST16 Pro transmitter the control range of the Yuneec H920Plus is up to 2000 meters (in open field).
By default, the cruising altitude is limited to 122 meters (400 feat). This is a safety measurement and it is not recommended to be overridden.
Exclusive images with the Yuneec H920 Plus
[ngg_images source="galleries" container_ids="328″ display_type="photocrati-nextgen_basic_thumbnails" override_thumbnail_settings="0″ thumbnail_width="240″ thumbnail_height="160″ thumbnail_crop="1″ images_per_page="80″ number_of_columns="0″ ajax_pagination="0″ show_all_in_lightbox="0″ use_imagebrowser_effect="0″ show_slideshow_link="1″ slideshow_link_text="[Show slideshow]" order_by="sortorder" order_direction="ASC" returns="included" maximum_entity_count="500″]Image credit to Yuneec International.