When you spend more than 500 bucks for a drone, you expect to use it for more than just a couple of flights. My Zino Mini Pro crashed after 130 minutes of usage, more exactly after 20 flights with a total of 12101 meters flight distance. In this article, I will explain to you how the accident happened and how Hubsan customer service helped me (or not) to replace/repair the ZMP. I will also talk a bit about the 'HUBSAN CARE REFRESH' paid premium service.
When someone crashes his drone so soon after the purchase, the reaction of experienced pilots is that for sure is about a newbie mistake. He forgot to freshly charge the batteries, it was too cold, it was foggy, it was rainy, it lost orientation, he hit a bird or something else. In front of the manufacture, they also need to prove their 'guiltlessness'. Based on my experience, every manufacturer requests all kinds of logs from the mobile APP and drone's black box. They do not accept easily that a drone can crash for just no reason (other than the pilot's mistake).
In the last 7 years, since I started playing, testing, and reviewing drones I learned that what's in the air, in one form or other, has to touch the ground again. I had drones that crashed on the first flight due to motor failure. I had a drone that crashed flying in foggy conditions. Due to these unexpected errors, I avoid flying over urban areas, buildings, and especially people. Losing your drone is something fixable, but crashing into a luxury car or, even worse, into kids having fun on a playground, are totally different things. You are responsible for what your drone does, even if it's not your direct fault.
How did my Zino Mini Pro Crashed?
After I published my Zino MINI Pro review I decided to perform more tests regarding the obstacle avoidance system accuracy. The forest near my backyard was a perfect and safe field for the experiment. I did some attempts flying into tries, the system always stopped collision. I was about to finish my test and land when I got a 'USB cable is not connected message in the mobile APP and the Zino MINI stopped responding to my controls. In the next seconds, it started to gain altitude despite that I hold the throttle stick at the lowest position. In the video below you can see how suddenly the USB disconnected and shortly you can hear how desperately I'm trying to recover control over the aircraft.
I was only about few meters from the drone when started to rise till hit the crown of a tree and collapsed from a height of about 4-5 meters. Despite that crashed on soft ground (high grass), one arm and the gimbal mount broke and the body shell cracked. The battery inside the drone was also damaged -I could remove it only in pieces. In order to be light, the Zino Mini Pro is made from very thin and fragile plastic. My other drones would've survived from such a minor crash.
I think when I got the USB disconnection, the transmitter did a reboot or something like that and also disconnected from the drone initiating the fail-safe RTH. Without control over the drone, I could not cancel the operation and stop crashing into that tree. For me, it was clear that it was about a hardware failure.
Hubsan customer support and warranty service
I sent the first email to 'service@hubsan.com' on September 12, in which I included photos of my crashed Zino MINI, log files from the drone, and phone FPV footage. They answered back on the same day and they requested QR from the drone, and proof of order. I found these things useless to solve my issue because it was clearly about a Hubsan product which is on the market for only two months -so it should be warranty covered.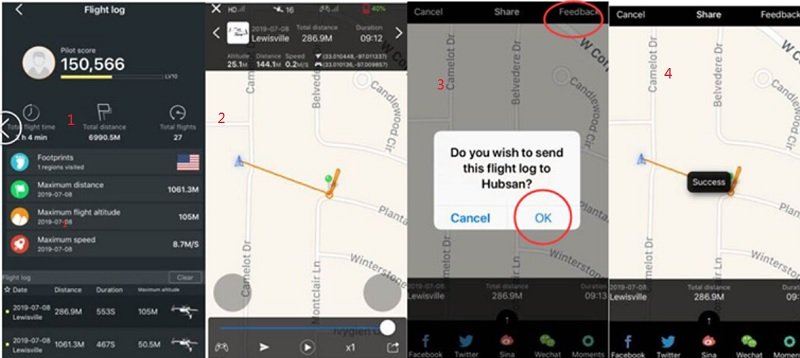 In their third email, they requested logs from the X-Hubsan 2 APP, another useless thing as the RC was disconnected from the phone at the time my Zino MINI crashed (so no data records from the flight controller included). The log files need to be sent from the APP following two easy steps (photo above). Two days later I got a message that they had not received the log files and I should try submitting them again. Firstly, I supposed that it was a temporary connection problem, but they constantly sustain that they haven't received the logs despite submitting them at least 5 times. I provide even screenshots of the process.
Twenty days later I still don't have any real sign from them that they want to replace or repair my drone. Their last email from September 30th contains this short message: 'Hello thank you, will ask an engineer to check it again, thanks'. It seems that their approach is to stall until the customer waives the warranty claims.
What is Hubsan Care Refresh? And how does it work?
I read that customers who ordered the Zino MINI Pro at the beginning receive for free 1 year of Hubsan Care Refresh service. I checked my drone's #SN and it was not registered in their system, of course… Anyway, the service should be activated within 48 hours.
The 'HUBSAN CARE REFRESH' subscription costs $59 for one year and covers water ingress, collisions, loss, and other accidents. The trick is that you will need to pay $249.00 for the replacement unit. Which is about the real price of the drone, taking into consideration that spare parts, bags, and remote controllers are not highly crashed.
Based on my bad experience with Hubsan, instead of paying another $308 (59+249) for a drone that can crash again for no reason, I would save my money and look for a DJI drone. Maybe they are a bit more expensive but I never had such issues with their products or customer service.
Home repair, sending to Zino service center or seller complain?
To be honest, I lost my hope that Hubsan will ever admit that it was a hardware failure and provide a free replacement for my Zino MINI Pro. I contacted RCGoing who sent me the drone, they were very kind and they offered me spare parts for home repair or they also offered me free repair in their service center if I send back the drone to China. I estimate that the shipping costs one way about $60 and at least 30-50 days till I can get back the drone. This week I was confirmed with COVID and I'm quarantined for two weeks in which I will have the time to take apart the ZMP and evaluate if I can repair it by myself.
One more thing, that has nothing to do with the crash, but with the quality of Hubsan's products. The included 4 channel battery charger lasted for 3 charges and stopped working for no reason.
October 8 Update:
Today I received another email from Hubsan customer support, they finally received my logs but: 'We have checked your log, but not find the crashed one, can you tell me which one is the crashed log? Can you tell me the time of it? So that we can check it?' I do not understand what's the purpose of the APP logs if the phone was disconnected from the remote controller at the time of the crash.
October 11 Update:
'dear, the crashed may have many reason to caused, from our first check, it not about the quality reason.
I am sorry to bring you the inconvenient about it'
October 11 Update:
I tried to share my Zino Mini crash story on the official Hubsan group, but despite I was respectful and honest they didn't approve it. Looks like they accept only 'positive' posts on the group.
October 15 Update:
'But as we know you are in the envronment full of the tree, it will influence the drone's performance, dear. And not all the drone are caused by this reason, it need to check excatly what it caused by.'
October 19 Update:
'Sorry for that your situation, but we can't guarantee the acident was caused by user's mistake. If your have hubsan care refresh, i suggest you can exchange one BNF drone, thanks.'
October 29 Update:
'I am sorry for your situation, but even you contact to our leader also the same conclusion.
Because we can't guarantee the accident was caused by user itself.'
2. 'As i have wrote before. It's was the environment influence caused the crashed.'
November 2 Update:
'You can send it back for repair if you don't want to ask for a replacement drone.'
To be continued…