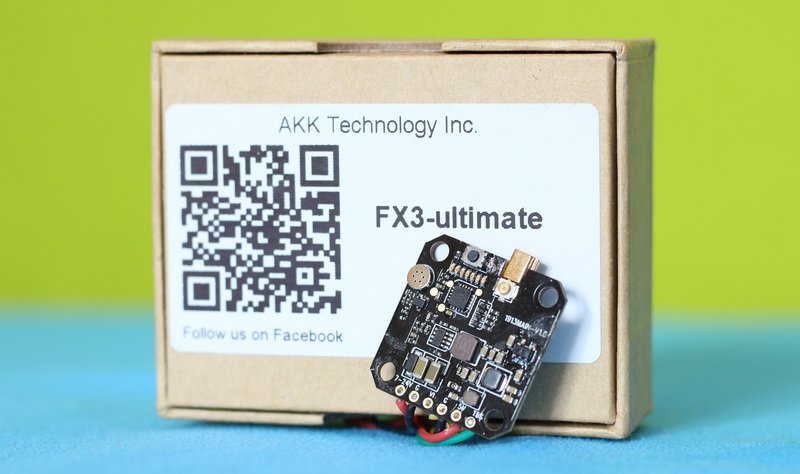 FX3 Ultimate is AKK's latest 5.8G video transmitter. Compared to the first generation FX3 VTX it has on-board microphone and different type of status indicator. Both versions features up to 600mW adjustable broadcast power.
Lately, AKK Technology became one of the most active player on the VTX market. In addition, they are coming up almost every month with new products at an amazing rate, They also make improvements of their existing models, see "Ultimate" editions. Besides VTXs, AKK also offers other drone accessories like FPV cameras, 5.8G antennas and flight controller.
AKK FX3 Ultimate review with pros & cons
Disclosure: I received this AKK FX3 Ultimate video transmitter as part of a product review collaboration with AKK Tech. Although the product was a gift, all thoughts in this review remain my own and I was in no way influenced by the sponsor.
I received the FX3 Ultimate two weeks ago together with the AKK Infinite DVR. Both transmitters come in a similar cardboard box.
Inside the box, besides the VTX, I found a MMCX antenna pigtail and a tiny user guide. While the first generation FX3 VTX had a 6 pin socket, the FX3 Ultimate comes with pre-soldered wires.
AKK FX3-Ultimate color coding (left to right)
DC input (7 – 26 v) – Red;
Ground – Black;
5V out for camera – Red;
Ground – Black;
Video In – Yellow;
Green – TBS.
Just like its predecessor, the FX3-Ultimate also has rectangular shape. The VTX measures 26 x 26 mm and weights about 4.6 grams. It can be stackable with other boards (20 by 20 mm screw distance). The VTX is formed by two boards soldered together. RF module is not shielded, which might occur possible interference issue.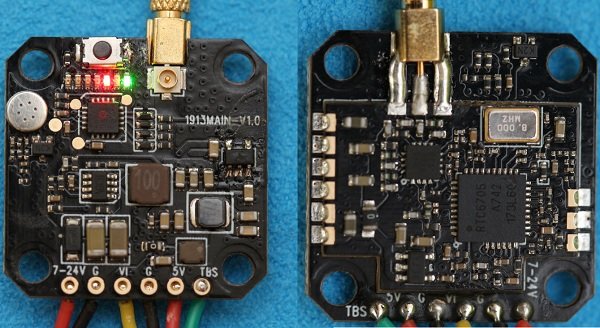 On front side of the board are located the following: LED indicators (5x RED, 1x Blue and 1x Green), control button, UFL antenna socket and microphone. Through the button you can change transmission channels and bands as well as to switch between four TX power levels. Exiting from PIT mode can be done by long pressing (12 seconds) the same button.
Featuring Smart Audio, all the changes (channel, band, power & Pit mode) can be also done remotely through BetaFlight OSD.
AKK FX3 Ultimate features & specs
Adjustable transmission power (25, 200, 400 and 600 mW);
Up to 2km range with RHCP circular omni-directional antenna;
Low power PIT mode;
SmartAudio/VTX Telemetry (configurable through BetaFlight OSD);
One button for frequency and power setup;
Wide range of input voltage (7 ~ 24 v);
Integrated 5v BEC w/ up to 300mA;
On-board microphone;
MMCX & UFL antenna connectors;
Status LED lights;
Ultra mini size (26 x 26 mm) and lightweight (4.6 grams).
The VTX can be powered from 2s to 6s LiPo batteries. Thanks to the integrated 5V BEC (DC-to-DC converter) you can power the FPV camera through the FX3 Ultimate.
AKK FX3 Ultimate review: Range
Being in a time crunch (I have to finish few more drone reviews till end of August), I did just a quick range test. I powered the VTX with a 3S LiPo and set it to 200mW.
I did a walk test with the FPV monitor in one hand and GPS in the other. I got stable image from about 500 meters. This range is more than I will ever need (I always try to fly line of sight). Setting the VTX to 600mW is useful only for long range FPV flights. Anyway, range can be improved not just by increasing the TX power – a good pair of antennas can do miracles. A diversity receiver will also reduce the chance of losing signal.
The audio feature is nice and also very helpful if you crash the drone. The on-board microphone can make it easier to identify the crash zone by the surrounding noises.
Pricing & Availability
Now, the AKK FX3-Ultimate VTX can be found on the manufacturer's website for only $15.19 (regular price is $18.99). According to your antenna connector, you have two options: SMA or RP-SMA version.