I often got the question "which is the best drone to buy under $150", my usual answer is depending on what you look for. If you want a racing drone you should skip over this review, but if you need a nice cruising drone with full HD camera and GPS positioning system, the JJPRO X3 HAX is a good choice.
Last year we reviewed two entry-level GPS drones, the Hubsan H216A and FEILUN FX176C2. Both were equipped with brushed motors which are less reliable compared to brushless ones that comes with the JJPRO HAX. IMHO, it's worth few extra bucks for the increased durability.
JJPRO is the deluxe division of JJR/C, a popular toy drone manufacturer. JJPRO seems to be orientated on more versatile drones with topnotch functionalities. BTW, you can find the HAX drone branded and sold as Eachine EX1 or GoolRC Binge 1.
What features make JJPRO X3 HAX the best drone to buy under $150?
GPS positioning system;
Powerful brushless motors with self-tightening propellers;
High capacity battery with micro USB charging port;
Colorful LED lights for night flights;
Accurate one key return to home;
Fail-safe return to home (Low battery voltage or signal-loss);
Electric fence (Geo-fence);
Headless flight mode;
Full HD, 1080p camera;
WiFi real-time transmission (

works only with certain phones!

);
About 15-17 minutes of flight time.
GPS enabled drones are not just more easy to pilot, but also safer. When the drone is out of control range or the battery level is critical, they will automatically return to the take-off point. RTH (Return to Home) feature can be triggered also manually.
JJPRO X3 HAX hands-on review
Disclosure: I received this brushless GPS quadcopter as part of a product review collaboration with GeekBuying. Product specs and quality may vary according to the manufacturer's reliability, so I cannot guarantee that you will get a drone that performs exactly the same as seen in my article.
Package arrived in 25 days with standard free-shipping. The box was so small that it passed the customs process without any expenses :). Inside the box, I found, besides the drone and its nice transmitter, the following: flight battery, phone holder, 2 sets of propellers, USB charging cable, screwdriver, propeller tool and user manual. There are no blade protectors included.
At a glance
Unwrapping the box I thought that I'm dealing with a Hubsan drone. HAX follows the cool design of the much expensive H501S drone. While the JJRC X3 is fully white, its twin brothers (Eachine EX1 or GoolRC Binge 1) are black respectively red.
Measuring about 28 x 30 x 7.6 cm, it can be considered quite large, so I'm expecting good wind resistance especially that is equipped with powerful brushless motors. The propellers are self-tightening, so you don't need to be afraid that you can accidentally lose the prop nuts.
Unlike other GPS drones, the X3 HAS has hidden GPS antenna, I hope this doesn't mean detriment in quality of satellite signal reception.
The 2 cell 2000 mAh Li-Po is loaded from the back of the Hax drone. According to the manufacturer's specs, with a fully charged battery you can have up to 17 minutes of flight time. It has one of the best flight time in its market segment. Power On/Off switch is located on top of the fuselage.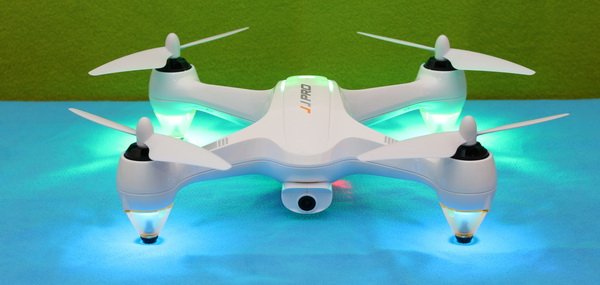 During night flights you will be guided by 4 LED lights, blue LEDs in the front and green ones on the rear (one under each motor).
Included user manual is clean and simple, easy to understand. It contains useful things like how to install the propellers and how to calibrated the drone.
Remote controller
Nice surprise, JJRC finally decided to include a decent remote controller with their drone. Besides that it looks solid, it has excellent control range. The bright LCD display is one of the best ones I've tested. It permanently shows the following telemetry info:
Battery level (both RC and drone);
Number of satellites found;
Flight modes;
Stick mode;
Drone distance, flight altitude and flight speed;
Flight speed rates;
Throttle level;
Trimming values.
On front panel, besides the two control sticks (center positioned), there are 4 trimming switches and 6 control buttons (Photo, Video, Speed control, Take-off, Landing Headless mode). The only shoulder switch allows to toggle between flight modes and to activate RTH.
Electric fence feature can be enabled through the right trimming switch.
HD Camera
Compared to other entry-level GPS drones, this JJPRO X3 HAX comes with Full HD camera instead of a lower quality HD camera. The removable 1080P camera allows to record videos with resolution of 1920 x 1080 pixels at 20 fps.
The camera has an integrated DVR, so videos and photos can be stored on both, drone's and smartphone's memory. "On-board" recording has better image quality than capturing from the WiFi live-video feed. Micro SD slot is located on the left side of the camera.
Ten minutes of recorded FULL video occupies about 270 MB on the drone's micro SD card. Video quality is quite good, especially during day light. Unfortunately, without any stabilization (electronic or mechanical), the recorded videos are not completely jello-free.
WiFi FPV / Real-time image transmission
Till I tried to pair my Galaxy S7 phone with the drone, without success, I was quite happy with the JJPRO X3. This issue screwed HAX's nomination for the "Best drone to buy under $150".
Firstly, I through that is something wrong with the camera's WiFi, but latter I found out that it adopts some channels that are available only on certain phones, especial those made for US. Anyway, WiFi has its own limitation (like: shorter range and significant delay), and if you want to use the Hax for FPV flight you will need a dedicated 5.8G FPV camera.
Field testing
The JJRC advises you to perform GPS compass calibration prior to your first flight. In order to be on the safe side, I recommend you to carry out the calibration ever time you fly in a new location. It is very simple and doesn't take that long. Here are the steps that need to be done:
enter in calibration mode by moving left stick to lowest-left and right stick to highest-right position. Green LEDs will turn OFF and Blue ones will start to flash;
rotate the drone for a few circles till the green LEDs turns ON and the blue ones turn OFF;
hold the drone with the nose facing upward and rotate it till blue and green light become steady ON.
Arming the motors can be done by moving both sticks to lowest-inner position. You can start your flight by giving some throttle or by pressing the "Take off" button.
While for indoor flights it is suggested to use "Altitude hold" mode, for outdoor flights the best option is "GPS" mode. On both modes the JJRC X3 HAX is very stable and easy to control it. You have two flight speed rates. Newbies should practice first at "Low" speed rate and latter move to "High" rate.
The white color of the drone is useful in summer when everything is green, but in the snowy winter landscape is not the best choice.
Editor's ratting
Price/performance ratio

Design and build quality

Remote controller

Camera quality

WiFi FPV

Flight performance
Summary
At the beginning of my review JJPRO X3 HAX seemed to be the best drone to buy under $150, but the lack of intelligent flight modes and the compatibility issue with some WiFi phones is quite disappointing. Anyway, the HAX is about as close as the market has to offer for a true entry-level GPS drone that's capable of capturing good quality aerials.
Now, with 23% OFF, you can find this brushless drone with 1080P camera and GPS here for only $145.99 (including free shipping). Spare batteries are available starting from $27. In case of a nasty crash you can find complete set of fuselage for $12.
What I liked
Brushless motors;
GPS enabled drone;
Excellent flight time;
Full HD camera with built-in DVR;
Flight controller with connectors;
Spare parts availability.
What I didn't liked
No image stabilization;
Only 20 fps;
Lack of intelligent flight modes;
GPS mode not as stable as ALT mode;
WiFi not compatible with all phones.