Surprisingly, while the Blade Inductrix FPV Plus was one of the most promising micro FPV drone of 2018, I found very few reviews about it. After playing with so many Tiny Whoop clones I was happy to review the upgraded version of the father of all Tiny Whoops, the Blade Inductrix FPV+. I wanted to discover if it's worth the huge price difference compared to similar minion-like FPV quadcopters.
The "Plus" edition of the Blade Inductrix FPV brings altitude hold, Meow Mode (I will explain this fancy named feature a bit later), larger motors and higher capacity battery. With its on-board camera, video transmitter and 4.3″ FPV monitor with DVR, it has everything you need for FPV fun. AMain managed to put together the ultimate RTF (ready to fly) package. It includes everything you need to fly out of the box!
Besides that it looks pretty cool, the ducted fan design improves motor efficiency and also acts as propeller guards. This little flying machine will pinball off walls and other obstacles and keep on flying.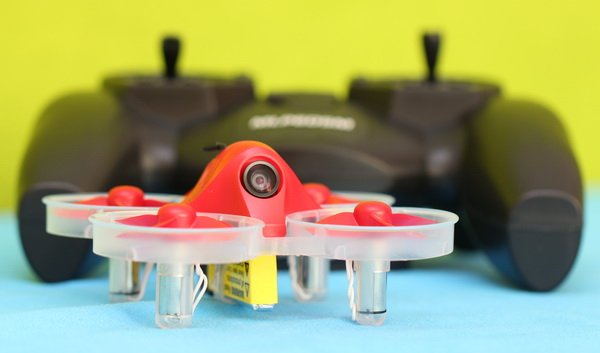 As we get into the rainy season, we will need to practice more and more indoor. The BLH9600HA drone claims to be pretty quiet allowing to fly around your living room without bothering your family while they are watching their favorite TV show.
Blade Inductrix FPV+ drone review
Firstly, I have to tank Kathy from AMainHobbies who offered me this FPV drone in order to test it and write a honest review. As usually, I promise that my review will show not just the positive but also the negative things of the product.
The package arrived surprisingly fast, in just in 12 days. As I'm located in Europe and the package was sent from US I was a bit afraid regarding custom and import duties. Luckily, everything went smooth and I got it quickly. Whenever a new drone arrives, it is always a special day. I bet you know the feeling :)
First impressions
Being very excited to finally test a real Blade Inductrix drone, immediately as I arrived at home I opened the package with not one, but two boxes inside! Nice surprise, besides the little drone, its remote controller, FPV monitor and the usual stuff (battery, charger, cables and user manual) I found a VR headset adapter which turns the included 4.3″ FPV screen into a veritable FPV goggles.
From the transparent frame to the red protective canopy, the Blade Inductrix FPV Plus is almost identical with the Eachine E80S. These two drones also feature similar functionalities. Let's be fair and give to Cesar what belongs to Cesar, even if the EM80S can be easily confused with the Inductrix FPV Plus, is just a copy of it. Also here, I should mention that Jesse Perkins' Tiny Whoop was deeply inspired by the first generation of Blade Inductrix as well.

Measuring just 100 x 100 x 50 mm, it easily fits into my palm. All the electronic parts (including FPV camera) are perfectly protected by the canopy. In order to provide the best FPV signal, the tiny 5.8G FPV antenna comes out of the fuselage. On tail of the drone is located a RGB status LED which color is changed according to actual flight mode. Four additional LED light will guide you during night flights (white in front, red on rear).
The 500mAh battery is mounted vertically instead of horizontally. According to the manufacturer's specs, flight time is somewhere between 4 and 6 minutes.
Behind the stingray alike protective canopy there is a single electronic board. The flight controller integrates the PDB and radio receiver. No USB port, which makes it harder to do any flight performance tuning or firmware update.
Blade Inductrix FPV Plus highlights
Durable air-frame with ducted blade protectors;
Multiple flight modes (Altitude, Angle and Agility);
Barometric air-pressure sensor;
Meow aka Anti-Turtle Mode;
Complete FPV system (600 TVL camera, 32CH-25mW VTX and 4.3″ FPV monitor);
Configurable RGB Tail LED light;
About 4-6 minutes flight time.
How good is the Blade Inductrix FPV Plus' camera?
Anyone who sees a FPV screen for the first time is a bit disappointed by the quality of the real-time image feed. When it comes to FPV cameras, resolution is not everything, more important is the latency, light sensitivity and response time on light level changes. The Inductrix FPV Plus's camera excels in all above mentioned aspects.
Unfortunately, the angle of the camera cannot be adjusted, but at least it has optimal field of view (~140° FOV) for FPV, also tilted slightly for high-speed flight.
Contrary to what I found inside of other similar micro FPV drones, the 5.8G video transmitter isn't a separate module, nor integrated into the flight controller. It makes active part of the camera. The VTX features a total of 32 channels (4 bands of 8 channels) and 25mW broadcast power. Toggling between transmission channels can be done using the VTX's buttons. Range is sufficient for proximity park flying or indoor fun.
Blade Inductrix FPV + review: Remote controller
This Blade drone is offered with the E-Flite MLP6DSM entry level transmitter. As its name says, it has 6 channels. Front panel is very basic, no status screen.
Toggling between flight modes, can be done though the left 3-pos shoulder switch. Meow Mode can be activated via the right shoulder button.
Flight modes:
Altitude mode (green LED, switch position 0): maintains altitude. The bank angle is limited. When the sticks are released, the aircraft will return to level flight.
Angle mode (blue LED, switch position 1): the bank angle is limited. When the sticks are released, the drone will return to level flight.
Agility/Freestyle mode (red LED, switch position 2): the drone has no bank angle limits and will not return to level fight if the sticks are released. Use rates and expo to tune the performance according to your flying style.
The control sensitivity can be changed by pressing and releasing the right control stick. The transmitter LED's will show solid for high sensitivity (default) and flashing for low sensitivity.
Thanks to the included screen holder, you can easily attach the 4.3″ Spektrum FPV screen on top of the RC.
Blade Inductrix FPV+ review: Flight performance
Being yesterday a perfect sunny autumn day, I was able to make couple of test flights with this little drone. Flight autonomy is pretty nice, I got an average of 5 minutes of flying time. I test it in all 3 flight modes. Newbies can't go wrong with the Blade Inductrix FPV Plus, in altitude mode it is extremely easy to control it.
Meow mode (Anti-Turtle) works perfectly. Just press the red button and it flips back into take-off position (check the video bellow at 4:36).
Firstly, I test it using the included FPV monitor. The image quality is pretty enjoyable, but not the same as my existing larger 7″ screen. BTW, despite its small size, the monitor has built-in speaker and DVR.
The third maiden flight I had, I used my Full HD FPV goggles. The difference was huge compared to using the Spektrum SPMVM430C headset. I know, you get what you pay for. By comparison, my FPV Goggles cost more than the entire Inductrix FPV+ RTF Ultra combo pack.
Editor's ratings
Price/performance ratio

Build quality

Camera & FPV

Remote controller

Flight performance

Flight time
Summary
The Blade Inductrix FPV Plus is the ultimate fun flying machine. Whatever you are, a competently newbie or an experienced pilot, you can set the flight mode that fits perfectly for you.
Thanks to the included FPV monitor with built-in DVR, you can record the journey of your flights without additional investment. The headset is also a great extra, you can experience the felling of a truly immersive FPV flight.
Extra flight batteries, spare propellers and frame are inexpensive, other parts are not likely to break so you won't need spare ones.
Crashing upside-down is not that frustrating anymore, the Meow feature puts back instantly your drone in take-off position.
Became interested? You can grab the Inductrix FPV+ Ultra from here for $209.99 – this price includes free shipping, transmitter, FPV monitor and headset. There you can also find basic RTF package without headset for $179.99.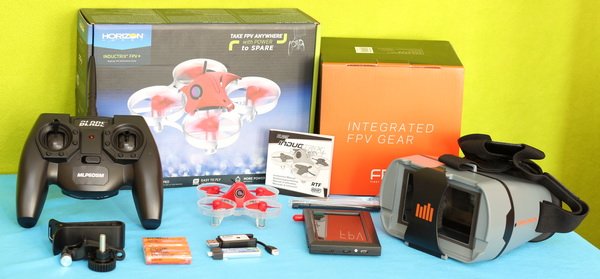 Pros
Complete FPV system (including monitor & headset);
Variety of flight modes (alt-hold and freestyle);
Meow Mode;
Excellent control range;
Easy maintenance, motors with connectors;
Spare parts availability.
Cons
Quite expensive;
NO OSD / Telemetry.
Inductrix FPV Plus vs Inductrix FPV
Unfortunately, I didn't have the luck to test its predecessor in order to make a real comparison, but many says that the second generation Inductrix FPV's flight performance was significantly improved by the larger motors. Thanks to the reinforced frame it also has better impact resistance. The higher capacity battery (500mAh vs 200mAh) provides more fun time.
Taking into consideration all the above mentioned aspects (larger size, higher capacity LiPo, more power, better transmitter) I suggest you to go with the Horizon Hobby Inductrix FPV+. It has the speed and performance to be a veritable indoor/outdoor FPV quad.