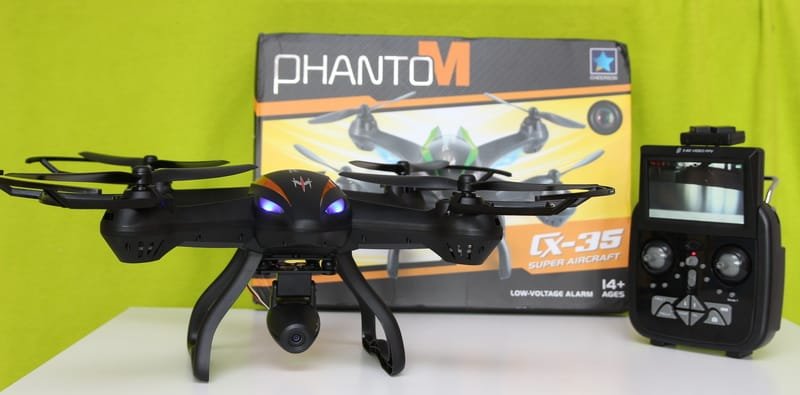 Cheerson CX-35 Phantom all-in-one FPV quad
Few weeks ago when I introduced this Cheerson CX-35 on my blog's quadcopter news section, it was probably the first affordable FPV quad with altitude-hold. Now, it is time to have a closer look on this CX-35 quad-copter and evaluate its performance. I promise that I will try to cover in my review the most important aspects like flight characteristics, control range and camera quality.
Cheerson Hobby became a well known manufacturer through their CX-20 quad-copter, which is probably the cheapest all-times DJI Phantom alternative. The mini CX-10 series has also helped Cheerson Hobby to increase their popularity among remote controlled toys lovers.
In my opinion, they released this CX-35 PhantoM with the plan to consolidate their presence in the mid-range quadcopter market (drones with price around $100). Definitely, some reliable brushless motors and a higher capacity battery could make it the winner of its price range.
You probably already know that Cheerson Hobby introduced cheap quadcopters with integrated barometric air-pressure sensor starting with the CX-3X series which, besides this CX-35, includes other two models, the CX-33 and CX-32. Lately, they also added such a feature to their smallest quad, the CX-10D.
Cheerson CX-35 quadcopter Highlights
One key return to home (not GPS one!);
Altitude hold;
Dedicated "take off" and "land" buttons;
5.8GHz real-time video transmission;
720P HD camera;
Camera mount with remote tilt angle adjustment (1-axis servo gimbal);
Low voltage battery protection;
Dual flight speed rates ("Low" and "High").
Cheerson CX-35 PhantoM review
First of all, I must underline that this product was offered by Banggood in order to make a honest review. Thanks again for supporting my website with free samples over the last two years. They always had a professional attitude not trying to influence my review in any way.
The delivery of the CX-35 took 19 days from China, right at my front door. A big green bullet on the exterior of the package informed me that I received the black/green version.
Even if I recently reviewed the top rated Phantom 3 Advanced and the Yuneec Q500 4K quadcopters I unboxed this Cheerson CX-35 with the same enthusiasm. As I said many times before, every quad has its own story which I intend to share with you through my personal blog FirstQuadcopter.com.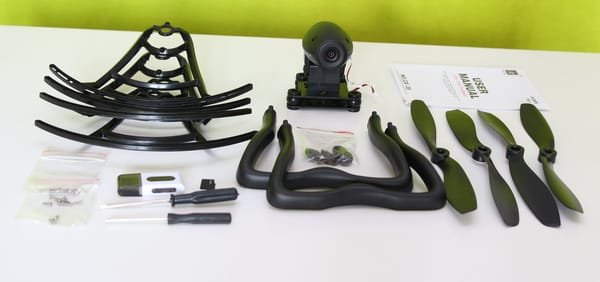 Cheerson CX-35 review – First impressions
Certainly the CX-35 package is very reach. I found inside the box, besides the aircraft and its FPV transmitter, the followings:
2s 1300 mAh Li-Po battery;
Balance battery charger;
2GB micro SD memory card;
USB card reader;
2 pieces of landing skids;
1 set of propellers and prop caps;
1 set of blade protectors;
Tools (2 type of screwdrivers);
2 bag of screws ( 6 x 1.7x5PA and 12 x 2.3x8PA);
CX-35 user manual (English).
While the CX-35 is a reedy to fly quadcopter (RTH), in order to make your first flight you will need to mount the propellers, blade protectors, landing skids and camera. This process is vey easy and it takes just about 10-15 minutes. Fully assembled, the quad looks good and surprisingly large. The drawback is that the fully assembled aircraft doesn't fit into the original box so you will need to find another way to transport and store your quad. Good advice, install first the blade guards and only after that the propellers, in reverse order you can't install the propeller protectors.
Yesterday, when my son arrived from his dance class and saw the CX-35, he said that it looks like an orca (killer whale). In my opinion, due to the frontal blue LEDs which look like some scary eyes the design of the aircraft induce the impression of a prehistoric sea monster.
Excepting the ON/OFF switch (that seems to be of poor quality), everything else looks very well on the CX-35. The build quality of both transmitter and aircraft are pretty good, I'm curious how it will handle the first crashes :D.
Near the power switch are located two plugs, one serves to connect the "gimbal / 1-axis servo" and the other one to control the camera.
In order to allow good visibility during night flights, the designers from Cheerson added 3 LEDs under each arm (red under the front arms and green under the rear ones).
The aircraft is powered by a 2 cell 1300m Ah Li-Po with JST connector which allows about 6-7 minutes of play time (I know it doesn't look too much). Although the belly of the aircraft is very generous, the battery compartment is small without the possibility to install larger batteries with higher capacity than the stock one. Anyway, the battery is easily replaceable so you can have some spar one ready for another flight (always wait to cool down the motors first!).
The lifting power is generated by four big geared brushed motors. In case you need to replace one, there are spare ones available for only $4.
Cheerson CX-35 review – Transmitter
As I previously mentioned, the remote controller has a very good build quality. In the upper part of the RC is located the integrated 4.3″ FPV display which allows to display the cameras real-time video feed. Although the LCD screen does not have a sunshade, due to its good contrast ratio it can be used comfortable even during sunny days. In order to obtain the best visibility, the angle of the screen can be adjusted.
The right slider button (AUX 1) allows to remotely adjust the camera's tilt angle. On the opposite side is located the "AUX 2" slider button, apparently without any assigned function.
I counted 16 buttons + On/Off switch on the front panel, but unfortunately half of them are not labeled. Under the right stick are located the two camera buttons (start/stop video record and take photo). Between the power switch and RTH key are located the "auto take-off" and "auto land" buttons.
Unusual for toy grade transmitters, both control sticks are self centering. If you want to climb just push the throttle stick up or push it down in case you want to descend.
Cheerson CX-35 review – Camera
After you have attached and secured the camera to the quadcopter's belly, you need to plug the 4 wire connector into the S2 plug and the 3 wire one into the S1 (gimbal plug) .
In order to allow smooth videos, the camera mount features 4 vibration reduction damping balls. The included micro SD card can be loaded from the rear part of the camera where is also located a button which function's I haven't discovered yet.
When the quad-copter is powered ON and bind with the transmitter, the camera is automatically horizontally leveled. In order to achieve the best field of view, the angle of the camera can be remotely adjusted on a wide angle range. Honestly, this function is nice and actually works great.
Both, photos and videos are captured with a resolution of 1280 x 720 pixels (0.9MP). Two minutes of captured 720P video occupies about 370 MB on the SD card.
Overall, the image quality is decent but with visible jello effect. I noticed that the camera has slow response to the light condition changes. Due to the camera's latency I do not recommend the CX-35 to be flown exclusively in FPV mode.
Cheerson CX-35 vs XinLin X181
I think the biggest competitor of the CX-35 is the XinLin X181, because these two models have very similar features and are on the same price range.
Both models have a nice design but, as you can see in the above picture, the X181 quad is visibly smaller than the Cheerson CX-35. While the CX-35 has a much better FPV range, the X181 allows longer play time.
The biggest advantage of the CX-35 over its contender is the altitude hold feature and tilt camera.
In my opinion both quad-copters are good in their own way, so without giving a final verdict, I will let you to decide which one fits you better.
Cheerson CX-35 review – Test flight
Yesterday, being a beautiful spring day, I took out this CX-35 PhantoM and my Phantom 3 Advanced to play with them. Of course, due to the huge price gap between these two models, they can not be compared. My plan with the P3A was to film my CX-35 test flight from the sky. Unfortunately, because of the strong wind my plan failed :(
The large motors proved to be not strong enough to fight against yesterday's wind. With almost full throttle and right stick fully pushed to the opposite side of the wind's direction, the CX-35 barely managed to keep its position.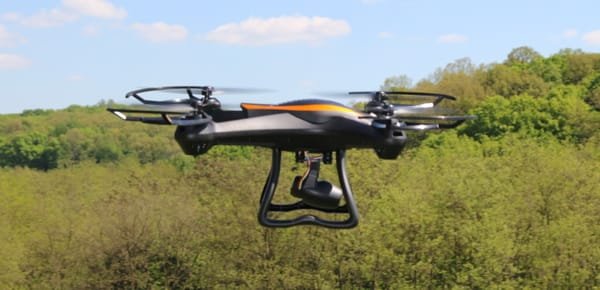 Later in the evening, when the wind subsided I made a second try. This time the CX-35 flied decently stable but not too fast, even on "High" speed rate. Definitely, the flight characteristics are optimized for cruising, not racing.
It is possible that the Cheerson engineers from different deparments didn't communicated enough with each other because the control range is about half of the FPV range.
In case of signal loss, the aircraft will wait about ten seconds and in case it is not reestablished will safely auto land.
BTW, the altitude hold and one key take-off / land works pretty good. Maybe not perfectly, due to some bouncing effects on landing, but newbies will definitely appreciate these features.
CX-35 unboxing and maiden flight video
Price–performance ratio

Build quality

Remote controller

Camera

Flight time
Cheerson CX-35 review - Verdict
The package of the CX-35 quad is very generous, includes everything you need for you first flight, even a 2GB memory card to capture your best flights. Unfortunately, in order to enjoy the great FPV range of the Cheerson CX-35 you will need to mod the radio by adding an external Wi-Fi antenna.
The altitude hold and one key take-off features work pretty well but not as steady as on a brushless GPS quad. Anyway, I prefer to take-off/land "manually" using the throttle stick.
My only disappointing regarding this model was the short flight time, those 5 minutes pass very quickly playing with this RC toy.
After the recent price drop, this FPV quad can be found for $119 here. Don't forget that you can opt for 3 different color combination (black/orange, green/orange and white). Also you should take into consideration to order a spare battery in order to have more fun time.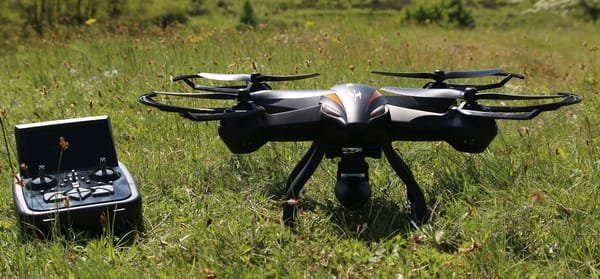 Pros
Altitude hold and one key take-off/land;
Good FPV range;
720P camera;
The angle of the camera can be remotely adjusted;
Camera holder with rubber damping balls;
ON/OFF switch;
Spare parts availability.
Cons
Short control range;
Noisy;
Only 5-6 minutes of flight autonomy;
Low wind resistance;
No spare props included.
Cheerson CX-35 review – Photo gallery
CX-35 camera sample images