CineWhoop-style FPV drones are the most appropriate for newcomers to the RC hobby. The DarwinFPV CineApe 25 comes with an injection-molded 360° propeller guard and a straightforward maintenance approach, all for a friendly price tag. First-time FPV pilots, even if they are after several hours of practicing with PC drone simulators, will crash their drones in acro mode. At this point, the Whoop ducts come in handy. The low-profile design is also handy when flying in tight spaces, such as under a car.
Cinewhoop quadcopters are all the rage now, as they can dive and spin through unreachable places to capture breathtaking footage. DarwinFPV initially jumped on that trend with the little Whoop75, followed by the more powerful CineApe 25.
My son turns 13th this year, and somehow, he is still immune to this RC hobby. Most of his friends would be happy to get a drone for their birthday, but mine would probably prefer a video game. He got his first drone when he was five. Maybe he was too young back then, so I'll try to rekindle the passion by giving him this DarwinFPV CineApe 25 as a birthday present.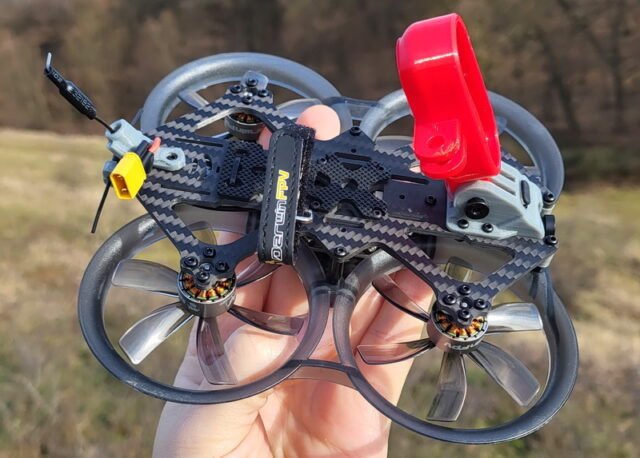 Key features
Under 250 grams take-off weight, including battery
High-strength one-piece injection-molded 360° propeller guard
Analog and HD digital FPV options
Cost-effective maintenance. Flight stack (FCC+ESC) instead of AIO approach
External Type-C configuration port
Action camera mount for Insta360 GO2, Naked GoPro, and SMO 4K
3S and 4S LIPO compatible
DarwinFPV CineApe 25 CineWhoop FPV drone
Disclosure: I received this 2.5″ CineWhoop as part of a product review collaboration with DarwinFPV. Product specs and quality may vary according to the manufacturer's reliability, so I cannot guarantee that you will get a drone that performs the same as seen in my article.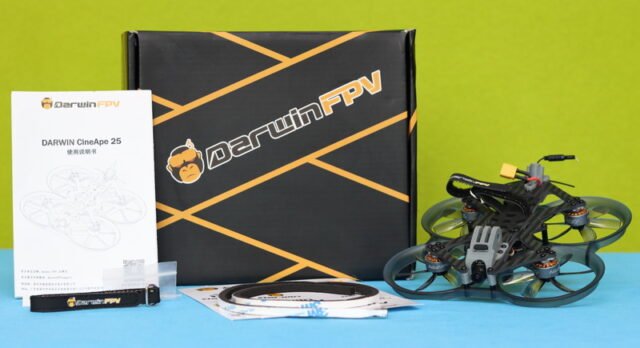 The drone came well protected in its box, with second battery velcro, extra screws, and a bunch of goggled-monkey-head stickers. It also came with adhesive EVA crashproof foam for the edge of the blade guard. Upon my request, they sent me the ELRS version, with the radio receiver already wired and installed inside the frame. There is a user manual included with pretty much the information you need to make it work.
At a glance
The CineApe 25 adopts a 'Pusher Whoop' design with duct blade protectors and inverted motors. The most significant benefit of an inverted quad is that the frame does not obstruct the airflow. In the center of the frame, between two carbon fiber plates, is a flight stack with an F411 flight controller (FC), 4-in-1 30A ESC, and 600mW VTX boards. The 1504-3600KV motors are installed on the 2.5mm thick top plate. DarwinFPV opted for six-blade HQProp T63MMX6 propellers. It adopts true-x designs with a wheelbase (motor-to-motor diagonal distance) of 112mm.
In addition to the onboard micro USB port (accessible only if you take it apart), DarwinFPV installed a second USB Type C port in front (protected with a rubber cap) that is soldered to the FC. I would like to see this as a standard for all Whoops.
When you remove the bottom plate, take care that the VTX is attached to it and has only a few cm of wires so that it can easily break from the soldering point. The FPV transmitter has a tiny dipole antenna.
Depending on the size (length) of the LIPO pack, you can opt for one or two velcro bands. The top plate has antislip rubber padding for secure battery installation. There is enough room on the back for up to 1800mAh packs. Pretty sweet from a 2.5″ Whoop.
Underneath are four round rubber pads that should dampen the landing and provide some ground clearance. In the front, above the CADDX ANT camera, there is a GoPro-compatible 3D-printed TPU mount. Maybe the CineApe 25 can't handle the weight of a full-size action camera, but it can carry an Insta360 GO 2 without any issue. On the back, there is a second TPU mont for VTX and RX antennas. There are three TPU color options: black, grey, and green.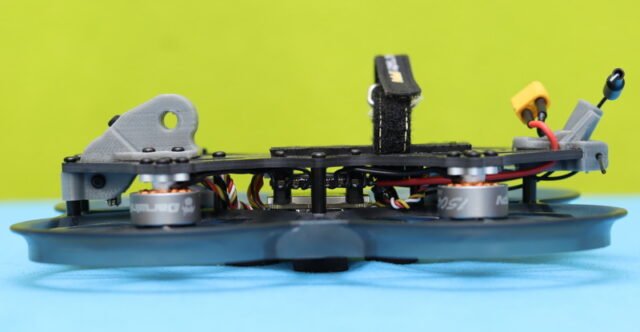 It has an approximate size of 160x160x43mm and a weight of 151 grams without the battery. The overall build quality is decent but not extraordinary. I can't explain why but it didn't give me the impression of a premium product, such as from other reputable FPV brands.
Pricing, availability, and options
The analog CineApe 25 version with ELRS receivers, shown in this review, can be ordered from the manufacturer's website for $152.99. For the fly more combo pack with four included batteries (4S/850mAh), you will need to pay $232.99. If you already own Walksnail Avatar HD goggles, you can opt for the digital version for $259.99. If you want to make a custom build, the 2.5″ Whoop frame kit is available at $29.99.
DarwinFPV CineApe 25: Configuration and flight experience
The DarwinFPV CineApe 25 is relatively easy to be configured. It was up and flying in less than 30 minutes. Firstly, I needed to upgrade the ELRS receiver's firmware version from 2.xx to the latest 3.11 release. This can be done wirelessly via a WiFi connection. As the DarwinFPV 2.4G ELRS Nano Receiver was not listed on the official target list, I opted for BetaFPV RX ELRS firmware. Excepting that I constantly got a 'NO telemetry' warning message on my RadioMaster Zorro controller, everything worked well.
Next, in the BetaFlight configurator, I set flight modes and stick layout and configured the OSD layout. By default, VTX power is set to 600mW; I lowered it to 400mW and enabled PIT mode till the first motor arm.
The average flight time with a 4S 850mAh battery is about 5-7 minutes in windless conditions. If you add Insta360 GO 2, SMO 4K, or Naked (de-cased) GoPro, battery life is reduced by 1-2 minutes. With the built-in stabilization, you can get some fantastic cinematic footage.
It's well-tuned and flies great out of the box. It has excellent stability and tons of power. The 3600KV motors with 4S make it super nimble and fun to fly. It is suitable for both slow indoor fly and outdoor freestyling.
Even though the arms (top plate) are only 2.5mm thick, they hold up well during crashes. The prop guard is also very durable.
DarwinFPV CineApe 25 analog versus HD digital
DarwinFPV released the new CineApe 25 with two FPV options. In comparison, the analog edition (shown in this review) comes with CADDX ANT and 5.8Ghz 600mW VTX, and the digital version with the WALKSNAIL AVATAR MINI 1S system. Both variants have three radio receiver options: PNP (no receiver), Frsky R81, and ELRS 2.4G.
Analog
HD Digital
Flight controller
F411 MPU6500 AT7456E
ESC
BlueJay 3-4S 30A
VTX (video transmitter)
Darwin 600mW
WALKSNAIL AVATAR MINI
FPV camera
CADDX ANT
WALKSNAIL FPV camera
Antenna
5.8Ghz antenna
Motor
1504-3600KV
Propeller
HQProp T63MMX6
Battery
LiPo 4S 850mAh
RX options
PNP (none), R81 or ELRS 2.4G
Wheelbase
112mm
Weight with battery
238g
242g
Price
$139.99
$259.99