DM002 – Cheap DIY quadcopter with FPV camera
Recently, I received the DM002 quadcopter for tests, a Chinese RC toy quite entertaining with an attractive price. I assembled it and played around with it and now it is time to write my review, of course at the end of which I will draw the final conclusions.
As I previously mentioned many times, the fact that a drone comes in parts should not scare you. In my opinion, the fact that you can build your own quadcopter doubles the fun.
Sponosored AD
The DM002 is available in two variants. One with 5.8G camera and one with WiFi FPV camera. Both versions can be found in black and white version.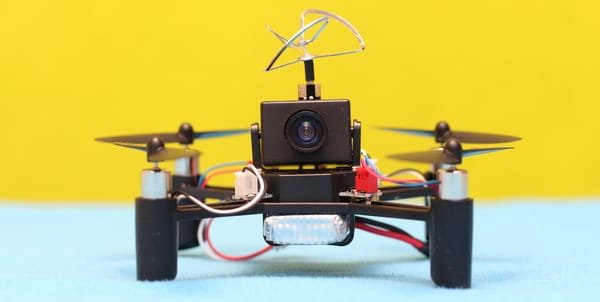 DM002 micro FPV quad highlights
Easy to build DIY KIT;
600 TVL camera with angle adjustment;
Real-time image transmission;
5.8G, 40CH VTX with adjustable output power;
One key return to home (not tested);
Multiple speed rates;
Low voltage protection;
LED lights for night flight.
DM002 quadcopter review with build instruction
The DM002 micro FPV quad was sent to me by Banggood in order to make a honest review. BG is a very popular online store among RC enthusiasts. They commercialize not just quadcopters but as well multi-rotor parts.
Arrived home, I immediately opened the package in order to check its content. I was curious if includes everything is required to build a flying machine.
DM002 DIY quadcopter KIT parts list
2.4G transmitter;
95mm frame kit;
2in1 flight controller with receiver board;
600TVL camera with 25mW/80mW/200mW 5.8G 40CH VTX;
Camera holder;
Camera protective case
3.7V 300mah Li-Po battery;
USB charging cable;
4 pieces of coreless motors (2xCW and 2xCCW);
2 sets of two-leaf propellers;
Propeller removing wrench.
It was also included a small instruction guide about how to assembly the DM002. The step-by-step guide refers to all DM002 variants.
Curiously, the included user manual is for a completely different RTF drone. Later, I found out that it is for the DM003.
DM002 quadcopter review – Transmitter
The transmitter is very bulky and toyish, which is not surprising for such a cheap RC toy. No status LCD on front panel, just four trimming buttons.
The left shoulder button allows to switch between flight speed rates (Low, Medium and High). The right shoulder button should enable the flip mode, but till now I didn't managed to do any flips.
In case the DM002 starts to fly abnormally I recommend firstly to try to re-calibrate the gyro by pushing both sticks to the lowest left position.
DM002 quadcopter review – Camera
The included VTX camera is very similar with the Eachine MC01 camera.
According to the advertised specs, you can switch the TX power between 25mW, 80mW and 200mW, but no instructions about how to do this.
The nickel plated 3-leaf antenna is directly soldered to the VTX board.
Thanks to the included protective case you can adjust the camera's angle from straight ahead to straight up.
On top of the camera is a setting button which allows to change the TX frequency (Band/CH). Featuring a total of 40 channels (including raceband) the camera is compatible with almost any 5.8G FPV display.
On the rear part of the DM002 camera is a blue 7 segment display which shows the actual CH#, Band and TX power.
The camera offers pretty good quality and the range is just perfect for proximity park flying.
DM002 quadcopter review – Build instructions
First of all, you don't need any special tools or soldering iron to assemble this DIY drone.
The mainboard comes with four motor connectors and two power cables. One cable serves to power up the DM002 quadcopter and the other one feeds the FPV camera.
Two motor connectors are white and the other two are red, which is nice because this way you can't reverse CW with CCW motors.
Both frame arms and propellers are marked with "A" respectively "B".
According to the instruction guide, the first step is to mount the propellers on the motors. Props "A1" and "A2" go on motors with red&blue wires, respectively "B1" and "B2" on motors with white&black wires. Note: there is no difference between A1 and A2 or between B1 and B2.
Second step is to mount the motors on the motor holders.
Third step is to mount the flight controller. It is positioned (orientated) on the frame as the power cable matches the cut on the frame.
Step four is to mount the camera holder and install the camera. When you put it on its place you can interconnect the camera with the mainboard.
Final step is to plug the motors into the main board. That's it! You are done with building your first quadcopter 🙂
DM002 quadcopter review – Test / First Usage
Powering up the DM002 for the first time, I found out that near each motor connector there is a SMD LED. Blue ones in front respectively red ones in the rear.
Binding the DM002 with the remote controller can be done by pushing up and down the throttle stick (left one in mode2).
Nasty surprise: by gently pushing the throttle stick up, instead of rising, the quad started to rotate around its own axis.
I powered it off, checked the propeller and motor order, everything seemed to be okay. Second try was same 🙁 Then I got the idea to check with my fingers the direction of rotation of motors. One of the motors turned in wrong direction. I plugged it reversely and after that everything seemed to be fine :).
Although it doesn't have versatile flight modes like the Eachine QX95, I liked that the DM002 is quieter and also more stable.
My first flight ended after about 4 minutes. In my opinion the flight autonomy can be extended to 5-6 minutes by removing the camera.
Price-performance ratio

Easy to assembly

Camera / FPV

Transmitter

Flight performance
DM002 review - Verdict
Although the DM002 is not a well documented DIY drone KIT I managed to assemble it in 20 minutes. The package includes all the required parts. There are no tools required.
In my opinion this quad is an excellent RC toy for first-time pilots interested not just to fly but also to learn how these things work.
If you are interested in building your first FPV quadcopter, this nice DIY KIT can be found for $39.99 with free shipping here. If you are scared about the building process, you can opt for the DM003, which has basically the same flight performance for much less money.
The good
Easy to assembly DIY kit;
Suitable for first time pilots;
Very silent;
5.8G FPV camera.
The bad
Proprietary flight controller without Acro flight mode.
Poorly documented;
Lack of spare parts.
DM002 quadcopter review – Photo gallery
Sponsored review