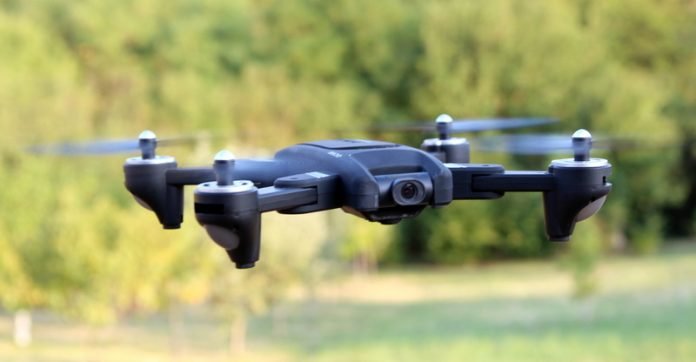 As lately I received for review only drone accessories, I was happy to finally get a new drone to play with it. Even if, due to its brushed motors and compact size, the EACHINE EG16 WINGGOD could be considered just a toy drone, it comes with plenty of high-end features. In addition to the precise GPS positioning system it has an on-board 4K camera!
Over the last 6 years FirstQuadcopter published lots of Eachine drone reviews. Most of the test units performed quite well – especially according to their friendly price tag. While we found the epic E58 Emotion quadcopter one of the best drone under $50, the EACHINE EG16 could be the new king under $100.
EACHINE EG16 highlights
Compact size with foldable arms;
GPS and Optical flow positioning systems;
Intelligent flight modes (Track flight, Point of interest and Gesture control);
Dual camera system (frontal 4K/ bottom 480P – optical flow sensor);
4K (4096*3072) photo resolution;
2K (2048*1080) video resolution;
5G WiFi real-time video transmission;
Remote camera angle adjustment;
About 14 minutes flight time;
Up to to 200 meters control range.
EACHINE EG16 WINGGOD review
Disclosure: I received this drone from Banggood, in order to test it and make an in-depth review. Although the RC drone was offered for free, all opinions in this article remain my own and I was in no way influenced by my partner.
Hope you'll have more luck than me because I had to wait about 3 months to receive the package. The parcel was stuck for 20 days in LONGDON-UK and another 30 in Nysa-Poland. Anyway, at least it was delivered directly to my door without any extra taxes or paper work.
Inside the box I found, besides the aircraft with loaded battery and its transmitter, one pair of spare propellers, complete set of blade protectors, USB charging cable, screwdriver and user manual. Together with my package option, I also received two spare batteries as well.
At a glance: Design & build quality
Similar to the previously mentioned E58, the EG16 WING GOD has also space saving foldable design. With folded arms it measures only 13.5 x 18.5 x 6 cm, fitting perfectly inside any backpack. Total take-off weight with battery is about 204 grams – bellow the FAA's 250 grams limitation.
Overall, build quality is good. I felt it very sturdy in my hand. Unfolding the arms can be done easily without tools. My son likes the velvet touch finish. Unfortunately, being made entirely from plastic I'm afraid that the first crash on concrete will end with more than few scratch marks.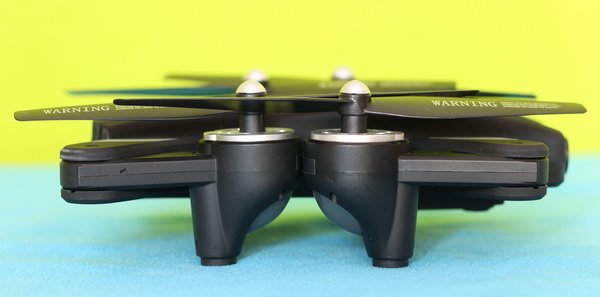 The 1021 size coreless motors have silver housing caps which grants them a brush-less alike look. During night flights you will be guided by 4 LED lights, one under each motor. There is one more LED on the back which shows the status of the aircraft (solid green is OK).
Micro SD slot and Power switch are found under the belly of the aircraft. There is also a tiny second camera which serves as optical flow sensor. The fun part is that you can toggle between main camera and secondary camera FPV. Note: For this feature you need to disable stabilization in FPV GO APP.
The 1800mAh LiHV (high voltage LIPO battery) is loaded from the back of the quadcopter. According to the manufacturer's specs, with a fully charged battery you can have up to 14 minutes of play time. The battery has micro USB port and can be conveniently charged with almost any phone charger or computer USB socket.
Camera performance: 4K recording under $100?
Unfortunately, there is no such thing (at least not for now). As I mentioned in the beginning of my review, the EACHINE EG16 is advertised with a 4K camera, which is a marketing trick. While photos are saved with 4096 x 3072 (4K) pixels, videos with only 2048 x 1080 pixels, which stands for 2K resolution. (roughly six percent larger than 1080P in total area).
One of my friend just purchased an ultra-cheap 4K action camera. He paid $16 for the camera, waterproof case and lots of mounting accessories. Firstly, I through that it is a scam, but after I tested it I found that the camera has poor color reproduction and the UHD resolution is obtained by software interpolation. Ergo, it has been proved once again, you get what you pay for.
Personally, I find it more useful to be able to remotely change camera's angle instead of a software manipulated high resolution. Through the left dial knob you can switch from front view to ground view in just seconds. Great feature to inspect your roof or chimney.
Image quality is surprisingly good – it is far the best which you can get out from a $100 drone. Of course, with brushed motors, it has lots of jello effect.
Eight minutes of video occupies about 650 MB on the micro SD card. Class 10 cards are recommended. As capacity, I would suggest a 16GB one. They can store couple of hours of footage and it is cheap enough to afford to lose them in case of flyaway.
Note: Without phone connection, only empty folders are created on the micro SD card.
Transmitter: Flight range
Like you could expect from a toy drone, the Wing God is also packed with a basic remote controller. Behind the the foldable phone holder there is a 3 x 3cm status LCD which shows the following telemetry info: signal strength, number of satellites found, RC and drone battery level, flight height and distance. This time, no fake antennas in order to look more professional.
On front panel, besides the usual control sticks, there are 4 labeled buttons: headless mode, RTH, GPS calibration and Power. While the left dial switch allows to toggle between 3 flight speed rates, the right one allows to change the camera's angle. Both actions are confirmed by laud annoying beeps.
Motors can be armed\disarmed by moving both sticks either to lowest-outer or lowest-inner position. Gyro calibration can be activated by moving both sticks to lowest-right position.
Control range is about 200 meters, which is same as the advertised one. It seems that max range is limited by the manufacturer because RTH is activated automatically. Also, there is a 70 meters height limit. Anyway, from that distance the drone is barely visible and it would be unsafe to fly further.
FPV GO APP: Extra features added
The APP can be downloaded easily by scanning the QR code from the drone's manual. It is available for both popular mobile OS (Android and iOS).
While most toy drones can be operated directly by your mobile phone, the FPV GO APP just extends the functions of the physical remote. Besides real-time view, it adds smart flight features like circle hovering and path flying.
Surely, the most interesting feature of the Eachine EG16 APP is that it allows to switch between the two cameras. Via the APP you also have 50x digital zoom.
The top ribbon shows permanently the following telemetry info: WiFi signal strength, Optical flow/GPS mode, Number of satellites found, Flight battery level, Flight altitude& distance and horizontal&vertical velocity.
After few minutes of usage my phone became unusually hot. Hope that with next release of the APP this issue will be fixed.
Note: The "stop" button from the footer of the application means emergency motor stop, not exit from the APP!
Battery life: How long you can fly?
During my test flights I got an average of 10 minutes of flight time, which is a bit bellow under the advertised one. The install of the propeller protectors has shorten the total flight time with at least 1 minute. Note: After the low battery alarm is activated you have about 1 minutes left for safely landing.
Even if you get more than one battery in the box, you should rest between flights. Not just the motors, but the hole drone became quite hot after 10 minutes of flight, especially during strong sunlight.
Flight performance: Stability, GPS accuracy & Speed
Firstly, I wanted to check its hovering stability. I lift it about 3 meters above the ground and removed my hands from both sticks. The EG16 Wing God holds its position pretty well, in about 5 minutes of tests, only few minor sticks adjustments were needed.
Secondly, I moved directly to RTH (auto return to home) test. I flew as far as I got stable fpv signal and pressed the RTH button – the aircraft got up to safety altitude (in order to avoid trees and buildings) and headed to the take-off point. It missed the landing pad with just about 2 meters, not a big deal from such drone.
At lowest speed rate is quite slow and less responsive, switching to highest speed it is more fun flying it. When touches the ground there are few small jumps till the motors are turned off.
Price & Availability
If you'd like to purchase this excellent entry level GPS drone you can find it here with one battery for $85.99 (Promotion sale from August 30 to September 2). Need extra fun time? No problem! As I mentioned you have options for up to 3 flight spare batteries.
Editor's ratings
Price/performance ratio

Design and build quality

Transmitter

Camera / WiFi FPV

Battery life
Summary
Clearly with only 100 bucks in their pocket, newbies hardly can find a better drone like the Wing God. It has lots of safety features, from blade protectors to GPS assisted return to home. Furthermore, it is very stable and easy to control.
In therms of camera rig, the EG16 also excels in its market segment. It has 2K recording, 4K photo, remote camera angle adjustment and second FPV view from the optical flow sensor.
I have to admit that I tested similar drones with better battery life, but I think this issue is solved by the "Fly More" combo pack with 3 batteries.
The good
Lots of safety features;
Satellite positioning system (GPS);
Optical flow & barometric air-pressure sensors;
2K/4K camera with WiFi FPV;
Frontal/Belly camera switch on FPV;
Remote camera angle adjustment.
The bad
Proprietary battery;
APP make phone very hot;
Phone is required for videos/photos;
Too much Jello effect in videos.