In a nutshell, the Eachine EX2 Mini is a MJX Bugs 3 Mini on FPV steroids. In addition to the similar design and same type of brushless motors, it comes with on-board FPV camera and convertible FPV monitor/goggles. The cherry on the cake is that you can get all the stuff you need for a true FPV flight experience for only 100 bucks. Let's discover in our Eachine EX2 Mini review how good this entry-level brushless FPV drone is.
Eachine advertises their EX2Mini quadcopter in 3 variants. The "Basic" version comes without any FPV gear, the "Standard" one with on-board FPV camera and the "Deluxe" edition with complete FPV setup (camera & goggles).
Eachine EX2 Mini main features
Small and light (fits into any backpack);
Acro & Angle flight modes;
6-axis gyro stabilization;
On-board 5.8G AIO FPV camera (C5810 HD 25mw/24CH VTX);
High/Low speed rates;
Powerful 1306 2750KV brushless motors;
4-in-1 responsive ESC;
Low voltage alarm (both drone & RC);
About 200-300 meters control range.
Eachine EX2 Mini FPV drone review
Disclosure: I received this mini FPV drone as part of a product review collaboration with Banggood. Product specs and quality may vary according to the manufacturer's reliability, so I cannot guarantee that you will get a drone that performs exactly the same as seen in my article.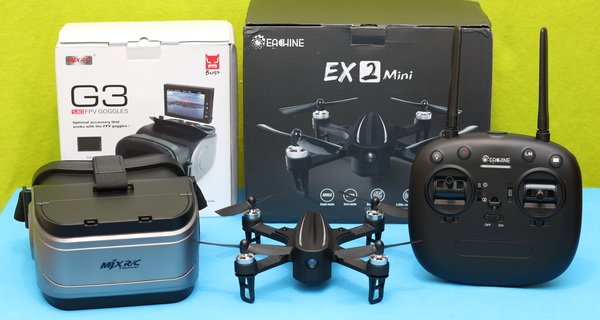 The package arrived about 20 days after we agreed on the review terms. Despite that it is sold as FPV combo set, I received two separate boxes. One included the quadcopter and its remote controller and the other one the FPV headset. The drone is packed with the following accessories: transmitter, 2 pairs of spare propellers, 1 set of blade protectors, prop wrench, drone battery, charging adapter, micro USB cable, and documentations (quick start guide and instruction manual). The MJX G3S FPV kit includes the G3 FPV headset adapter, D43 FPV monitor, RC mount, sunshade, and charging cable.
Initial impressions
Excepting the "Eachine" word on the box, I had the filing that I'm dealing with a MJX drone. As I previously mentioned, the EX2Mini has a very similar design to the one of MJX B3Mini. Its remote controller is the same one we are accustomed to, from MJX. Do not mention that the convertible FPV headset is a genuine MJX product.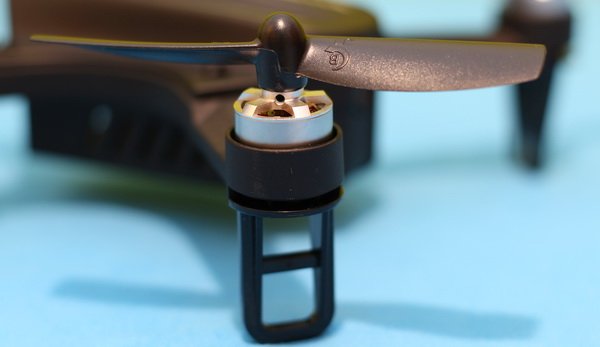 Unfortunately, no carbon fiber parts. Frame, landing gear, canopy, all are made from plastic. The included clip-on blade protectors can be easily installed. Under each arm, there is a LED light.
At the end of each arm, there is a 1306-2750Kv brushless motor. The 2-leaf propellers are self-tightened and already installed.
Overall, the EX2 Mini feels nice and well made. Hopefully will take crashes well :)
Eachine EX2 Mini review: Remote controller
As I previously mentioned, Eachine packs with the EX2Mini a downgraded version of the GR6221A MJX transmitter (no status LCD). The RC has a built-in alarm buzzer for low battery voltage and out of the controller's range.
On the front panel, besides the two control sticks, there are 4 switches and 4 control buttons (Light switch, Motor Lock/Unlock, L/H speed, and Photo – N/A). Toggling between flight modes (Angle/Acro) can be done through the 3 position trim switch (on right side of the throttle stick). Unfortunately, mode selection can be done only at the time you power ON the RC. It can not be switched midflight.
The L1 button (on the back of the RC) enablers 360 flips/roles. Note: this feature works in Angle mode only.
Eachine EX2 Mini review: Camera & VTX
The EX2Mini comes with an on-board AIO FPV camera (Eachine C5810). The 600TVL camera module is paired with a 24CH/25mW 5.8G video transmitter. The camera is connected to the main-board through a single JST-ph type 2 pin connector. The 25mW broadcast power is just perfect to proximity park flying.
Surely, the week point of the EX2Mini is its camera. Besides that it has very narrow field of view (FOV), no angle adjustment allowed. In terms of image quality, it also doesn't excel. It has poor color rendition and week light sensitivity.
Transmission channels can be changed through the camera's button.
Eachine EX2 Mini review: FPV Monitor/Goggles
Like the Inductrix FPV Plus, the Eachine EX2 MiNI also comes with a nice entry level FPV goggles. The convertible headset can be used as FPV monitor, as well as FPV goggles. As I previously mentioned, the package includes a RC mount, which allows to install the 4.3″ FPV monitor on top of the transmitter. Furthermore, the package includes also a sunshade for the screen. All the electronic parts, 5.8G receiver, battery and control buttons, are embedded into the screen.
On top of the G3 headset adapter there is an opening where you can insert the D43 FPV monitor. The screen must be powered ON and tuned on for the desired channel prior to be loaded into the adapter.
Flight performance
Due to poor weather conditions (rain and strong wind), I was able to make only few short test flights. I had to bind the RC with the drone prior to my first flight. This can be done by turning on the RC while you hold the "Lock" button.
Maybe it's not the fastest quad that I tested, but it is agile enough to satisfy everyone's needs. In Angle mode is very stable and easy to control it.
In strong wind, the drone becomes unstable and hard to control. Those 2750KV brushless motors provide lots of power, but still not enough for windy days.
My first flight ended after 8 minutes. IMHO, in calm days you can easily achieve 9~10 minutes.
Due to its small size, it is suitable for flying indoor, especially if you have the bundle FPV kit and skills to navigate from one room to another through corridors.
Price & Availability
If you are looking for a budget fun-drone for beginners, this might be the one. It comes pre-built and ready for FPV flights straight out of the box. Now, you can order it with 44% off from here. For more fun time, spare batteries are available for $16.99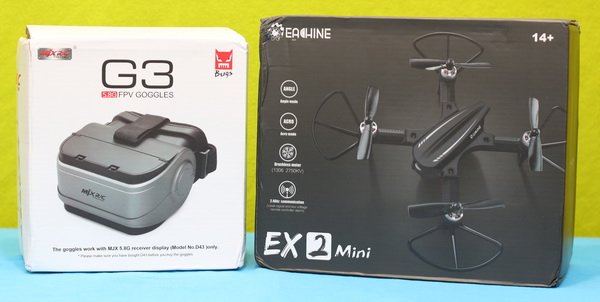 Editor's ratings
Price/performance ratio

Design and build quality

Flight performance

Flight time

Remote controller

Camera & VTX
Summary
Currently, the Eachine EX2 Mini FPV combo pack is on the cheapest way to experience FPV flying. Despite its small size, it has great power. In Angle mode it is capable to perform cool auto 360 degree flips. Both, flight time and control rage are quite nice.
Featuring dual flight modes (Angle & Acro), it has a big plus for pilots that want to learn how to fly like a pro.
My only disappointment is regarding the FPV camera. FOV is not optimized for FPV flights and light sensitivity is also poor.
Pros
Friendly priced;
Compact drone with brushless motors;
Complete FPV system;
Stable angle mode;
On-board buzzer;
Low battery and out of RC range feedback on the transmitter;
Spare parts availability.
Cons
Closed flight controller (no fine tune of firmware upgrade possibility);
Proprietary battery;
Narrow field of view;
Toggling between flight modes only at power ON;
No OSD/telemetry.