Eachine H8C Mini – Cheapest quadcopter with camera
Newbies are always looking for affordable models with on-board camera so this new Eachine H8C Mini quadcopter seems to be dedicated for them. It has a nice design and extremely attractive price.
Eachine had a great success with the previous H8 model being probably the only multi-rotor sold under $13. In order to attract even more customers they released this new H8C Mini which comes with a HD camera. The retail price increased with about $15. Compared to the previous model, the H8C Mini is much bigger and comes with a much nicer remote controller.
I'm sure that a lot of children would like such a toy. Today's quadcopters are easy to fly so the basic maneuver techniques can be learned in short time. Of course, we can not expect to get the most solid remote controlled toy for approximately $28. I bought for my boy a drafting RC car and after he played three time for maximum one hour he "succeeded" to broke the transmission shaft :).
As model name and design the H8C mini reminds about the JJRC H8C which I own it and is a very nice beginner's quadcopter, it had only one issue the motors fails very often…
Eachine H8C Mini review and test
This quadcopter was offered by James from Banggood in order to make a honest product review, thanks for their professional attitude. BTW, H8C-mini is available in white and black. I requested a black one with blue cockpit because appeared to have a nicer appearance.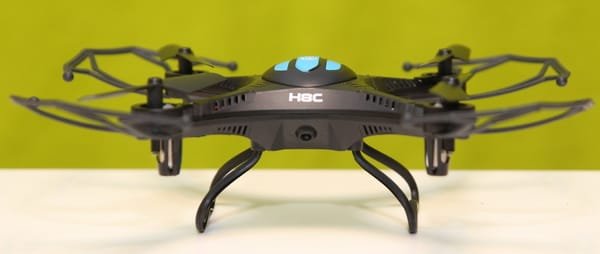 The H8C mini quad comes in a nice box with handle, which can be used in the feature for storing and transportation. The package contains only few accessories: screwdriver, USB battery charger, 2 pieces of propellers (1 CW and 1 CCW) and the H8C mini user manual.
On the fist impression it has a nice build quality, both aircraft and remote controller feels good in hand.
Being designed mainly for newbies this model is completely assembled and and ready to fly. No need to waste time mounting the propellers, blade guards and landing skids just load 4 pieces of AA batteries in to the remote controller and you are ready to have some fun.
Eachine H8C Mini features and specs
Headless flight mode;
One key return to home;
Low and Fast flight speed rates;
Integrated 2MP camera for aerial videos;
LED lights for night flights;
About 100 meter control range;
250mA Li-Po battery;
Average 5 minutes of flight autonomy;
H8C mini size: 18cm x 18cm x 5.5cm (h).
This H8C Min quadcopter is powered with a tiny 250mA Li-Po battery which is replaceable so you can have always couple of spare ones ready for the next flight. The battery is loaded in a unusual way from the top of the cockpit. I got an average 5 minutes flight autonomy which is less than the advertised 6-8 minutes. Using the included USB charger cable, the battery can be recharged via any USB phone charger or computer USB port.
Eachine H8C Mini review – Remote controller
As I previously mentioned, the 2.4GHz transmitter looks nice and feels very good in hand, it can be used easily by kids as well by adults. Through the left top button the quadcopter can be switched between "Low" and "Fast" flight speed rates. I recommend for indoor flight and practicing flights to use the "Low" speed rate. The 3D flip mode can be activated with the right top button and should be tested only when the aircraft is at least 2 meters above the ground.
If I remember correctly I read it somewhere that the adopted TX protocol is compatible with the BayangToys transmitters.
Eachine H8C Mini review – Camera quality
This model is advertised with a HD camera which somehow is true because the video resolution is HD 720p (1280×720). Unfortunately both photos and videos have very poor quality and nothing to do with the term of "HD quality" (sample image). The integrated camera is located in the front of the aircraft and is faces down offering very strange field of view, you will see in my test video exactly about what I'm talking. One minute of recorded video occupies about 300 MB on the micro SD memory card.
Eachine H8C Mini review – Test
As my son was very curious about this model I had to test it immediately as I receive it. Frankly, I was curious too about how will perform this inexpensive model. Firstly, I test it indoor where it behaved excellent, it response very well and accurate to my controls. The "headless mode" feature worked very well but I still prefer to fly without it.
Second day I went out to test it where I was totally disappointed by its flight capabilities. I could not bring it back even if I fully pushed the left stick on the opposite direction with the wind. I can say that this model it has almost zero wind tolerance, so you can fly it outdoor only on calm days.
Eachine H8C Mini final words
Usually, you get what you paid for, you can't expect 15 minutes of flight and excellent image quality from a quadcopter which costs less than a couple of beers. If you don't have big expectations from the on-board camera and you want to play with it only indoor, you can order it from Banggood here. In case you are in lack of ideas, near Christmas can be a very nice gift for those who want their first remote controlled drone.
H8C Mini Quadcopter un-boxing and test video
Pros
Affordable quadcopter with camera;
Nice build quality;
ON/OFF power switch;
Replaceable battery;
Headless mode;
Low and High speed rates.
Cons
Almost zero wind tolerance;
Poor image quality (photo and video).