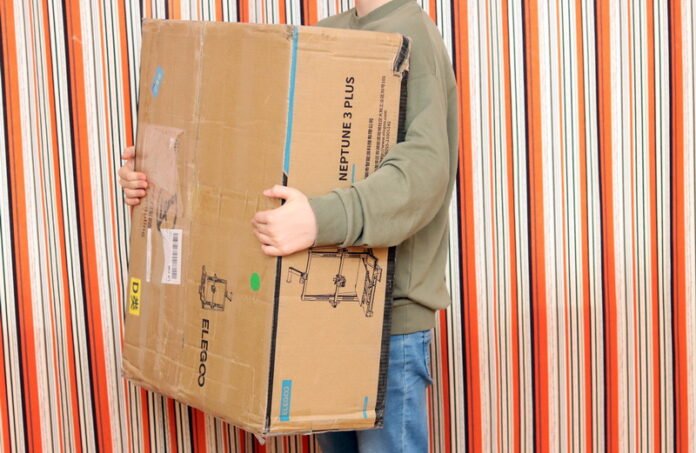 This year Christmas arrived earlier! Yesterday, when I came home, a massive package was waiting for me in the hall. It was the Elegoo Neptune 3 Plus in the biggest box that I ever got a product for review. In November, Elegoo officially announced their upgraded Neptune 3 Series, which includes three models with different print volumes. The 'Plus' is the middle one in size and price – perfect for those who want a larger print volume than most budget 3D printers offer.
A king-size 3D printer comes with lots of challenges because of its scale. Moving around large, heavy prints, even over a couple of days, the frame has to be sturdy and rock solid. By increasing the size of the print bed, auto leveling and heating are also a challenge for manufacturers.
Printing voluminous items with most small-scale 3D printers is possible but consists of separately printing different parts of the project and then gluing them together. This is not just time-consuming but also at the expense of the final product's resistance. The average printing bed size of an FDM printer intended for general use is around 150–230mm. Maybe the Neptune 3 Plus's 320x320mm does not mean a significant difference, but it almost doubles the workspace, making it ideal for batch printing.
Elegoo Neptune 3 Plus review: Does size really matter?
Disclosure: I received this 3D printer as part of a product review collaboration with Elegoo. Product specs and quality may vary according to the manufacturer's reliability, so I cannot guarantee that you will get products that perform the same as seen in my article, especially since I received a pre-release version.
Eleggo shipped out the Neptune 3 Plus on 28 November, and I received it only on 13 December. FedEx asked for all kinds of declarations and certifications as importing from China to Europe has become increasingly complicated lately. It looks like the 13th is not my lucky number because after I finished the review photos and videos, I lost my camera's memory card. I searched for it desperately for two days till I found it under one of my toolboxes. At least I did a little tidying up for the Christmas holidays :)
As usual, Elegoo did a great job in terms of packaging. The N3 PLUS is well protected inside the box during shipping by foam padding, and our review unit arrived in perfect condition. Elegoo is focused on providing easy-to-use printers out of the box, including all the necessary accessories and tools to be up and run in just one hour from unboxing. Even some PLA test filament is provided for the first print model. The 8GB micro SD card includes a PDF user manual, assembly tutorial video, ELEGOO Cura software, USB driver, and EN3Plus_Buddha.gcode test model.
At a glance
Like most similar FDM printers, the Neptun 3 Plus also comes 90% pre-build. You just need to assemble the two main parts: the base unit and the Z-axis gantry. The screen stand, spool holder, and filament-out sensor also need to be installed by the user. The machine's wire management looks good —nothing is left loose that can interact with the moving parts. The provided step-by-step video tutorial explains which connector where is go, also how to perform fine adjustments if needed.
Regarding the design, Elegoo's approach to the Neptune 3 Plus was to take the stuff that worked on Neptune 3 Pro, make it bigger, and make only the necessary changes. If you look at the image below, the Pro and Plus look almost identical. The difference is that the Plus is a bit scaled up. A notable change in design from its smaller brother is the inclusion of the second X-axis rail guide to handling the heavier print platform. There are also two extra aluminum tie rods on the back for the Z-axis gantry. If you look under the 320x320mm heated bed, you will find six manual leveling knobs for fine-tuning.
Across the Neptune 3 family, all three models share the same print head with a dual-gear direct extruder and a 4.3-inch removable capacitive touch screen. The N3 Plus comes with an upgraded power source with a wide range of input voltage, so you won't need to toggle between 110V and 220V operation modes manually.
The Z-axis has two rails and two stepper motors that are kept in sync via a timing belt. This ensures the stability and accuracy of the print head on the entire travel on the z-axis. The Elegoo N3 Plus can print up to 400mm tall models.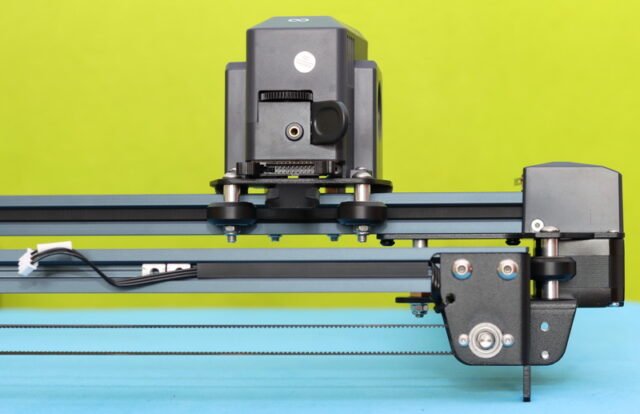 Elegoo Neptune 3 Plus roughly measures 53x52x64cm and weighs close to 15kg. In case you want to print using ABS or other possible toxic filaments, you will need to build a huge closing box to host it.
The brain of the N3 Plus is a versatile ZNP Robin Nano_DW V2.2 32Bit control board with 5 motor outputs, built-in LED light controller, and filament detector input.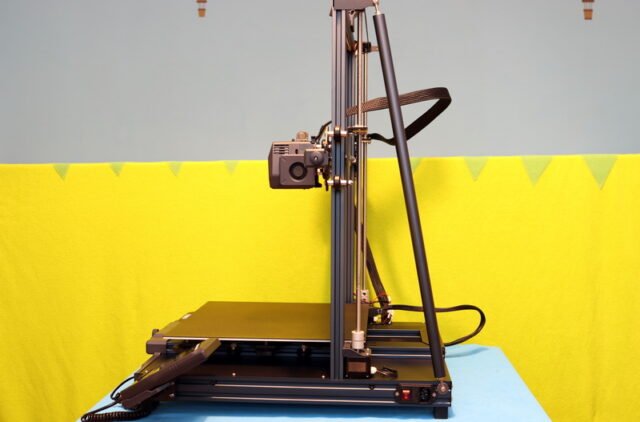 Elegoo Neptune 3 Plus: Key features
[Big in every aspect] Z-axis double screw, Proximal Dual Gear extruder, and Large print volume.
[Dual-Gear Direct Extruder] The new dual-gear direct extruder with a better grip on the filament and strong pushing force for smoother filament feeding and more stable & accurate printing, which significantly reduces the risk of nozzle blockage and under extrusion and printing well with PLA, ABS, PETG and even flexible filaments like TPU.
[49-point auto + manual bed leveling system] The non-contact high-precision sensor collects the deviation data at 49 (7×7) points of the hotbed. It then automatically adjusts the Z-axis height to compensate for any irregularities and unevenness of the printing bed. There are also six hand-twisting knobs underneath the hotbed to fine-turn the print bed with a single twist, thus ensuring a perfect first-layer print.
[PEI Magnetic Platform] PEI magnetic platform with special coating and spring steel sheet for good adhesion and anti-warping. To remove the model, gently bend the PE sheet. The 420W high-power hotbed can quickly heat up to 100°C.
[Z-axis Dual Lead Screw] The dual synchronized lead screws and dual-motor drive make the Z-axis movement more stable and smooth, avoid printing deviation driven by a single Z-axis lead screw motor, and improve printing accuracy and stability. With an STM 32-bit motherboard, the X/Y/Z/E axes are all driven by silent drivers to effectively reduce the printing noise to below 50 dB.
[Larger Print Volume] The larger-than-average build volume of 320x320x400mm (12.59 x 12.59 x 15.74 inches) gives you enough space to freely arrange your prints, print larger models, or carry out batch printing with high efficiency.
Price and availability
Starting in December 2022, the Neptune 3 Plus can be ordered from Elegoo's official store for $350 or from their Amazon store. If you need an even larger built volume, you can also check the N3 MAX for $470. For additional $70 bucks, you can order 5KG of PLA filaments in five colors (black, white, blue, red, and grey).
First print and user experience
Elegoo printers are known to be easy to set up and use, and the Nepture 3 Plus does not make an exception. It came partially assembled, and it took me only about an hour to prepare it for the first print. Considering its weight and scale, it is recommended to use a helpful spare hand when you assemble and move it from one place to another. As the machine requires at least 65x65x95cm space, it occupies half of my desk.
Checking for wobbling parts, I noticed that the print head was loose. Following the user manual, I adjusted the two eccentric isolation columns till the head slid smoothly without shaking. Belt tensioners are easy-to-use addition that will help with the long-term operation of the machine.
When I powered it on for the first time, it entered directly into the firmware upgrade process. Elegoo probably already copied the new software on the micro SD card but didn't finish the update process.
While budget printers come with cheap character LCD modules, Elegoo now throws in a newly developed color capacitive touchscreen that allows easy navigation and even a preview of the printed model. It can be operated by hand-held or fixed on a magnetic base.
From the leveling menu, you can opt for both manual and auto-bed leveling systems (ABL). For the included little Buddha model, I did only auto-leveling, and the result was satisfactory. For the large prints, I recommend running a couple of first-layer tests and doing additional manual fine-tuning.
Thanks to its direct driver extruder and high nozzle temperature (up to 260℃), you can use it with all kinds of filaments, not just PLA. I test it with TPU, ABS, and PETG with great success. I expect some eSun Wood-PLA, and Nanovia PC CF Carbon fiber reinforced filaments for further challenging tests. The built-in illumination light is handy for checking the printing status overnight.
According to Elegoo, the Neptune 3 Plus has a speed of 30-180 mm/s, which is more than three times faster than the average 50 mm/s recommended for Cartesian-type FDM printers. Some competitors have 250mm/s or even faster, so they can finish the job much quicker. With stock settings, using PLA filament, you can expect to print a full-height FIFA World Cup Trophy (138x140x400mm) in about 45 hours. The project requires 675 grams of filament (226 meters).
Technical specifications
| | |
| --- | --- |
| Printing technology | Fused deposition modeling (FDM) |
| Extruder | Proximal Direct Drive |
| Filament Compatibility | PLA, ABS, TPU, PETG, Wood, Marble, etc |
| Print Volume | 320x320x400mm |
| Platform Size | 320x320mm |
| Max nozzle temperature | 260℃ |
| Max hotbed temperature | 100℃ |
| Print precision | ± 0.1mm |
| Print speed | 30-180mm/s (60m/ms is optimal) |
| Print file type and location | TF card and USB cable |
| Slicer software | Elegoo Cura |
| Dimensions | 533*517*638mm |
Who's for?
If you commonly print small models, camera mounts, and other miniature projects, then the Nepture 3 Plus is probably not for you. It is not just a waste of space on your desk, but the larger heated print bed also has a higher power consumption.
On the other hand, if you regularly print large models and don't want to glue together multiple pieces, which affects the structural integrity, then the Nepture 3 Plus is probably the best you can get for your money. Functional 3D-printed RC airplane models require 320x320x400mm or even more massive printers. The Neptun 3 Plus is also ideal for batch printing, as you can print multiple items simultaneously. For example, while on a 320x320mm print platform, you can arrange up to 70 pieces of the demo model, on a standard 225x225mm 3D machine, only 31 units.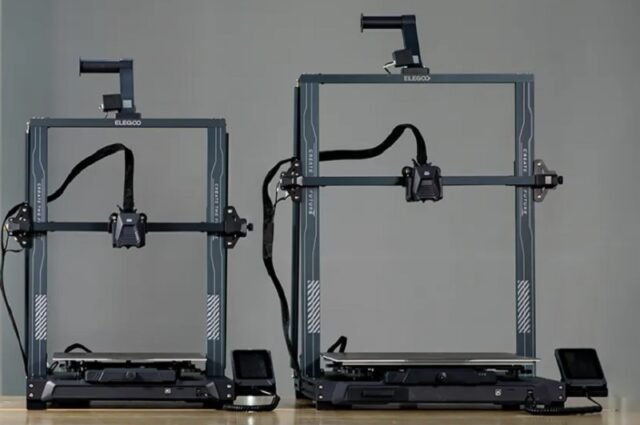 Elegoo Neptune 3 Plus versus Max: Battle of the Big Ones!
Neptune 3 Plus
Neptune 3 Max
Printing volume
320x320x400mm
420x420x500mm
Z-axis
Double lead screws&motors
Double lead screws&motors
Bed leveling
49-point Auto Mesh Leveling
63-point Auto Mesh Leveling
Platform material
PEI Magnetic
PEI Magnetic
Temperatures
Bed: 100°C
Nozzle: 260°C
Bed: 100°C
Nozzle: 260°C
Extruder type
Dual-Gear Direct Drive
Dual-Gear Direct Drive
Illumination
LED light bar
LED light bar
Printing speed
30-180mm/s
30-180mm/s
Power consumption
500W
500W
Price
$350
$470
How much space does the Neptune 3 Plus printer requires?
While the approximate size of the N3 Plus is 53x52x64cm, it requires much more space when working. The print bed moves backwards a lot, requiring about 70cm in depth. When the filament spooler is installed on top, about 1 meter of works space in height will be required. The Neptune 3 Plus is not a desktop 3D printer, and you will need to allocate 70x70x100cm at least.