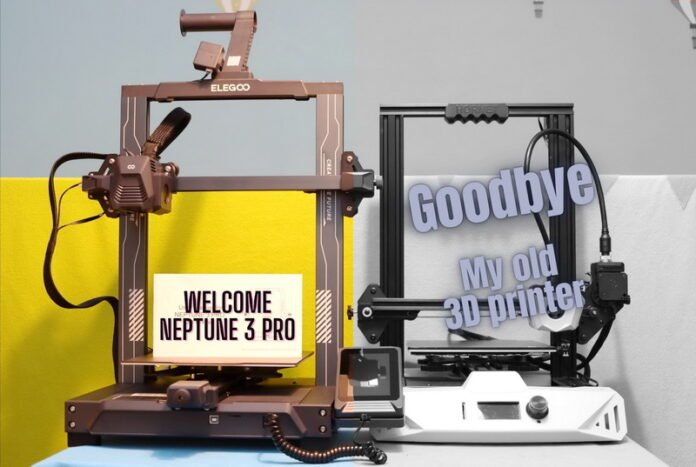 The new Elegoo Neptune 3 Pro 3D printer has some exciting features that make it the dream tool of any drone builder. It allows you to print all the necessary parts in the comfort of your garage. The most significant advantage of the N3 Pro over my previous printer is that the direct drive extruder allows using flexible filaments such as TPU.
I'm planning to order a DJI AVATA, but when you spend more than $600 for an FPV drone, you want to take all the measures to protect it in case of a crash. On Thingiverse, you can find many print models that can save your drone. Of course, the usability of 3D printers doesn't limit to drones. Using this technology, you can create wild and beautiful projects that were previously impossible to make at home. Want to get in on this incredible 3D print trend? The Elegoo Neptune 3 Pro is an easy and affordable way!
The Elegoo Neptune 3 Pro is a 3D printer that uses fused deposition modeling (FDM) technology. FDM is what most hobbyist 3D printers use these days. This technology can 3D print models in various colors and materials, including PLA, PETG, ABS, TPU, and more. The N3Pro allows you to print objects with a size of up to 225*225*280mm. It features auto-leveling, an out-of-filament resume, a big touchscreen with a live preview, and more!
Key features
[Pro in every aspect] Z-axis double screw, Proximal Dual Gear extruder, Capacitive screen, and LED strip.
[36-point auto bed leveling system] The non-contact high precision sensor automatically scans the hotbed at 36 points, and it collects data in real-time, compensating for any irregularities and unevenness of the printing bed by automatically adjusting the Z-axis height to ensure a smooth and consistent first layer.
[PEI Magnetic Platform] PEI magnetic platform with a special coating and spring steel sheet for good adhesion and anti-warping so that the prints can be quickly released or popped off by bending the print steel sheet. All axes of the ELEGOO Neptune 3 Pro adopt silent stepper motor drivers for quieter and more precise movement, which ensures silent printing and reduces the noise down to 50dB.
[Dual-Gear Direct Extruder] The new proximal double-gear direct extrusion mechanism with a 3:1 reduction ratio and strong extrusion force for smoother filament extrusion and more stable & accurate printing, significantly reducing nozzle clogging risk and under extrusion issues. Direct drive extruders can better control filament movement and print flexible filaments such as TPU.
[Upgraded hotend kit] It features large aluminum heating and a 3-fan cooling system for outstanding heat dissipation. It has a TC4 titanium alloy throat and brass nozzle of 0.4mm diameter.
[Z-axis Dual Lead Screw] The dual synchronized lead screws and dual-motor drive make the print head moves along the Z-axis more stable and accurate during the printing process, avoiding the printing deviation driven by a single Z-axis lead screw motor. The printer will auto-pause when the filament runs out or breaks, and you can resume printing after a power outage.
[Removable Capacitive Touchscreen] The 4.3-inch removable capacitive touch screen can be operated by hand-held or fixed on the base. Built-in print model preview function, you can preview the model image before selecting the print model and observe the printing progress by previewing the real-time comparison image.
ELEGOO Neptune 3 Pro review
Disclosure: I received this 3D printer as part of a product review collaboration with Elegoo. Product specs and quality may vary according to the manufacturer's reliability, so I cannot guarantee that you will get products that perform the same as seen in my article, especially since I received a pre-release version.
The ELEGOO brand name is made of two notions. ELE comes from the word electronic, which means open-source electronic. GOO comes from the word googol, meaning the 100th power of 10 (digit 1 followed by one hundred zeroes). The company has three LCD (Resin) 3D printer series Jupiter, Saturn, and Mars, and one FDM (Filament) 3D printer series, the Neptune. The FDM family includes six models: 2, 2S, 2D, 3, X, and the 3 Pro shown in this review.
At a glance
The first impression of a new product is the packaging. Elegoo did a great job in this aspect. The Neptune 3 Pro is well protected inside the box during shipping by foam padding, and our review sample arrived in perfect condition. Including a user manual and all the tools (screwdrivers, hex, and wrench keys) needed to make this printer work. Even some PLA test filament is provided for the first print model. There are also included two spare nozzles and a stainless steel cleaning needle. The 8GB micro SD card includes a PDF user manual, assembly tutorial video, ELEGOO Cura software, USB driver, and EN3PRO_Buddha.gcode test model.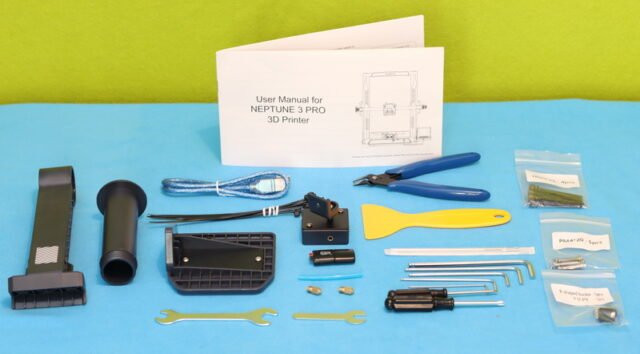 To fit inside into a reasonably sized box, the Neptun 3 Pro comes in two parts (base unit and Z-axis gantry ) that need to be assembled following the provided instruction video on the micro SD card. The process is straightforward, it just needed to install a few screws and connect some plugs. The screen stand, spool holder, and filament-out sensor also need to be installed by the user. Once fully built, it's compact and sturdy. It can be up and running in less than 30 minutes, including auto calibrations. It looks similar to the Creality Ender 3 S1 printer when fully assembled. Same premium quality but for less money.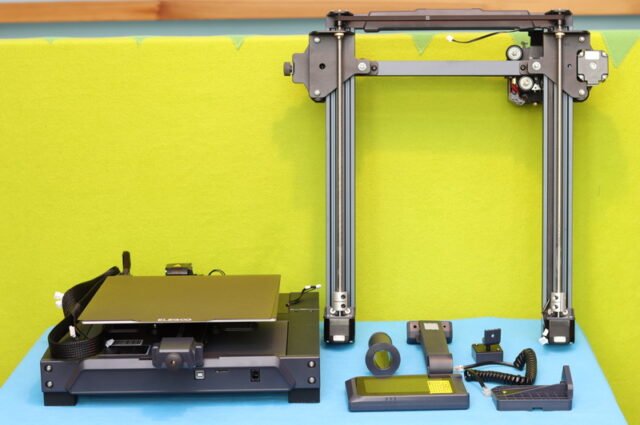 The power switch is easily accessible on the left side, so you can shut it down immediately if something goes wrong. In front there is a belt tensioning knob of the y-axis. There are no leveling knobs under the print bed. To be honest, I don't miss them, I hated the traditional manual bed leveling process.
Micro SD slot, USB, and Touchscreen unit plugs are on the front. The magnetic detachable 4.3 inches touchscreen controller is another impressive feature for its price tag. It is very responsive and user-friendly, unlike the rudimentary (2×16 characters display) and slow control system of my old 3D printer.
Elegoo Neptune 3 Pro: Dual-Drive Z-axis
The Elegoo N3 Pro adopts a dual lead screw design. With two Z-axis motors, it is much more stable when printing at high speeds. It is also less likely to experience 'Z-wobble', a common issue with single-rail Z-axis printers. Both Z-axis stepper motors are kept in sync via a timing belt. This helps to further improve the stability and accuracy of the printer.
Elegoo Neptune 3 Pro: Direct-drive extruder
Another notable feature of the Neptune 3 Pro is its direct-drive "Proximal" extruder. This is an essential upgrade from its predecessor, which uses a Bowden-style remote extruder. In a direct drive extrusion system, the extruder is mounted on the printhead and pushes the filament directly into the hot end, while in a Bowden system, the extruder is mounted on the frame.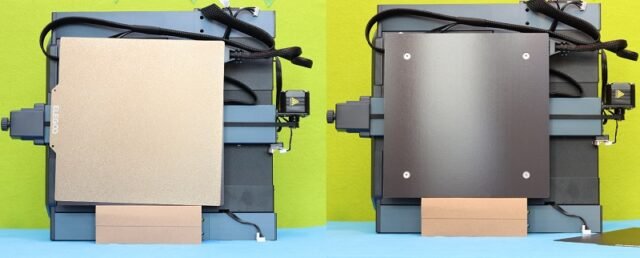 Elegoo Neptune 3 Pro: Magnetic Platform with LED illumination
In addition that magnetic build plates allow the easiest print removal they have excellent adhesion with the first layer. During my tests, I didn't feel the need to use an extra adhesive such as paper glue. When the magnetic plate has cooled down, you only need to bend it gently, and the model will pop off. To be honest, the included scraper is useless for this printer.
An LED strip on the upper part of the printer illuminates the print platform, making overnight prints more at hand. The light can be turned on/off freely during work. This is another premium feature of the Neptune 3 Pro. Here I should mention that it is reasonably silent, but it's still tricky to sleep close to it while printing. The noise is made more by the cooling fans and not by the stepper motors. My Samsung S21 phone registered an average 55dBA sound level (25cm from the printer) during the tests.
Technical specifications
| | |
| --- | --- |
| Printing technology | Fused deposition modeling (FDM) |
| Extruder | Proximal Direct Drive |
| Filament Compatibility | PLA, PETG, and TPU |
| Print Volume | 225*225*280mm |
| Platform Size | 235*235mm |
| Max nozzle temperature | 260℃ |
| Max hotbed temperature | 100℃ |
| Print precision | ± 0.1mm |
| Print speed | 30-180mm/s (60m/ms is optimal) |
| Print file type and location | TF card and USB cable |
| Slicer software | Elegoo Cura |
Price and availability
Starting in November 2022, the Neptune 3 Pro can be ordered from Elegoo's official store for $230 or from their Amazon store. For additional $70 bucks, you can order 5KG of PLA filaments in five colors (black, white, blue, red, and grey).
Pre-order (Estimated shipping date from local warehouse):
US—Dec. 3rd
EU—Dec. 31st
UK—Dec. 29th
AU—Dec. 24th
Elegoo Neptune 3 Pro: First print
Firstly, ensure that the voltage selector switch on the power supply (on the back) is set to the correct voltage for your region (230V or 110V). Having this set to the wrong voltage can damage the power supply and/or the printer itself, so double-check before connecting the power cord.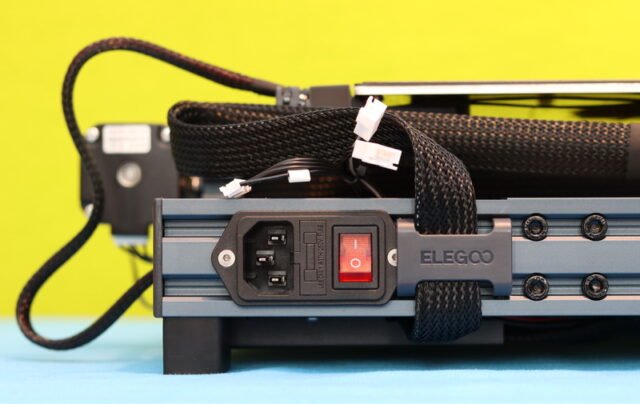 As I previously mentioned, assembling and setting up the machine was super easy. The same thing with my previous FDM 3D printer was a nightmare in comparison. My favorite part of the Neptune 3 is the 36-points auto bed leveling system. You still need to use a sheet of paper for the nozzle offset, but only once, not for each corner.
Elegoo ships the Neptun 3Pro with their own slicer software called 'Elegoo Cura', which is compatible with iOS and Windows PCs and is a fork of the open-source software Ultimaker Cura. I was already familiarized with this tool, and I consider it easy to use by everyone.
The textured PEI magnetic print sheet worked well, the first layer adhered well, and the model could be removed easily. The tiny buddha figure below was printed in about an hour. The quality is excellent for an FDM printer, but not spectacular like in the case of my Elegoo Saturn S resin 3D printer.
During the print process, the screen shows the elapsed time but not the remaining one. You can just guess it from the progress bar. I think this future could be easily included with a software upgrade.
After showing my office colleagues the second print, an articulated axolotl, two of them decided to buy the Neptune 3 Pro as Christmas presents for their kids. PLA filaments, made from non-toxic bioplastic, are generally considered safe to use by children for their school projects or to print around people. On the other hand, ABS filaments, during print, emit toxic fume and requires enclosed 3D printers with a built-in air purifier. Additionally, the printer's nozzle can exceed 260°c, which can cause severe burns if touched. With this in mind, children should never be left unattended when they use the printer.
Can it print TPU?
For many, it probably is very important to print using TPU filament. My old Bowden FDM printer failed every time I tried using TPU. I tested at least 50 different settings and two types of TPU brands. I even tried using glue on the print bed but still without any success. Instead, the Elegoo N3 Pro, without any custom settings or fine-tuning, printed the little buddha figure from toe to head with minor cosmetic problems using the same red SUNLU TPU.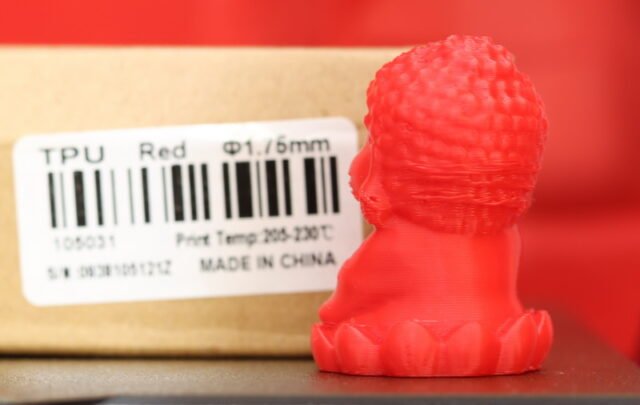 What's next?
For more tests, I ordered 3 types of filaments (ABS, PET-G, and PLA) in different colors. I want to build a RaceWhoop 30 drone entirely printed with the Neptune 3 Pro. For the frame, I will use ABS, and for the duct guards, semi-rigid TPU 72D filament. 3D project files based on FreeZillion's original design can be downloaded free from here.
I also plan to print some camera mounts for my existing FPV drones. My son already downloaded a few Star Wars characters that he wants to print in 3D. So there are many upcoming jobs for the Elegoo Neptune 3 Pro :)
Original Neptune 3 versus Neptune 3 Pro comparison: Is it worth upgrading?
The 'Pro' edition announced in November 2022 has some significant improvements over the original Neptune 3 released in May 2022. For extra $20 bucks, you got a TPU filament-friendly direct drive extruder, a 36 vs. 16-point auto-leveling system, and useful LED illumination of the printing process.
| | | |
| --- | --- | --- |
| | Neptun 3 | Neptun 3 Pro |
| Print size (volume) | 220x220x280mm | 225x225x280mm |
| Leveling system | 16-point RSG leveling system | 36-point Auto leveling system |
| Extruder | Double-gear remote | Direct driver Proximal |
| Z-axis | Single screw | Dual Lead Screw |
| Touchscreen | Resistive | Capacitive |
| LED illumination | No | Yes |
| Release date | May 2022 | November 2022 |
| Price | $209 | $230 |