After I published my GoPro Hero 10 review, I started looking for some compatible accessories. HSU had the most comprehensive bundle that includes 72 pieces of GoPro 10 accessories. Practically, contains everything you could ever need for this action camera, from plenty of mounting accessories to storage, diving, and protective cases.
GoPro accessories can take your videographer skills to a whole new level. Using relatively cheap add-ons you can turn your action camera into a professional video camera. Accessories provide a way to mount the camera on your body, drone, bike seat post, helmet, or even on your pet. When you pay more than 400 bucks for a GoPro, a protective case that allows carrying your camera safely with all its essential accessories is a must-have.
GoPro makes plenty of its own accessories, but there are also many third-party alternatives. They usually offer the same functionalities as the original ones but for a much lower price. Furthermore, most of the accessories from the HERO 10 will work also with the older HERO 9. The camera bodies and dimensions are the same (aside from the new bright blue logo), and the ports and batteries are also the same.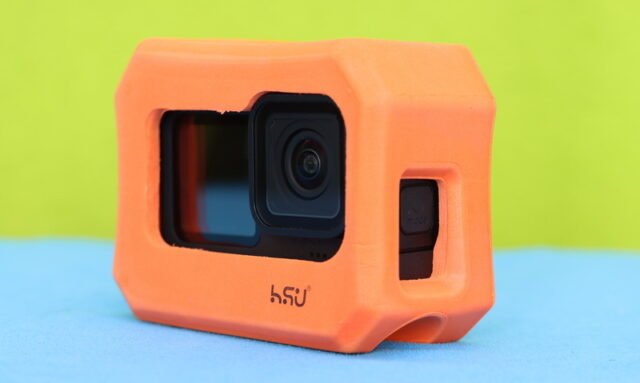 GoPro 10 accessories by HSU
Disclosure: I received these GoPro accessories as part of a product review collaboration with HSU. Although the products were offered free of charge, all opinions in this review are my own.
HSU (Happy Share Up) was founded about 10 years ago, by a group of photography enthusiasts who desired more ease and comfort during shooting. The company is focused to create versatile and innovative camera support equipment that photographers love to use. Their product range includes camera tripods, camera cases, selfie sticks, ring lights, and other camera accessories. They have a dedicated product line for GoPro action cameras.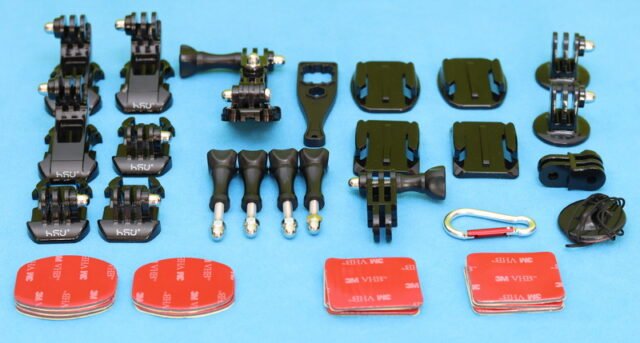 In addition to the 72 in 1 GoPro accessories bundle, they included a pair of GoPro Windslayer and a set of metal extension rods (3 sizes). When I opened the package I was impressed by how many accessories were included. To be honest, some of them I didn't even know what they are for, at the beginning. For example, there was a soap bar shape red sponge that initially I thought could have the purpose of cleaning the camera but actually had to be attached to the diving case making it float.
1. HSU 72 in 1 GoPro accessory bundle
The budget-friendly HSU 72-in-1 accessory bundle gives you all the tools you need to take your GoPro10/9 into the air, under the sea, or on the road. The kit includes a wide range of mounting accessories, cases, protection solutions, underwater/floating addons, and grips/tripods.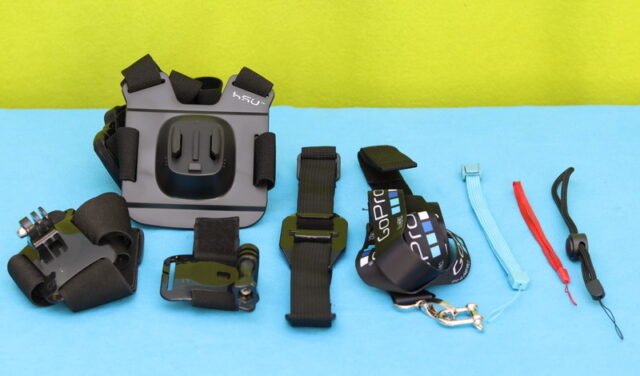 If you're planning to use your GoPro for hiking or on other similar adventures, the hands-free chesty and head mounts allow you to fully immerse your viewers in the action. The chesty harness has adjustable straps in order to ensure it fits over a vast majority of body types, and even over jackets if you're taking it into the cold.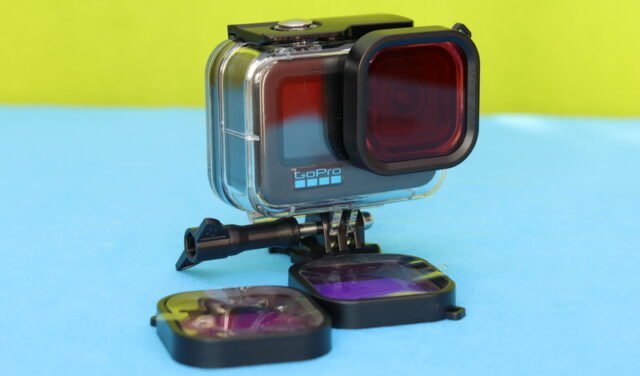 Since the Hero 5 Black, every GoPro camera is waterproof for depths up to 33 feet (10 meters). However, if you want to go beyond that depth with the Hero 10, such as while deep-sea diving, you'll need a dedicated waterproof case for it. HSU's diving case is rated up to 25 meters and comes with 3 color filters (light red, red, and magenta) that promise to correct the color deviation and solve the problem of greenish color.
There are many horror stories about how people lost their action cameras while boating, surfing, jet skiing, fishing or simply capturing footage of fish in the water. HSU includes in their accessory kit a bright orange foam frame (floaty) to ensure your GoPro 10 comes back up to the surface and can be easily spotted and recovered.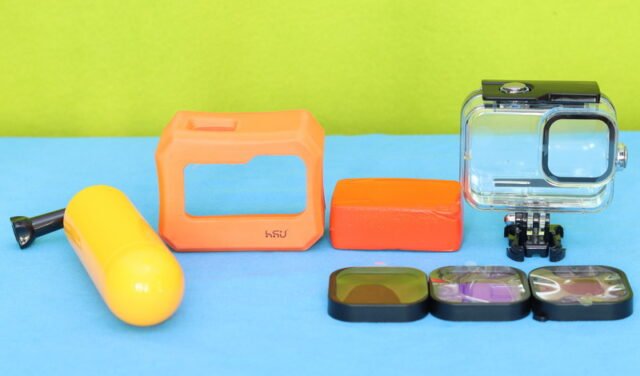 HSU's 72 in 1 GoPro 10 accessories bundle includes a fabric pouch, a mini carrying case, and a large foam-padded handbag that holds almost the entire kit. The mini travel case is made of high-quality PU leather and provides good protection for your GoPro camera. Thanks to its double zipper design it can be used even when the action cam is on a selfie stick. Using the included aluminum carabiner-hook can be conveniently attached to your backpack or pant's belt loop.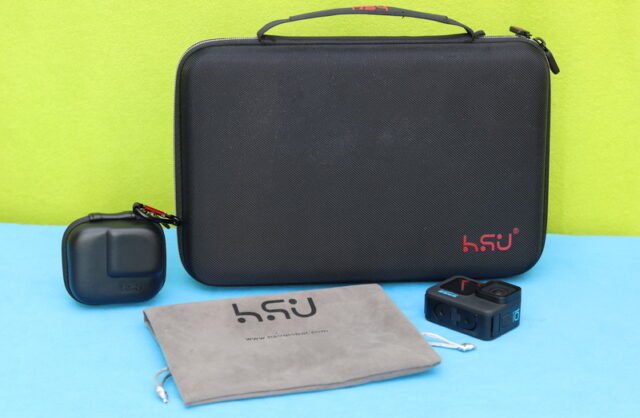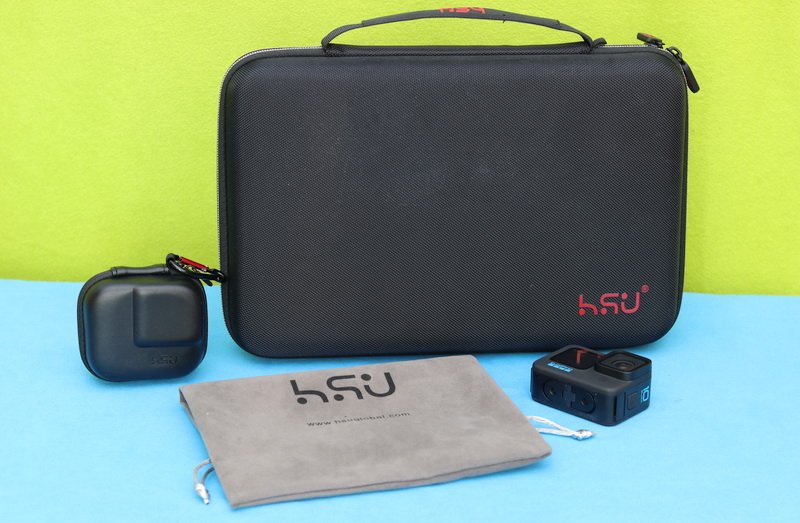 In addition to the yellow floating handgrip, the accessory kit includes a 3-position mini tripod and a telescoping selfie stick. The extension pole is made from high-quality waterproof and rustproof material. In order to avoid losing it during the action, the grip has a slip-resistant rubber and wrist strap around the pole handle. The length of the selfie-stick can be adjusted from 7.9″ to 22.6″.
For installation on top of a drone, it is recommended to use the silicone cover that adds extra protection if crashing happens. HSU offers two sets of screen protectors that shield the displays (rear and front) and the lens of Hero 10 Black from any damage. It's tempered glass so you can expect good scratch resistance and drop protection.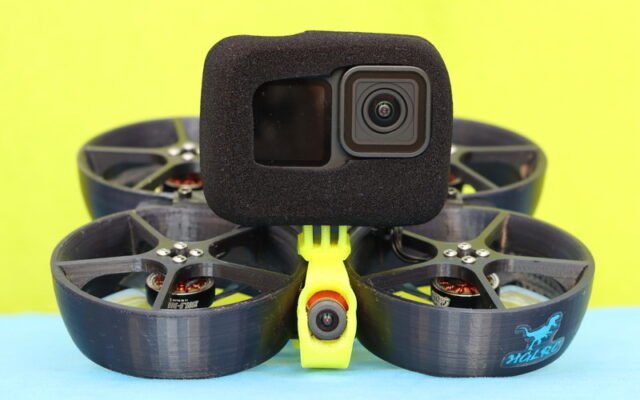 2. GoPro 10/9 Windslayer (Wind Muff)
The HSU Windslayer is specially designed for the GoPro 10 and 9 and it has all the appropriate cutouts (displays, lens, mount, and buttons). It is made from high-density sponge material which makes it extremely light and packable.
GoPro 10 has a built-in wind reduction feature, but this software filter does not work always as it should. Using the Wind Muff the audio quality is much clear and more importantly without level changes.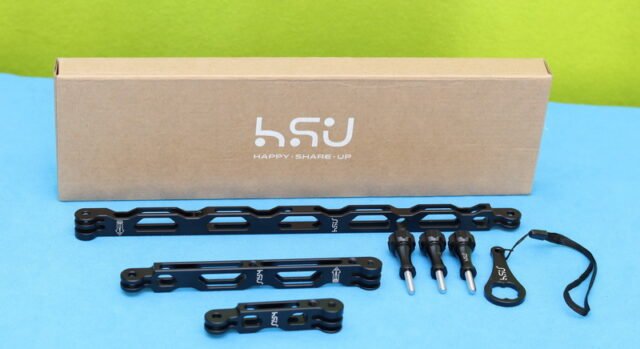 3. GoPro 10 aluminum alloy extension arms (rods)
HSU's action camera extension rods kit includes 3 arms of different sizes (8.5, 16.5, and 25cm). If needed they can be combined using the included bolts by two or using all 3 together. Besides GoPro, the rods can be used with the most popular action cams, including 360° cameras such as the Insta360 ONE X2.
HSU GoPro extension rods are made of aerospace-grade aluminum alloy, which is light and stable. The hollow design makes it possible to greatly reduce wind resistance, which is essential when they are used on drones to created cool POVs.
Price and availability
All the GoPro accessories shown in this review can be purchased individually or in a bundle from HSU online store. The 72 in 1 kit is now on sale for $89.99 with $10 off. A pair of Windslayer that can significantly improve the audio quality by reducing the wind's noise can be ordered for $11.99. While the shortest (8.5cm) extension rod is priced at $10.99, the longest (25cm) one is for $20.99. Most of the HSU GoPro 10/9 accessories can be also ordered from Amazon.
Price/value ratio

Design and build quality

Variety
Summary
HSU's 72in1 kit is one of the most compressive GoPro accessories that you can get right now. The shockproof case allows transporting your GoPro along with its accessories to wherever there's an adventure happening that needs to be filmed. The Wind Muff is an easy-to-use and inexpensive add-on to your GoPro that enhances your audio quality by eliminating the wind's noise.
Pros
A vast array of accessories in a single kit
Tons of mounting accessories (helmet, bike, belt, head, chest, etc);
A shockproof case that keeps your GoPro along with its accessories;
Floating accessories for underwater filming;
Included lens/LCD protection glass.
Cons
The quality of some accessories could be better;
No cleaning accessories included.
HSU 72 in 1 GoPro 10 accessories kit list
Large shockproof carrying case;
Mini fabric carrying bag;
Silicone protective cover housing case;
Waterproof housing with a set of 3 diving case filters (light red, red, and magenta);
Floaty housing case;
Extendable Handle Monopod;
Mini Tripod;
Lanyard for housing case;
2 kits of Tempered Glass Protectors;
Battery Side Lid Door Protective for GoPro Hero10 Black & Hero9 Black;
Head Belt Strap Mount;
Chest Belt Strap Mount;
Helmet Strap Mount;
Floating Handle Grip;
Floating block with 3M adhesive pad;
Wrist Strap Mount;
Remote Control Wrist Strap;
360-degree Rotary Clip Mount with screw;
Large Diameter Bike Handlebar Holder Mount;
Small Diameter Bike Handlebar Holder Mount;
Adjustable Car Suction Cup Mount (7cm-diameter base);
Vertical Direction Pivot Arms Mount Set (Long & Short Arms Mount + 1 Surface Quick Release Buckle);
Long Same Direction Straight Arms Joint;
Short Same Direction Straight Arms Joint;
Plastic Wrench Spanner;
Safety buckle;
High-quality Storage Pouch;
2 x Tripod Mount Adapter;
2 x Surface J-Hook Buckle;
2 x Surface Quick Release Buckle;
2 x Flat Surface Mount;
2 x Curved Surface Mount;
5 x 3M Flat Adhesive Pads;
5 x 3M Curved Adhesive Pads;
6 x Long screw Bolts;
Neck Strap;
Helmet Extension Arm;
Rubber Locking Plug with Tether;
Round Adhesive Mount with Tether Strap.