Hawkeye's 'Little Pilot Master' FPV monitor series has 3 models. In this review, we will have a closer look at the smallest, 2.5″ edition. These tiny FPV screens can be conveniently installed on top of your controller, allowing you to make an easy transition from the line of sight (LoS) flights to first-person view (FPV) flights via FPV goggles.
The Little Pilot Master can also be successfully used as 5.8GHz analogue input for the DJI FPV Goggles V2 – as it comes only with proprietary digital FPV signal reception.
Hawkeye Little Pilot Master features
Two screen size options (2.5″ and 3.5″);
960 x 240 screen resolution and 350 lux brightness;
Built-in DVR (only Plus edition);
AV In/Out jack for an external source, DVR, or DJI goggles;
Integrated battery for about 2 hours of usage;
Onboard 5.8GHz 48CH video receiver.
Hawkeye Little Pilot Master hands-on review
Disclosure: I received this FPV monitor from MakerFire in order to test it and do an in-depth review. Although the product was offered for free, all opinions in this article remain my own, with no sponsor's influence.
While I request Little Pilot Master Plus with a built-in DVR, I received the basic 2.5″ edition without onboard recording. Probably not with intention, but they did the same mistake with my Jumper T-Lite transmitter order (I received CC2500 instead of JP4IN1).
At a glance
Hawkeye packs the Little Pilot Master in a cheap cardboard box with the following accessories: 5.8GHz rubber duck antenna, 3.5mm jack cable, and instruction manual.
Roughly, the FPV monitor measures 9×7.2×1.7 cm and weighs about 50 grams. It has an RP-SMA antenna socket on top and a metal threaded mount hole at the bottom. Control buttons and a micro USB charging socket are found on the left side of the FPV monitor. The 2.5″ LCD screen has a resolution of 960×240 pixels, 16:9 aspect ratio and 350 Lux brightness.
The overall built quality of the Little Pilot is good. My only complaint is that it does not come with some mounting accessories and a sunshade.
Controls and settings
The Little Pilot Master has only 3 buttons: power, plus and minus. While by short pressing the '+' key you can toggle between 6 bands, the '-' allows to change channels (1-8). Auto searching can be activated by long-pressing the '+' button. Toggling between internal RF and external video source can be done by long-pressing the '-' button.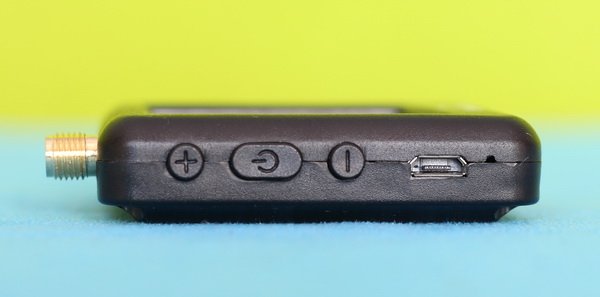 After is switched ON, by short pressing the power button you can enter into the main menu where you can make the following settings:
Brightness level;
Contrat level;
Format (Auto, PAL, or NTSC)
OSD (ON/OFF);
Sleep timer (Off, 1min, 3min, 5min, or 10min);
Language;
Reset to factory settings.
Price, options and availability
At the time I published my review were available 3 versions of the Hawkeye Little Pilot FPV monitor, 2.5″, 3.5″ XITU and 3.5″ Plus with recording function. All versions can be ordered from eBay and many reputable RC shops including MakerFire. While the smallest version is priced at $44.99, the Plus edition with integrated DVR can be purchased for $75.99. For an extra $7.99 USD you can opt for a 3D printed mount that allows you to install it on top of the T-lite transmitter.
Little Pilot Master review: First usage
Without access to a 3D printer, I had to craft my FPV monitor mount from an old RC phone holder and a custom made cold-shoe. Taking into consideration that I build the mount in less than 15 minutes, the results are quite good. It allows hassle-free installation and can accommodate both sizes of screens.
The built-in 48CH 5.8GHz is compatible with all my analogue FPV drones. Battery voltage and selected Band, CH#, frequency, and RSSI level are displayed on top of the display.
The screen is matte with reduced reflections. Colours and resolution are acceptable, but the size is too small to fly in full FPV mode. Battery life is about 2 hours, the screen shuts-down when 3.3-3.4v is reached.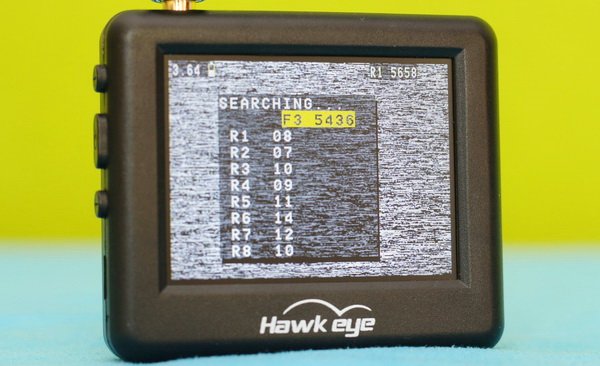 Editor's ratings
Price/value ratio

Design and build quality

Battery life

Features
Verdict
In case you suffer from motion sickness and flying through FPV goggles is not an option for you, the Hawkeye Little Pilot Master is an excellent option. Being small and lightweight, it can be installed on top of almost any transmitter. If you are close to retirement I suggest opting for the 3.5″ version, because you will found the 2.5″ too small.
Pros
Included 3.5mm jack cable for DJI FPV goggles or external DVR;
Built-in battery;
Ability to change the antenna;
Easy to use OSD interface.
Cons
No built-in DVR;
Single not dual-diversity reciever.
Photo gallery