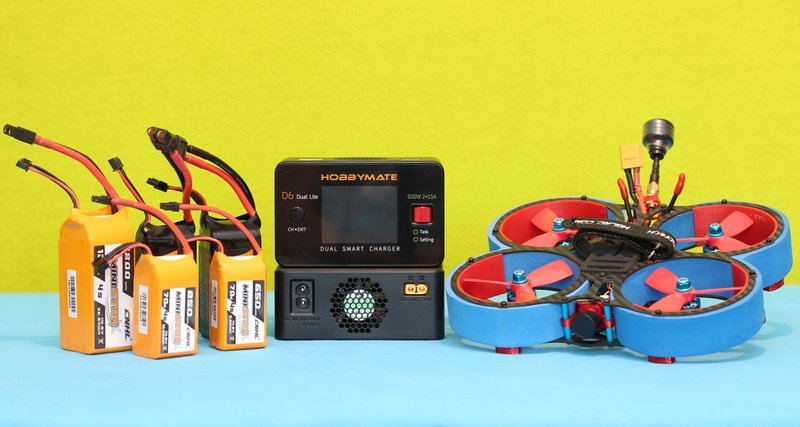 While FirstQuadcopter is mainly focused on drone reviews, we are always happy to test and evaluate additional accessories like this Hobbymate D6 Dual Lite LIPO charger.
If you're an occasional drone pilot, who plays only once a month, probably any cheap charger will fit for you, but if you are seriously involved in quadcopter racing, with a huge arsenal of FPV drones and LIPO batteries, you will appreciate all the advantages of this dual-channel smart charger. FPV drones use different types of batteries such as LiPo, LiHv, and Li-ion. To properly charge all kinds of batteries you need a universal charger.
The beauty of this charger is that you can use it either indoors together with the T240 smart power supply from an AC outlet or outdoor from a high-capacity battery. The Hobbymate D6 Dual Lite is like a Hybrid car :)
Hobbymate D6 Dual Lite LIPO charger review
Disclosure: I received this dual-channel charger as part of a product review collaboration with HobbyMate. Product specs and quality may vary according to the manufacturer's reliability, so I cannot guarantee that you will get a charger that performs exactly the same as seen in my review.
The main difference between the Pro and Lite D6 is the AC/DC adapter. While the D6 Duo Pro charger has an integrated 200W AC/DC converter, the D6 Dual Lite has an external 240W power unit. This approach makes the Lite more portable and 'field-friendly'.
From time to time I also review LIPO batteries and test their performance. As the D6 Dual Lite allows to charge/discharge two batteries simultaneously it is a handy tool in the process to compare two same types of batteries (cell&mah) from different brands.
At a glance
I received two boxes, one contains the D6 Dual-Lite charger and another one with the T240 Smart 240W Power Supply with its power cord and XT60 cable (female to male). Both units have the same size (111 x 70 x 45 mm) and together weigh almost 600 grams. When I stacked them (charger unit above the power supply) I found out that they attach to each other thanks to built-in magnets. Both have some foldable stands, which are useless in my opinion as there are no vent holes on their bottom. In order to allow good heat dissipation, both devices have cooling fans. The two parts are interconnected together with a ~12cm XT60 male-to-female cable.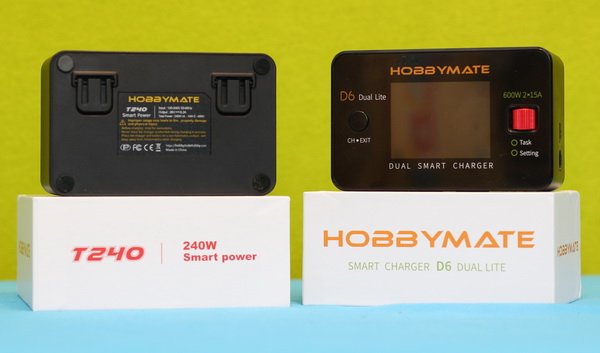 Many consider the active cooling system noisy when they charge their batteries overnight. To be honest, after seeing so many LIPOs exploding or getting on fire I could NOT fall asleep near to them, even though I'm using fireproof bags while charging.
As smartphones are one of the most important gadgets of our life, both units have two USB charging ports. A standard 10W USB 2.1 and a fast-charging 45W Type-C port. The charging unit has a third micro USB port for firmware upgrade.
The main unit has a 2.5″ color LCD, a control button (CH/Exit), and a stylish red navigation dial knob (Task/Settings) on the front panel. Battery connectors (XT60 main plug + 6S balance port) are found on the front-side panel. Near the USB update port, there is a 3-pin multi-function port.
A good battery charger puts your safety at the forefront. The Hobbymate D6 Dual Lite has numerous built-in safety features such as over-voltage, over-current, overheat, and short
circuit detection.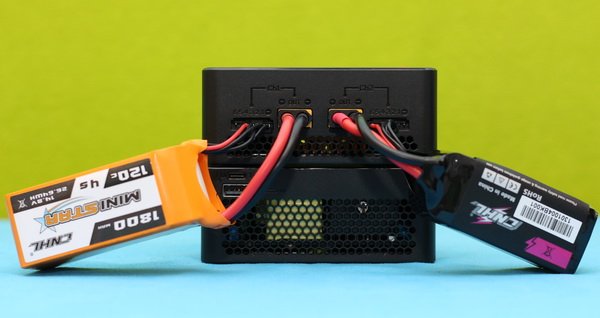 Controls and user interface
Despite that it does not come with a printed instruction manual, you can easily familiarize yourself with the user interface and configuration options.
After a short self-checking, the charger enters directly into the overview screen. The display is divided into two zones (CH1 and CH2), allowing to have all the information at a glance from both channels. Each task has its own background color (eg: blue – standby, green – task completed, or orange – charging).
The 'CH/Exit' button allows toggling between CH1, CH2, or Split screen. In order to configure a charging program, you need to select the appropriate channel. By rotating (in any direction) the dial-knob you can toggle between cell voltage and system info (input voltage, temperature, and input power) details.
By short pressing the dial knob, you can enter into the Channel settings menu. From here you can select Task, Battery type (LiHv, LiPo, LiIon, LiFe, LiXX, NiZn, Pb, NiCd, NiMH, or Eneloop), Max Cell voltage (vary according to the battery type), Cell count (1-6, automatically detected ), and Current setting (0.1-15A).
The following Tasks can be selected:
Charge (Standard charging program);
Discharge (Internal discharge 0.1-3A);
External Discharge (External load is required. Up to 15A);
Storage (LIPO packs are charged/discharged to 3.8V/cell);
Balance (Bring all cells to similar voltage);
Regenerative discharge (Transfer energy from one battery to another one);
Sync\Combined charging (Both XT60 outputs to one battery).
By long pressing the dial-knob you can access Task parameters (safety timer, Max capacity, End current, and Trickle charge), System parameters (Language, Regenerative discharge [Max current, Max voltage, and Max Power], Max input power [50-660W], Min input voltage [10.5-27V], LCD backlight, Volume, Completion signal [Repeat or Single], and Device name), Tools (PWM Measurement, Servo ManuTest, Sevo AutoTest, and PPM Out), CH1\CH2 calibration, System self-checking, Factory settings (reset to default), and System info (Hardware version, software version, and serial number).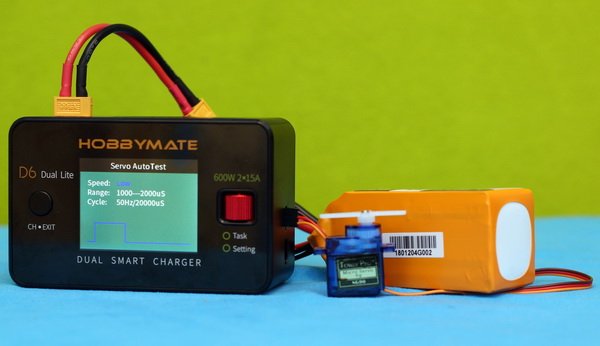 Extra features (Tools)
In addition to the standard charging tasks you can perform the following jobs with the Hobbymate D6 Dual Lite charger:
PWM Measurement – PWM servo signal analyzer (receiver plugged into multi-function port);
Servo Manual test – Manual servo motor testing (Cycle and Pulse width can be adjusted);
Servo Automatic test – Automatic servo motor testing (Speed and Range can be adjusted);
PPM Out – 8CH transmitter simulator (Multi-function port wired to flight controller RX input).
The power supply functionality can be selected from the Task menu. In this mode, the D6 Dual-Lite acts like a veritable double-output laboratory power supply. You can set output voltage between 5 and 24V (regardless of input voltage!) and output power between 100-300W.
Price and availability
The D6 Dual Lite charger can be purchased from Hobbymate in two package options. While the bare DC unit is priced for $79.90, the combo pack with the included AC/DC unit can be ordered for $129.90. On their website, you can also find a wide range of battery adapters, including parallel charging boards.
Editor's ratings
Price/performance ratio

Design and build quality

Battery compatibility

Cell compatibility

Easy to use
Verdict
The Hobbymate D6 Dual Lite is a must-have gear from the inventory of any serious FPV racer. It does not just allow you to charge your battery, but also to keep them in good shape. The storage function is more than welcomed during the winter when the batteries are stored for a longer period. Furthermore, all the programs can be run simultaneously on two batteries at the same time.
The extra features are also handy for debugging. It allows you to test your servo motors, radio receiver and to simulate a transmitter if needed.
Lastly, in case you want to transfer energy from one battery to another one, it is also possible with this Hobbymate smart charger.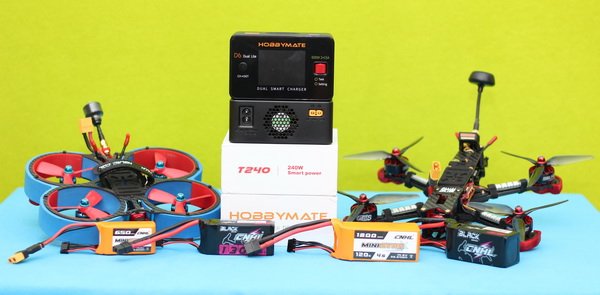 Pros
Portable and Powerful;
Can charge two batteries at the same time with different programs;
Color IPS display with easy to use interface;
Extra features (Power supply, PWM Measurement, Servo Manual\Automatic test, and PPM Out );
Charging current can be adjusted 'on the fly';
Integrated USB fast charger (45W);
Firmware upgrade port;
Optional AC/DC adapter.
Cons
No battery cables included, out the box works with XT60 only;
The power supply is a bit load;
Lack of external thermometer to monitor battery temperature.
Hobbymate D6 Dual-Lite features and specs
Split design with magnetic stacking (Charging unit + AC/DC power supply);
Dual-channel (two batteries at the same time with individual programs);
Wide range of DC voltage input (DC 10.5~30V);
Charge power: 2 x 300W (total of 600 Wats);
Charge Current: 2x 0.1~15A;
Balance Current: 2 x 1.6A;
Internal discharge power: 2 x 15W;
External discharge: 2 x 300W (total of 600W);
Multi chemistry

LiHv/LiPo/LiFe/Lilon/Lixx : 1~6S
NiZn/Nicd/NiMH : 1~16S
Smart Battery: 1~6S
Lead Acid(Pb): 2~24V
Envelop : 1~16S

USB Output: 5V / 2.1A;
Type C output: Max 45w;
T240 Smart Power Supply specs:

Multi-region compatible (100~240v / 50-60Hz input voltage);
240W (29V/8.3A) XT60 Power out;
10 W USB 2.1 and 45W fast-charging USB Type C;
Compatible with D6 Dual Lite Charger, D6 Duo Pro DC Version Charger, and ISDT Charger.