In the past, chargers were very basic electronic devices. I remember that ones I tried to repair one and I found inside only a couple of resistors and diodes. Compared to those old charges, the  HobbyMate D6 Elite is a very versatile hi-tech gear. In addition to the fact that allows charging almost any type of rechargeable batteries (multi-chemistry), it can be used as a servo tester as well. Moreover, thanks to the XT60 input, it can be used as an emergency power-bank.
While most of the drones come with their own dedicated charger, they are not necessarily the best option. For example, the FiMI A3 is packed with a basic charger which doesn't allow to fully charge the LIPO. Using the HobbyMate D6Elite charger I obtained 4 minutes of extra flight time.
HobbyMate D6 Elite core features
Charging, Discharging, Storage charging, Cell checker and Servo tester;
PWM, PPM and SBUS Input/Output receiver & flight control tester;
Multi-chemistry (LiPo 1-8S, LiHV 1-8S, LiFe 1-8S,NiMh 1-20S annd PB 1-12S);
Can charge up to 8 cell Li-Po batteries;
Wide range of DC input ( 7~30V@MAX 16A) – XT60 plug;
Integrated 2.2 inch (132*64 Pixel) black and white LCD;
Intelligent dual cooling system (variable speed);
USB 5.0V@5.1A output for mobile devices.
HOBBYMATE D6 Elite charger review
Disclosure: I received this pocket drone charger as part of a product review collaboration with HobbyCool. Although the product was offered free of charge, all opinions in this review remain my own and I was in no way influenced by the sponsor.
I received the package in about 3 weeks with standard free shipping. The box is very small and includes, besides the charger, only a USB Type-A cable and a tiny user manual. No battery adapters nor AC/DC adapter included.
At a glance
The HOBBYMATE D6 Elite is one of the smallest 8s balance chargers that I had in my hand. Anyway, despite its small size, it looks pretty nice. On the front panel, there is a 2.2″ monochrome LCD screen, a dial-knob (with center "OK" button), and an "Exit" button. On the left side, you can find the USB port (5V@2.1A) and the Servo socket (-,+, signal) which makes this charger quite unique. Battery plugs (XT60 and 1-8S balance socket) are found on the right side of the charger. Yes, it is capable to charge up to 8 cells LIPOs, not just 6 ones like other hobby chargers.
While its twin brother, the HobbyMate D6 Duo, comes with a built-in AC/DC adapter, the D6Elite requires an external power source. As I previously mentioned, for this purpose you have only an XT60 plug. If you want to charge one battery with another one, it is fine, but trust me this will not work forever. As a power source, you can use any DC adapter with 7-30 volts as well as a 2-7S LI-PO battery. If you will use a LIPO battery to power the charger, I suggest you correctly set the input limit (3V/cell). For example, in the case of a 6S LIPo you should set 18V.
On both sides of the XT60 input plug, there is a tiny cooling fan. They start to spin only as it is getting hot inside the charger.
User interface (main menu)
Powering on the charger, it enters automatically into the main menu where you have 4 options:  Charger, Output, Measurer, and Settings. Navigating within menus can be done easily using the dial knob, OK, and Exit buttons.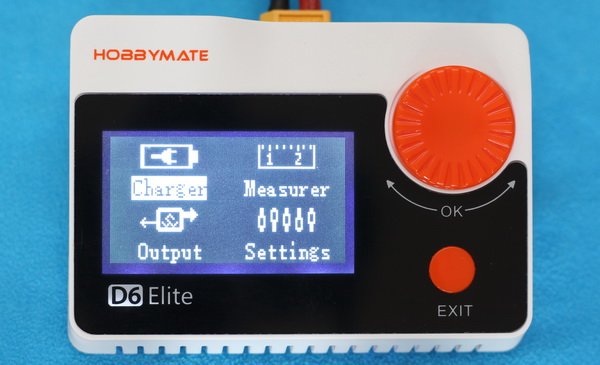 1. Charger – menu
It comes with only one predefined battery type (LIPO) by default. The user can freely add/remove and customize its charging programs (battery type, max cell voltage, charge current, and discharge current). You can change the charging current even on the fly (while the battery is charged). If you select LIPO, LiHV or LiFe battery type, you can start 3 different programs: Storage, Discharge, and Charge. BTW, the number of cells is automatically detected, which is pretty cool.
2. Output mode
PWM – 1 channel – it allows to control/test motors from a gimbal;
PWR – 8 channels – it allows to test inputs of a flight controller (simulate a receiver);
sBUS -16 channels – it allows to test inputs of a flight controller (simulate a receiver);
PWR – Surely, this function will be appreciated by any electronics hobbyist. In this mode, the charger behaves as a step-up/step-down voltage/current regulator. You can adjust the output voltage even on the fly. Here are also some predefined settings for Mavic2 – 17.6V, Mavic S – 13.0V, Phantom S – 17.4V and Inspire S – 26.1V.
3. Measure mode
PWM – allows to measure receiver outputs (one channel at a time);
PPM – allows to measure receiver outputs (up to 8 channels at the time);
sBUS – allows to measure receiver outputs (up to 16 channels at the time);
BATT – allows monitoring of each cell voltage, total voltage, and state of charge (SOC).
ESC – Can simulate the throttle stick of the transmitter while measuring the power that is absorbed by the motor through the ESC.
4. Settings Menu
Lowest input (min 7.0V);
Input power (max 350W);
Safe Temp. (by default 70° C);
Safe CHG time (by default 120 minutes);
DisCHG mode (Internal or Recycle);
sBus value (Original or Width);
Back-light level (1-10);
Contrast (1-10);
Buzzer (1-7);
Idle beep (by default 5 minutes);
Hub support (Off/On);
Language (English/Chinese);
Factory defaults;
ID and firmware versions.
Features I personally tested:
The first thing I did, it was to make a 12V DC (female 2.1mm) to XT60 adapter cable. As I previously mentioned, you can't charge batteries with another battery for too long. Even if it is the dream of mankind :D.
In addition to the standard stuff (charging, storage charging, and discharging) I tested the PWR function, the Servo tester, and sBUS monitor. Practically a bit of everything :) All extra features worked great and they are very handy.
During discharge, the charger became pretty hot even if the cooling fans worked at full speed. For discharge, you have two options: internal and recycling. The second mode is pretty awesome, practically you transfer the capacity from one LI-PO to another one.
Through the USB port, you can charge standard USB devices (smartphones, tablets, and toy drones). Yes, another bonus! Together with a LIPO battery, it can be used as a power bank for mobile devices.
One more thing, if you connect the battery to the output (both cables), the charger starts automatically in cell checker mode. Will show you the balance state (voltage of each cell), total battery voltage, and SOC (State Of Charge) in percent.

The last thing, you can enter into calibration mode, by holding the center button while you connect the battery.
Price & Availability
This compact but fully-featured LIPO charger can be found for only $39.90. If you have an Amazon account, you can also order it from there.
Editor's ratings
Price/performance ratio

Design and build quality

Battery compatibility

Cell compatibility
Verdict
Whether if you are in the state of designing, testing, charging or troubleshooting your drone, the D6 Elite is your best mate :). It allows to measure the power usage in order to calculate the ESC rating. You can limit the output power in the testing phase. Moreover, it can be used as servo tester and cell checker. It allows to check the connection between the receiver and transmitter. Last but not least, it allows to charge almost any type of drone battery.
Just like in case of the other two reviewed HobbyMate chargers, my only complain is regarding the lack of included battery adapters. You are limited to XT60 plug, in case you don't purchase some additional battery conversion cables.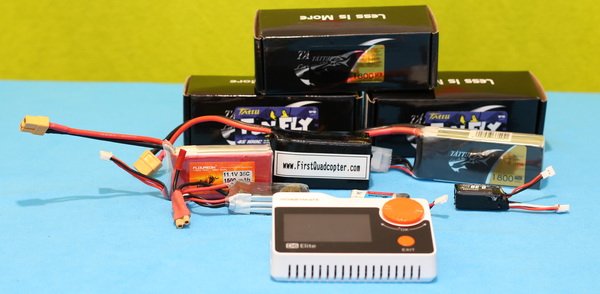 What I liked
Extremely affordable;
Many features (charging\discharging, cells checker, and servo tester);
Multi-chemistry (many types of batteries are supported);
You can change charging current while the program is started (on the fly);
Internal and Recycling discharging;
The charger detects automatically the number of cells;
Easy to use interface;
Can work as a voltage/current regulator.
What I didn't like
Only XT60 input;
No internal AC/DC adapter;
Lack of included battery adapters.
Alternatives
Frankly, it is very hard to find such a versatile charger like the HobbyMate D6Elite. Especially so cheap and compact. IMHO, it is a quite unique product in its price tag. It combines the functionalists of at least 3 separate devices (charger, servo tester, and battery meter).