HobbyMate Q100 micro FPV quadcopter for indoor fun
During winter days, when outside are -15ºC, somehow you can't find the mood to play outdoor with your favorite racing drone. Luckily, the micro brushed quads like this HobbyMate Q100 are great for replacing the outdoor fun with an indoor one. The advantage of this model over dirty cheap toy drones is the versatile and programmable flight controller.
After I reviewed many RTF packages, I liked the idea that the HobbyMate Q100 comes in parts. The fact that I can build my own quadcopter doubles the fun 🙂
Sponosored AD
According to your existing transmitter you can opt for 5 different RX variants. As I already own a FlySky FS-i6 transmitter, I opted for the Flysky FS-A8S Mini receiver.
HobbyMate Q100 DIY quadcopter KIT parts list
Q100 frame kit with rubber landing pads;
600TVL camera with 25mW 5.8G VTX;
N32 brushed flight controller;
3.7V 550mah Li-Po battery;
4 pieces of 8520 coreless motors (49,000 rpm);
20 pieces of propellers (10x CW and 10x CCW);
Power cable (with micro Losi connector);
Double-sided adhesive tape;
Two pieces of rubber bands;
Optional radio receiver (DSM2, PPM/SBUS, AC800, RLR6DSM or FS-A8S).
HobbyMate Q100 DIY quadcopter review
About one month ago I was contacted by Kevin from HobbyMate about the possibility of a review collaboration. After I checked their product range I opted for this Q100 DIY drone kit. I also found on their website a nice Li-Po battery storage protection bag. I should mention that they never requested to write my review on a favorable way for them or their products.
The package arrived in about 28 days, probably it took so long because of the winter holidays. All the components where stuffed in a surprisingly small box (11 x 3.5 x 21cm). The parts where sealed in separate labeled bags. A short description (user manual) about the flight controller and how to flash new firmware is also included in the box.
In order to assembly the KIT you will need only few tools, a cutting clamp and a basic soldering iron.
HobbyMate Q100 review – Flight controller (N32 6 DOS)
The HobbyMate Q100 is build around the tiny Naze32 brushed flight controller (FC). Currently there are four variants of this FC: N32 6 DOF, N32 Acro, N32 10DOF and Naze 32 Full.
Although the Naze32 6 DOS does not feature a magnetometer sensor or a barometer sensor, it is a capable flight controller for experienced FPV pilots. The Naze32 is suitable for quad-copters as well for hexa-copters.
The FC has size of 33mm x 20mm and weights only couple of grams. The brain of the N32 6 DOS FC is the STM32F103CB micro controller.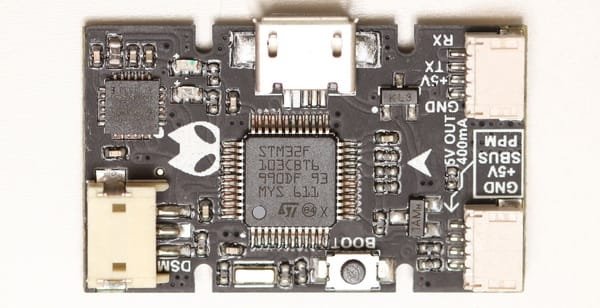 On top of the flight controller is located a micro USB port (for firmware upgrade and fine tune), a micro push button ("boot"), status LEDs and other 3 connectors.
On the bottom of the FC are located the motor soldering tabs, power pins (max 4.2V) and the power LED.
The Flight controller comes with pre-flashed CleanFlight 1.13.0 Alienflight1 firmware and it features multiple flight modes. While "Angle" mode is suitable for beginner pilots, "Horizon" mode is suitable for more skilled ones. "Rate" mode (aka: Full manual or Acro mode) is suitable only for experienced pilots.
HobbyMate Q100 review – VTX Camera/FPV
The VTX camera included in the HobbyMate Q100 DIY drone KIT has resolution of 600TVL. The optical module has a size of 12.5 x 12.5 x 14 mm and the 5.8G VTX module size is 10 x 25 x6mm. The camera module and the VTX are interconnected with 3 wires (power and video). This HobbyMate micro FPV Camera is suitable only for 1s Li-Po batteries (input voltage: 1.8-5.0V).
Switching between the 16 transmission channels can be done easily using a micro push button. A RGB LED shows the actual channel.
Although its small size, both image quality and range are quite good. I got clear signal about 70-90 meters from me.
HobbyMate Q100 review – Assembling
Based on my pleasant experience building the F450 quadcopter, I started with confidence to assembly this little bird.
First step is to solder the battery connector and the VTX camera's power cable (red to "+" and black to ground). Using the included double-sided adhesive tape, you can attach the VTX on top of the flight controller.
Second step is to solder the motor leads. The package contains two type of motors, clockwise and anti-clockwise. The correct order of the motors is:
Motor 1 – CW (blue and red wires).
Motor 2 – CCW (black and white wires);
Motor 3 – CCW (black and white wires);
Motor 4 – CW (blue and red wires).
Next step is to attach the motors to the motor bases. The flight controller is firmly secured to the airframe by clips. Using a small piece of double-sided adhesive tape you can attach the camera on front of the frame.
The final step is the installation of the RX module and battery. Using the included rubber bands I secured the battery on top of the frame and the FS-A8S RX right under the battery. At this step I found the first problem: there is no dedicated 1.0mm 4p cable included. This cable is required to interconnect the FC with the RX module. To pass over this issue I decided to cut and solder together the FC's cable with the RX's cable.
As you can see on the image bellow, the final results are pretty nice. If I put side-by-side the HM Q100 with the Eachine Q95, you can't say which one is DIY and which is not.
HobbyMate Q100 review – Configuration
After I downloaded and installed the CleanFlight APP, by using a micro USB cable I connected the FC to my computer. Note: the props are recommended to be removed during configuration, also, there is no need to connect the flight battery.
Using the APP, you can correlate the Aux channels of the RC with the FC. For example, I assigned my FS-i6 transmitter's Switch "D" to arm/disarm the motors and Switch "C" to toggle between flight modes (position 1 – "Angle" mode and position 2 – "Horizon" mode).
BTW, through the CleanFlight APP you can check the right direction of rotation of the motors and also to calibrate the accelerometer. Failsafe settings also can be set there.
My recommendation is that you leave the PID values untouched, at least till you are not an expert.
HobbyMate Q100 review – First usage / Test flight
Before first power ON (battery connect) I recommend to double check the wires and soldering for short-circuit.
reserved, updated in progress
Price-performance ratio

Easy to assembly

Camera / FPV

Flight performance
HobbyMate Q100 review - Verdict
The fact that the Q100 package doesn't include any instruction regarding assembling should not bother you. It can be easily assembled in about 3-4 hours (including research). The biggest advantage of building your quad is that you will be familiarized with the parts. This way, repairing the drone if something goes wrong will be much easier.
If you are interested in building your own micro racing quad-copter, this nice DIY KIT can be found here for 39.90 without a receiver and with FS-A8S RX module for $59.90. You can opt for 3 different colors of the cockpit (red, yellow and white).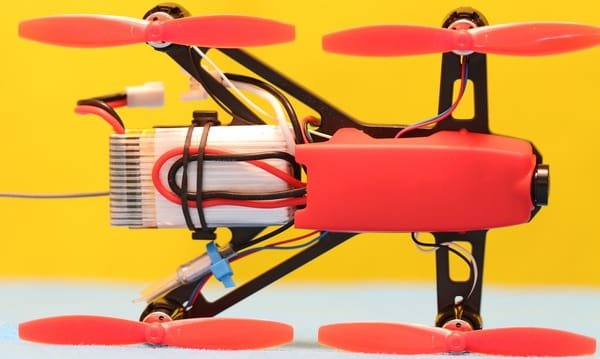 Pros
Affordable micro brushed racer quad;
Easy to assembly;
6 type of TX variants;
Lots of spare propellers;
Spare part availability.
Cons
No 1.0mm 4p cable included (RX to FC);
No buzzer.
Needs soldering (would be more appropriate to use connectors for the motors).
HobbyMate Q100 review – Photo gallery
Sponsored review