It looks like it has become a tradition to review on FirstQuadcopter all the newly-launched drone chargers from HobbyMate. Today we will make an in-depth analysis of their Speed H6 smart charger. Despite its small size, the HOBBYMATE Speed H6 is a very powerful charger with a built-in AC adapter and some cool extra features.
A good intelligent LIPO charger is an essential part of any drone flier's gear collection as it keeps healthy their battery packs. During charging\discharging all cells are individually motorized in order to squeeze out the best performance from their batteries. Furthermore, multi-chemistry chargers like HobbyCool Speed H6 allow charging almost any type of batteries (LiHV, Lipo, LiFe, Lilon, Nizn, NiCd, NiMH and Pb), of course with the compatible cable.
HobbyCool Speed H6 highlights
Compact size (only 108 x 67 x 60mm);
Easy to use controls (2.4″ IPS display + touch buttons);
Built-in AC/DC adapter;
Super powerful (200W AC / 700W DC);
Compatible with almost any type of rechargeable batteries (LiHV, Lipo, LiFe, Lilon, Nizn, NiCd, NiMH, Eneloop, etc);
Safety features (internal resistance detection, short circuit protection, over-load protection, over-voltage protection, over-temperature protection, and over current protection);
Multiple discharge modes (Internal, External and Regenerative);
Advanced features like servo tester, PWM / sBUS signal output;
5V/2.1A USB output for mobile or other device charging.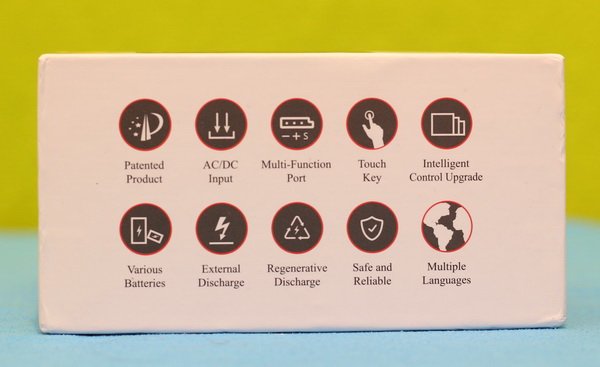 HOBBYMATE Speed H6 charger hands-on review
Disclosure: I got this drone charger as part of a product review collaboration with HobbyCool. Although the product was offered free of charge, all opinions in this review remain my own and I was in no way influenced by the partner.
I received the package in just two weeks, not bad for standard shipping. I think that I had luck because they sent the package before the 11.11 and Black Friday madness. Besides the charger, I found inside the box only an AC cord and a specs sheet. No detailed user manual included nor battery adapter cables. IMHO the manufacturer should include at least an XT60 to XT30 adapter.
At a glance
Despite the integrated AC adapter and 700W power ratting, the Speed H6 is surprisingly small – it measures only 108 x 67 x 60 mm. By comparison, it is slightly bigger than a 6s/3000mAh LIPO pack.
On the front panel, besides the 2.4″ high contrast IPS display, there are 3 touch control buttons (up, down and select). On the back of the Speed H6 charger are the input connectors, from right to left you have: AC In (100-240V), Micro USB firmware port, DC In (6.5-30V), and servo input (-+S). There is no external thermal sensor plug, in case you are looking for one.
All outputs are on the left side, right above the vent holes. You have XT 60, 1-6S balance battery plug, and USB socket. Unfortunately, the USB port is only 5V/2.1A rated and cannot be used as a fast charger. On the opposite side, there is a 4 cm cooling fan, which works only if need it.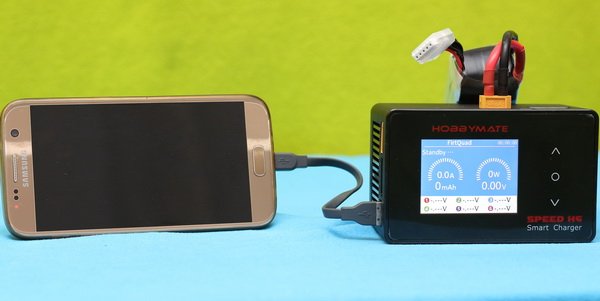 User interface
Similar to the D6 Duo Pro charger, the Speed H6 also has a nice color display. The main screen provides lots of useful info. While on the bottom ribbon you can see the voltage of each individual cell, the upper one shows battery type, charging level, and elapsed task time. In the middle, there are two radial indicators (left one for current, the right one for power, and total voltage).
Using the arrow keys you can navigate between menu items and change values. Through the "circle" select button you can acknowledge the changes you are making. By default, there is a loud annoying beep on each touch – luckily under the charger settings menu, you can adjust the volume or disable it completely.
While by gently touching the "select" button you can enter into task settings, by long "pressing" it, you can access the charger's settings menu.
Task settings
Under task settings, you can configure each individual working mode. You can opt between the following 7 different tasks:
Power supply (Voltage and Power);
Charge (Battery type, Cell voltage, Cell count and Current settings);
Discharge (Battery type, Cell voltage, Cell count and Current settings);
Ext. discharge ;
Storage;
Balance;
ReGen Discharge.
Charger settings
Find below the complete list of options you have under the "Charger settings" menu:
Task Parameters (Safety timer, Max. capacity, End current, and Trickle charger);
System parameters (Language, Regen. Discharge, Max. input power, Min. input voltage, LCD backlight, Volume, Competition signal, and Device name);
Tools (PWM measurement, Servo ManuTest, Servo AutoTest, and PPM Out);
Calibration;
System self-checking;
Factory settings;
System info (HW version, LD version, SW version, and SN).
HOBBYMATE Speed H6 extra features
Besides the specific working tasks (charging\discharging), the HobbyCool Speed H6 can work as AC/DC and DC/DC converter (Power supply), Power-bank, Servo tester (manual/auto), PWM signal reader and generator.
While the "PWM measurement" allows to test\measure each individual channel of your radio receiver, the "PPM out" can simulate an 8CH transmitter to your flight controller.
The power supply feature will be appreciated by electronics hobbyists. The Speed H6 can work as a step-up and step-down DC converter. Regardless of the DC input voltage you can configure output between 5 and 24 volts with steps of 0.1V. Output power can be configured from 20W to 700W (insane amount of power from such a small device!).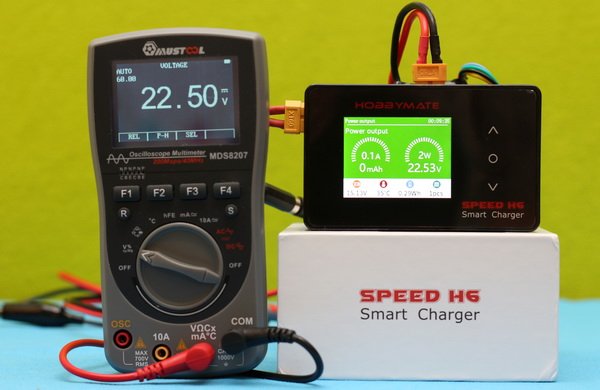 Price & Availability
Starting with October, this compact and powerful smart charger can be found here with 20% off for $89.90. I suggest you order together with the Speed H6 a couple of battery adapter cables too – you will need them sooner or later for sure.
First usage
Firstly, I tested it from AC outlet – I found it very handy that it doesn't require an external AC adapter like the HobbyMate D6 Elite. After a short booting process, it enters in "standby screen" and waits to configure the desired task.
For all tasks, you can choose from a wide range of battery types. According to battery chemistry, the following number of cells are supported:
LiHV/Lipo/LiFe/Lilon/Lixx: 1-6s;
Nizn/NiCd/NiMH:1-14s;
Smart battery: 1-6s;
Lead Acid(pb):1-12s;
Eneloop: 1-14s.
I did a quick charging and discharging test. It is nice to have all the info at a glance. The number of cells is automatically detected through the balance leads. The fan starts after a couple of minutes when things start to heat up.
Secondly, I tested it using a 4S/1800mAh battery pack as an input source. This way you can charge one battery with another one. The cool thing is that you can charge with a 2S LIPO a 6S one or vice-versa. The only restriction is that the input battery must have between 6.5-30 Volts and provide sufficient current (total power) to fully charge the battery on the other side (output).
In case you need to discharge one of your batteries, HOBBYMATE Speed H6 has multiple options for it. You can use internal discharge with up to 30W total power, or if you need faster discharge you can connect on battery leads an external resistance load.
If you want to speed-up / slow-down things you can change the current level on the fly, without stopping/re-starting tasks.
Editor's ratings
Price/performance ratio

Design and build quality

Battery compatibility

Cell compatibility
Verdict
The HOBBYMATE Speed H6 charger has got some cool extra features and it's extremely compact to carry around. With up to 700W output power and built-in AC adapter, it should meet most pilot's needs as their main charger indoor and outdoor. Thanks to the USB socket, they can charge even their mobile devices right on the field. Also, through the DC input, they can transfer energy from one battery to another. With up to 30W internal discharge power, is probably the fastest one in its market segment.
My only complaint is regarding the lack of battery cables, there are none included in the box.
What I liked
Built-in AC adapter;
Compact size;
Nice user interface (touch controls + color display);
High discharge current;
Regenerative discharge.
What I didn't like
No battery cables included, out of the box works with XT60 only;
Lack of APP (desktop/mobile);
USB port is not fast charge rated.