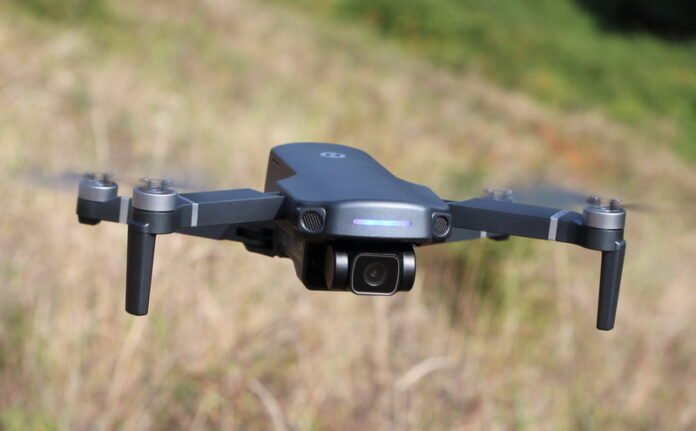 The Holystone HS360S is an entry-level drone with some serious capabilities. While it is relatively affordable, beautifully compact, and lightweight enough to be classed alongside toy drones without the need for registration or pilot license in most countries, it's no child's plaything (it has powerful brushless motors, the battery supports 20 minutes of flight – over a range of up to 3km/ 9843ft, and the camera supports 4K video).
With a simple but effective companion app and well-designed remote controller, Holystone has created an easy-to-operate drone for any first-time pilot. The HS360S SpyDI has many newbie-oriented features such as multiple speed rates, GPS-assisted failsafe return to home, and Beginner mode. Of course, being priced at only 175$, it can't have all the advanced safety features of the newly released and five times more expensive DJI MINI 4 Pro.
In "Novice" mode, the Spydi drone limits its flight distance and altitude to 30 meters (98 feet), allowing beginners to practice in a safe zone.
Holy Stone HS360S hands-on review
Disclosure: I received this sub 250g class drone from Holy Stone in order to test it and do an in-depth review. Although the product was offered for free, all opinions in this article remain my own, with no partner's influence. They requested to see my article before publishing it, but I do not work this way.
Holy Stone is a well-established company known for producing high-quality consumer drones. The brand has garnered trust and credibility for delivering reliable drones at various prices, making them accessible to a wide range of hobbyists. Holystone is known for incorporating cutting-edge technology into its drones. Features such as GPS and GLONASS navigation, brushless motors, gimbals, and 4K cameras demonstrate their commitment to staying at the forefront of drone technology.
The HS360S SpyDI is the third drone of theirs that I have reviewed. The "S" is a second iteration of the original HS360 model and is lighter than its predecessor to comply with FAA regulations. Unfortunately, they removed the mechanical gimbal, an essential part of buttery smooth footage, to reduce the weight.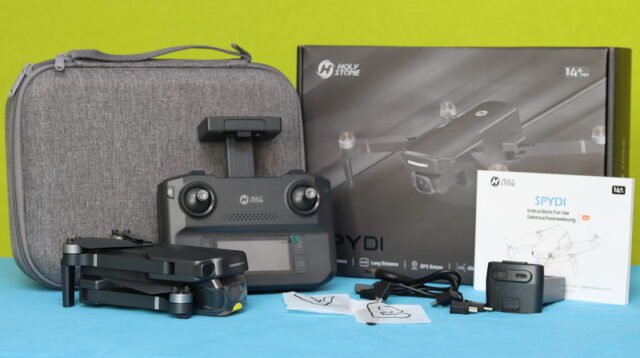 Last week, I was contacted by HolyStone about the possibility of reviewing one of their newest drones. Usually, it takes a few weeks to test a drone, but upon their special request, I promised to publish in one week. The HS360S arrived four days later in a nice handbag with the following accessories: a remote controller, flight battery, a pair of spare propellers (A and B), a USB charging cable, three RC to Phone cables, and the drone user manual.
Holystone HS360S: At a glance
When I removed the HS360S and saw that the gimbal was fake, I was disappointed because I knew that you could have the world's best camera on your drone, but without stabilization, it is mainly useless. Out of the box, the camera is shielded by a plastic guard, which is removable when you come to fly it.
The drone measures 141*94*56 mm with folded arms and weighs 249 grams (< 0.55 lb). Its brushless motors are equipped with two-leaf foldable propellers. Holystone includes a pair of spare blades (A and B) with related screws and a screwdriver for easy replacement.
The fuselage has an elegant charcoal-black color with silver design elements. The plastic it is made from seems to be sturdy and durable. In the front is a status LED with two fake collision avoidance sensors on its size; a second status LED is on the back, under the tail. A metal air vent and a tiny camera that serves as an optical flow positioning sensor are on the fuselage's belly.
The included handbag provides convenient and safe transportation for your drone. It has dedicated compartments for the aircraft, the remote controller, and two extra batteries. The top flap has a large zipped mesh pocket for smaller accessories for spare props, cables, and manual.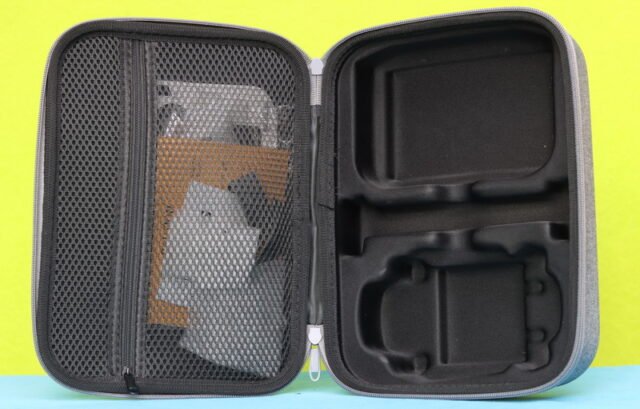 Price and availability
When I published my review, the HS360S was priced at $178 and almost out of stock on Amazon. With a review score of 4.6 from more than 400 ratings, it is no wonder why it is selling so fast.
Holy Stone HS360S: Camera
Regarding the camera, the HS360S shoots 8Mp (3840 x 2160) photos and 4K video at 20fps or 2.7K at 30fps. The problems come when the drone is in motion. Without gimbal stabilization, the videos are erratic, with many horizon changes. When the drone accelerates or breaks, it tilts, and this changes the field of view (FOV). After a couple of hours of practice and using gentle stick movements, the videos can be improved, but they will never be like those produced by DJI, Autel, or FiMI drones.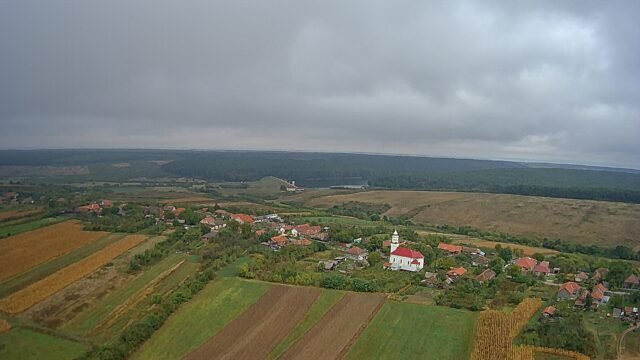 Control over images and video capture is relatively minimal, resuming resolution change with no option to tweak ISO, Contrast, or Saturation. It has a vertical shooting mode for social media, but this just crops the image without actually rotating the camera. The camera supports digital zoom to get closer to the desired subject. You can choose from four operation modes: Photo, Video, TimeLapse, and Panorama.
Holystone HS360S: Battery life
The HS SpyDI drone is powered by a 7.4v (2s) 1500mAh battery. The LIPO pack has 4 blue charging level indicator LEDs, a Type-C USB charging port, and a power button. Holystone does not include a dedicated charger with the drone, and in theory, you should be able to charge it from any phone charger or free USB port. I tested it with three different chargers, and unfortunately does not support fast-charging PD ports.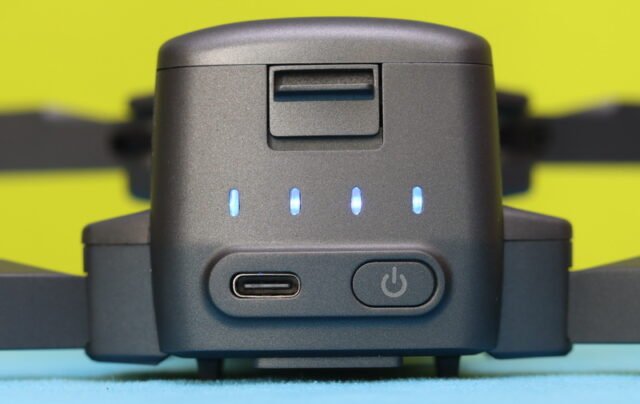 Technical specs say that battery life is 20 minutes per charge in perfect conditions. I got an average of 19:30 minutes of flight time during my tests. Spare batteries are available for 35-$45 if you need more fun time. When the battery is near empty, the drone will automatically engage the RTH sequence, even if you hover right above the take-off point. Usually, RTH should be activated only when the drone is outside of a 30-50-meter radius.
Holystone HS360S: Controller and flight distance (range)
This HS360S drone comes with the most advanced controller in its price range that I have reviewed. Its built-in repeater means your phone communicates with the drone through the transmitter, allowing further flight distances. DJI uses this kind of technology in most of their consumer drones. Micro, Type-C, and Lightning data cables are included to cover all smartphones.
The advertised max flight distance is between 2-3 km; during my test, when I reached 2000 meters, a warning message showed up ("Reach limit distance. Distance over 2km, please pay attention to the wind speed to ensure safe return"), and I manually hit the RTH button. The video signal was stable throughout the flight and with decent latency (delay). The 4 Km flight took about 16 minutes, and the battery was nearly empty when I landed.
As you can see in the photo below, the transmitter is professionally designed with a handy status screen that provides the following telemetry data: drone battery level, flight distance, flight altitude, speed, flight mode, camera status, and signal strength. The Take-off/Land, Speed switch, RTH, Take Photo, Start/Stop video recording, and Power buttons are on the front panel. It has two shoulder dials; the left is used to zoom in/out, and the right one pivots the camera vertically through 90 degrees. The phone can be attached on top of the RC using the built-in retractable mount.
The stick-ends are removable and can be stored near the Type-C charging port on the bottom of the RC. The internal battery lasts about 3–4 flights, but remember that when your phone is connected will charge it, and this can affect the overall battery life.
HS FLY mobile APP (Android and iOS)
The HS360S is indeed to work with the brand new HS FLY APP that provides, besides the live view, advanced flight modes such as GPS follow me and quick shot modes (Point of interest, Catapult, Spiral up, and more). You have telemetry data on the bottom ribbon, such as flight distance and altitude. In the "Parameter" tab, you can enable/disable "Novice" mode and configure RTH altitude, max flight altitude, and distance.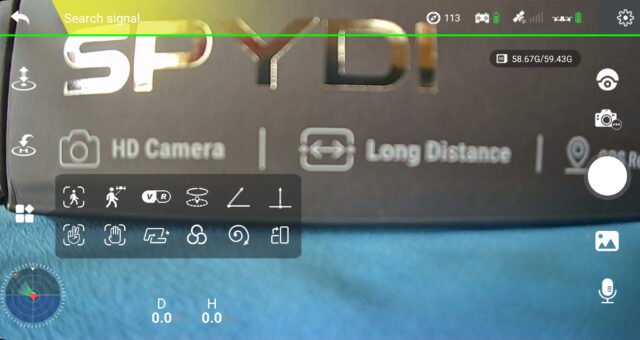 HS360S SpyDI: Key features
[No FAA Registration or Remote ID Needed] Extremely lightweight, weighing less than 250 grams (0.55lb), no FAA or Remote ID Registration is required.
[4K UHD Camera with GalaxyCore Sensor] Holy Stone drones with camera for adults 4K equipped with 1/3" CMOS GalaxyCore Sensor and 4K 85° wide-angle Camera adjusted within 90° by remote control or the app, captures stunning 3840x2160P photos and 4K videos. Unleash your creativity from a whole new perspective.
[Powerful Brushless Motors] Experience stability in flight with the advantage of powerful brushless motors for your drone.
[Intelligent GPS Functions] It features precise GPS positioning, providing stable flight and a safe return home. This GPS drone can perform a Return-Home Function to find it's way back to you when the battery runs low, or the connection breaks up.
Technical specifications
Weight
249 g/8.78 oz/ < 0.55 lb
Dimensions
141*94*56 mm (folded)
297*215*56 mm (unfolded)
Max Flight Time
20 minutes (per battery)
Max Photo Resolution
3840 x 2160P (in TF card)
3840 x 2160P (in mobile phone)
Max Video Resolution
3840 x 2160P@20fps (in TF card)
2976 x 1680P@30fps (in TF card)
1280 x 720P@20fps (in mobile)
Lens angle
FOV 85 degrees
Max Flight Distance
6562 to 9842 ft \ 2 to 3 km (outdoor and unobstructed)
Battery type
Lithium-ion Polymer 2S 7.4V 1500mAh
Max flight time
20 minutes
Who is the HS360S made for?
Holy Stone's HS360S drone is great for beginners who want to perfect their flying skills without spending a fortune on their first drone. It is stable and easy to control. Except for an obstacle avoidance system, it features all the safety functionalities that a beginner should wish for. Another selling point is that weighing just 249g does not require a pilot license or registration to fly it legally in most regions, including the FAA's jurisdiction.
On the other hand, if you are looking for an entry-level camera drone, I would skip over this HS360S, honestly. The camera disappointed me due to the lack of stabilization and low frame rate.