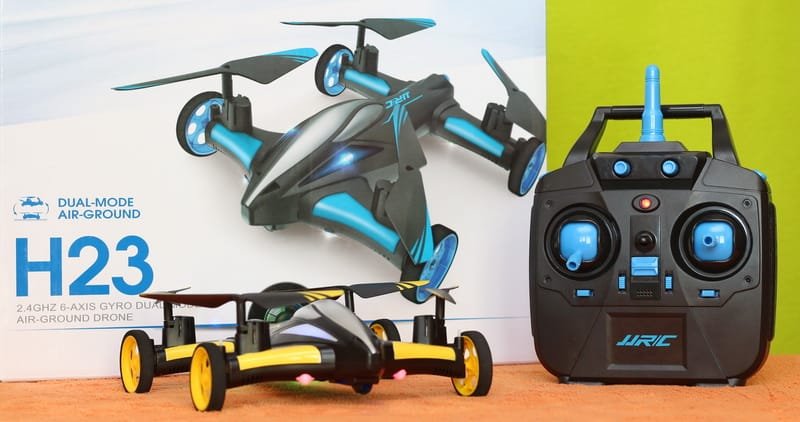 JJRC H23 quadcopter car for double fun
Recently, JJRC announced their H23 drone car. It is basically the SY X25 but with a much nicer design. Notably is that both models can be easily switched from ground to air operation. Practically you can drive the JJRC H23 like a car and then fly it like any other drone. The kids will definitely love this feature for sure.
The 2 in 1 concept offered by this JJRC H23 helps newbies to familiarize with remote controlled drones as they can first exercise to ride it as a car and after that slowly get it up in the air.
On first look, my only disappointment regarding this RC drone car is the lack of a camera. In my opinion, JJRC for sure will release an upgraded model of this H23 that will allow to capture the journey of your flights.
JJRC is a name that many quadcopter enthusiasts have come to trust. The toys they make live up to the expectations of many flying toys passionate like me and spare parts are widely available. Their prices are pretty good, too.
Manufacturer's features and specs
Headless flight mode;
Can fly in the sky and drive on land;
One key return to home (without GPS);
LED lights for night flights;
Multiple speed rates (fast, intermediate and slow);
1s 750 mAh Li-Po battery;
About 6-7 minutes flight;
Up to 200 meters control range;
Available in blue/black and yellow/black colors.
JJRC H23 quadcopter review
Honestly, I mainly accepted GeekBuying's offer to review this JJRC H23 because of my son. He was very sad when his similar toy broke down completely after several crashes.
Although I knew I will have to deal only with a RC toy, I was curious how it behaves and if it has any improvements compared to other car quadcopters (eg.: Syma X9 and SY X25).
Inside the stylish box, besides the car-drone and its transmitter, I found a small bag with two spare propellers (CW and CCW), USB charging cable, screwdriver and instruction manual (English and Chinese).
On first impression the quad has pleasant colors (I randomly received a yellow/black one) and nice build quality. In my opinion the designers from JJRC tried to create some kind of a mixture from a old-school racing car and an alien spaceship.
The car-quad comes fully assembled and ready for action (drive or fly, whatever you want). The size of the aircraft is about 18 cm long and 17 cm wide.
All the propellers are black with yellow paint marks. They look just like some tiny genuine DJI carbon fiber props :).
Although, the aircraft has a On/Off power switch, the 750 mAh battery comes loaded but not connected through the LOSI connector. The battery is easily removable, which is nice because you can always have a couple of spare ones ready for more fun time.
In the front part there is a small hole where probably in a future upgraded model the manufacturer plans to mount a camera. On the opposite side (tail) there is located a bright blue LED which helps for orientation. Another four LED lights (one under each arm – red in front – green in the rear) will make your night flights/drives very spectacular.
JJRC H23 review – Remote controller
The toy grade transmitter has a nice design and an advertised 200 meters of control range. I'm curious if it will be confirmed on the flying field… BTW, the design of the RC is very similar with the one JJRC H31 has.
Besides the usual control sticks, trim and shoulder buttons, the RC features two fake dial-knobs which try to induce a more professional look.
While the left shoulder button activates the RTH (Return To Home) and the Headless flight mode, the right shoulder button activates the 3D stunt mode.
Using the left trim button (under the throttle stick) the H23 quadcopter-car can be switched between 3 rate speeds (slow, intermediate and fast).
Resetting the trim settings can be done easily by pushing both sticks to the lowest right position.
Leaving aside the throttle stick (left one in mode2) the H23 drone can be controlled with the right stick as it would be a car. Push up the right control stick and will move ahead. Push down and will move forward. The direction can be adjusted by moving the control stick to right or left. If you want to take off, just push up the left stick. When the H23 car-drone is in the air, both sticks behave like on a regular mode 2 transmitter.
In case the JJRC H23 starts to fly abnormally I recommend firstly to try to re-calibrate the gyro by pushing both sticks to the lowest left position.
JJRC H23 review – Test flight/drive
Being familiarized with this concept (drive and fly) I test it indoor with confidence.
In car mode it behaves like any other cheap RC car, not too fast and not too responsive. Quickly bored to drive it I pushed the throttle stick up and the drone-car raised immediately in air. The wheels are no longer engaged after the propellers begin to spin. In the air it performs surprisingly well, it is very fast and responsive movements for such a toy.
The fully charged 750 mAh battery offered about 6 minutes of play time but this may vary according to the mode you operate the JJRC H23 quadcopter. When the battery is near empty the LEDs will start to flash warning you that it is time to land and park.
I managed to test it only for short time because my son claimed this toy. Hopefully will last more than the previous one :D
Test ride and maiden flight video
Price–performance ratio

Design and build quality

Flight autonomy

Remote controller
JJRC H23 review - Summary
In on sentence, I can say that the JJRC H23 is a great little fun flyer.
Excepting the wheels which makes it very weird in the air, it fly like any other drone. It is surpassingly stable and easy to control.
For a cheap RC toy as $35, this car-drone is an excellent choice for first time pilots (kids and adults as well).
How about you? Have you ever tried a drone car? Will you pick one of these? If yes, you should know that it can be found here with free shipping for $32.99. You can find both color combination and also additional spare batteries.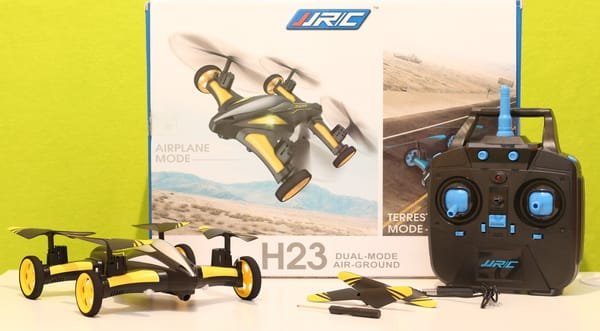 If you have any suggestions regarding my JJRC H23 review please let me know what you're thinking in a friendly comment.
Pros
Affordable 2 in 1 remote controlled toy;
Pretty cool design;
Easy to operate, especially in car mode.
Cons
No camera;
No propeller guards.
Although this product review is sponsored, all the impressions are my own.
JJRC H23 review – Photo gallery