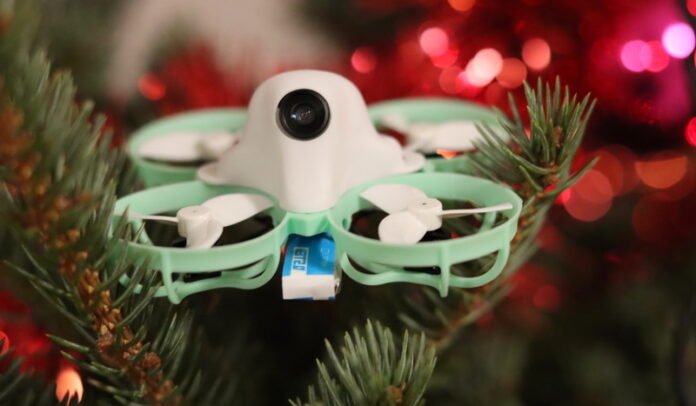 During winter when it is cold, snowy, or rainy outside, these BetaFPV Meteor65 Pro style micro Whoops are perfect for indoor practice. With a wheelbase of just 65mm and those ducted blade protectors, it is safe if you bump into something by accident.
The "Pro" edition of the Meter65 is available with an integrated ELRS radio receiver and uses 35mm propellers instead of 31mm for extra performance. The rest of the components (FC, Camera, VTX, and motors), including the frame, are the same as the ones non-Pro has.
Technical specifications
65mm size unibody frame with the protective canopy;
1S LIPO compatible;
F4 AIO flight controller with integrated 5A ESC and ELRS 2.4G radio receiver;
0802SE 19500KV motors with 35mm 3-blade propellers;
BetaFPV CO2 1200TVL camera;
5.8GHz M03 25-350mW VTX;
Reliable BT2.0 battery connector;
About 3-4 minutes of flight time with 300mAh LIPO;
Only 22 grams without battery.
BetaFPV Meteor 65 Pro with ELRS
Disclosure: I received this micro FPV drone as part of a product review collaboration with BetaFPV. Product specs and quality may vary according to the manufacturer's reliability, so I cannot guarantee that you will get a drone that performs the same as seen in my article.
Being a fan of the new ExpressLRS radio communication system, I happily accepted Iris' offer to review their new ELRS-enabled Meteor 65 Pro. In addition to the drone, I requested two of their micro ELRS Lite receivers. The Meteor 65 Pro comes in a nice 12x12x7cm customized carry case with the following accessories: 2 x 300mAh 1S 30C Batteries, Battery Charger, set of spare propellers, and a screwdriver. Unfortunately, there is no user manual included, which makes the setup part complicated for newbies.
At a glance
Opening the bag, I was surprised how small is this little thing. I immediately checked the 0802SE motors if they are brushless ones, to be honest, never saw before so tiny brushless motors. They measure 10.5×10.5×13.6mm and weigh only 1.83g each. For easy replacement, the 0802-22000KV motors have connectors. The motors are installed on the unibody plastic frame with 3 screws. With a 300mAh battery, the Meteor 65 Pro weighs just 27 grams.
In the case of Whoop-style drones (with duct blade protectors), before powering them ON, I always check by hand if the props are spinning freely. During long-term storage or transportation, the plastic protectors can deform. As the clearance between the propellers and the guards is only ~1mm, the front right one touched the protector. Applying a little force by hand I bent it till everything was OK. Anyway, in the beginning, you can hear some noise till it wears out.
The plastic canopy not just makes the little Metor65 look nice, but also protects all the electronic parts (flight controller, VTX, and camera). Actually, the C02 1200TVL camera and the M03 350 FPV transmitter are mounted inside the canopy.
Its F4 AIO flight controller is mounted on the frame using anti-vibration grommets and it features an integrated 5A ESC and ELRS radio receiver with a ceramic antenna. The FC board has two status LEDs (Blue and Green) and a tiny boot/bind push-button.
BetaFPV Meteor65 Pro uses in-house developed BT2.0 battery connectors that claim to be the 'most significant revolution in 1S Tiny Whoop Drone'. Over PH2.0 connection type they provide decreased internal resistance and better durability. While BT2.0 can support 9A continuous current and picks of up to 15A, the PH2.0 can handle only 4.5A. In this video, Joshua Bardwell explains why the new BT2.0 can provide more power to your drone than the PH2.0 connectors.
The included USB Type-C charger has two BT2.0 sockets, one for battery metering and one for charging. The voltage meter screen is integrated and becomes visible only when lights up.
Price and availability
You can order the Meteor 65 Pro with an onboard ELRS receiver for $117.13. A pack of 8 additional batteries can be found for $29.28. In case that you don't own a compatible transmitter, the LiteRadio 3 can be purchased in a bundle for an extra $58.56.
BetaFPV Meteor65 Pro ELRS: FPV rig
Despite its small size and that is intended for indoor flights, the BetaFPV Meteor65 Pro is equipped with a high broadcast power 5.8GHz FPV transmitter. The MC03 VTX's power can be toggled remotely between 25, 100, 200, and 350mW via SmartAudio. The MC03 also has a configuration button (band/channel/power) but can't be accessed without removing the canopy.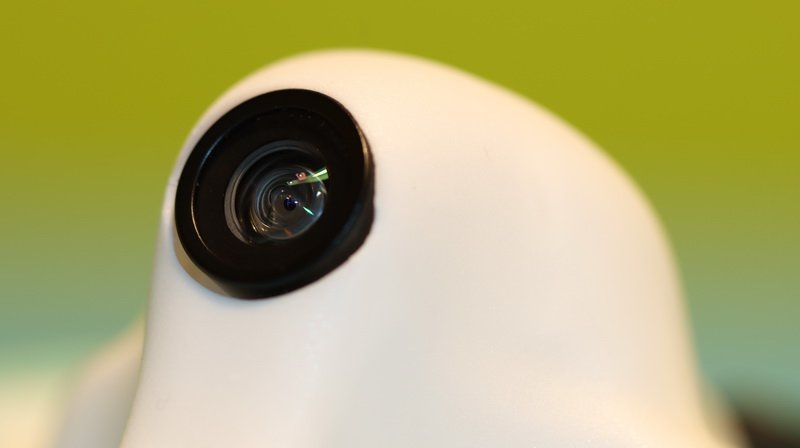 The angle of the ultralight 1200TVL C02 camera is fixed at 30°. Personally, I found it too aggressive. Its 1/4" CMOS sensor and 2.1mm lens provide 160° field of view (FOV).
Initially, because the FPV feed was quite noisy, I thought that there is something wrong with the camera or is too much RF noise from the FC. In daylight, it's totally fine, but in low-light conditions, the image quality is messy.
Meteor 65 Pro ELRS binding with Jumper T-Lite x Nano TX module
Normally, the binding process for ExpressLRS radio protocol is extremely simple and straightforward. You just need to put both RX and TX in bind mode and the pairing is done. This is in theory, but if the TX and RX use a different version of the software or preshared key, the bound process will fail. Only after I upgraded the BetaFPV Nano TX module to the 1.1.0 software version via USB using the ExpressLRS Configurator, I manage to successfully pair them.
You can put the Meteor 65 Pro ELRS in bind mode either by pressing the FC's bind button or by launching the command in BetaFlight configurator CLI. A detailed step-by-step guide can be found on the BetaFPV support page here.
BetaFPV recently released the LiteRadio 3 transmitter with external nano TX bay and built-in ELRS receiver which could be a good option for the Meteor65 Pro.
Flight experience
This little thing flies well out of the box. Newbies can start with Angle mode and then move to Horizon and Air mode. You need to keep the throttle level at 40-50% in order to stay in the air. I crashed a couple of times and had no major damages. The 35mm props are very strong and do not pop off or break easily.
Occasionally, I noticed at take-off that the horizontal level is tilted, which made it difficult to start my flight because it tended to fly to one side.
The 350mW VTX, together with the ELRS 2.4GHz RX, provides an amazing range. You can fly through several rooms without any issue. I had two walls between me and the quad, and both radio and FPV signals were OK. Outdoor, the range is more than you need from such a small drone.
I got around 3-4 minutes of flight time with the 4.35v/300mAh LiPo battery that comes in the box.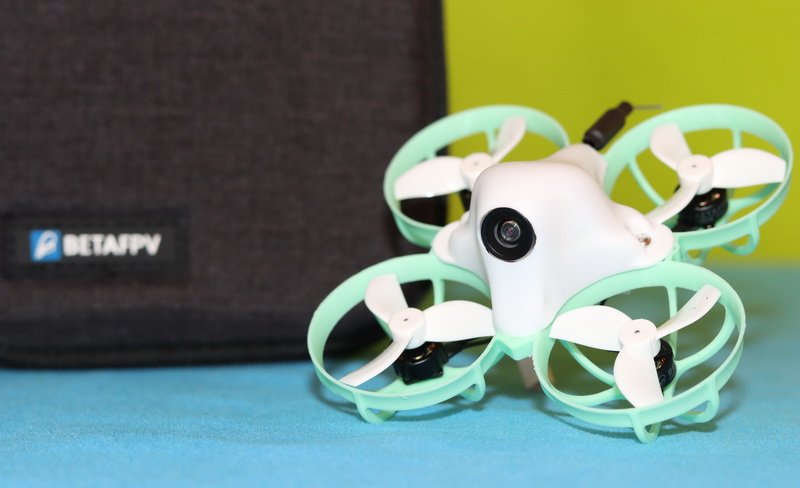 Editor's ratings
Price/performance ratio

Build quality

Camera & FPV & OSD

Flight performance
Summary
I like everything around ExpressLRS, it allows easy setup and excellent range. The Meteor 65 Pro is a fun flying little toy. While it is small enough to practice indoors during the winter days, it has also the power to fly outdoors on calm days. The included charger is very handy as it can be also used to check the battery voltage.
Pros
Onboard ELRS radio receiver;
BT2.0 battery connector;
Perfect for indoor practice during the winter season;
Easy maintenance (motors with connectors);
Very durable construction.
Cons
One of the blade protectors touched the guard;
Random horizon issue at take-off;
Full plastic frame.