Last month I had the chance to review the Osmo Action camera. After the usually image quality analysis I wanted to check its native waterproofness by putting it in a dishwasher machine. For the test, besides some mounting accessories, I needed a self-powered waterproof light. Checking the market for the necessary gears I came across Ulanzi, a very promising Osmo Action accessory supplier.
Shenzhen Ulanzi Technology was founded in 2016 and it is specialized in development of photographic equipment accessories. They provide various type of accessories (cases, vlog cages, tripods, grips and optical filters and lenses) for wide range of action cameras including Osmo Action.
The 4 Best Osmo Action accessories from Ulanzi
Disclosure: I received these accessories from Ulanzi in order to test them and make a hands-on review. Although the gears were offered for free, all opinions in this article remain my own and I was in no way influenced by my partner.
Because lately I had always problems with DHL, I opted for standard overseas shipping. The package arrived smoothly in 20 days with Malaysia post. The box included the following OA accessories: Vlog cage, Video light, Fish-eye and Macro lenses.
1. Osmo Action Vlogging Cage
While the OA stock mounting frame is made from fragile plastic, the Ulanzi OA-1 Vlog cage is made entirely from aluminium alloy – this makes it more durable and heavier of course.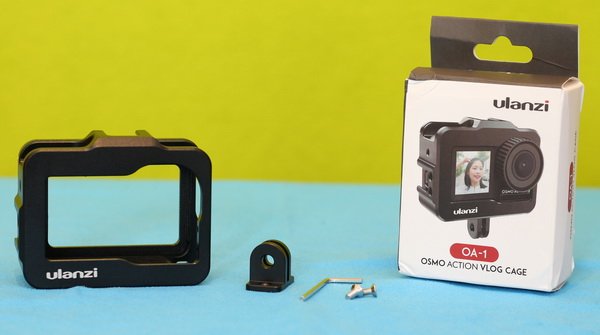 The cage is packed with two screws, hex wrench and standard GoPro mount. The ugly part is that the GP mount covers the tripod mount hole. The cage itself measures about 61 x 76 x 30mm and weights xx grams.
Ulanzi OA-1 Vlog cage highlights
Pure aluminium alloy CNC material;
It acts like a heat-sink for better heat dissipation;
Easy to install slide-in back panel;
Two cold shoes for additional accessories (like lights or mic);
Both buttons are easily accessible;
Micro SD slot and USB port accessible by removing the protective flap;
1/4″ tripod or GoPro mounting options.
Loading the Osmo Action into the OA-1 Vlog cage is very simple, you just need to slide of the back plate, insert the camera and slide the holding frame back. As it should, the camera fits tightly into the frame. Buttons are comfortably accessible through the case.
The mounting frame has two cold shoes (top and right side). They allow to attach additional accessories like an external microphone or video light. Practically, it turns your Osmo Action into a GoPro 8 :D.
Ulanzi has also a cheaper version of this metal cage which is made from ABS plastic. The OA-7 comes with inbuilt GoPro mount.
2. Waterproof Video Light for Osmo Action
Ulanzi includes with the L1 Pro video light 20 pcs of colored diffusing filters, USB type-C charging cable, hand strap and 1/4″ screw to cold-shoe mount. The filters, together with the fastener, come in a dedicated box.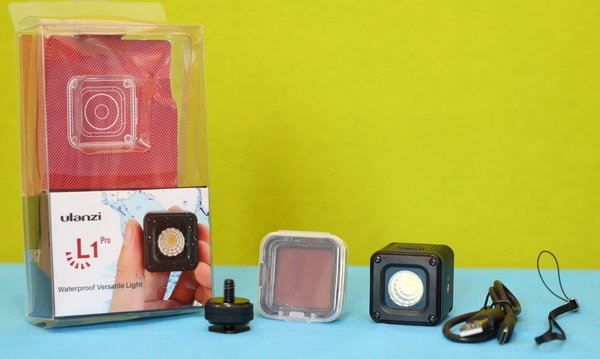 Ulanzi states that the built-in 1000mAh battery allows approximately 80 minutes run time at maximum brightness. It can be done conveniently charged via the USB Type-C port. Light insensitivity can be toggled between four levels by short pressing the power button.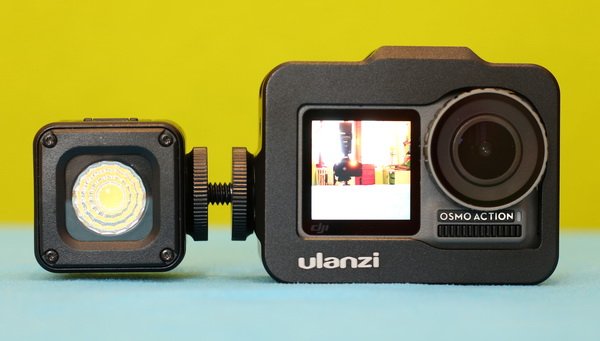 Ulanzi L1 Pro highlights
Fully waterproof (IP67 rated) down to 10 meters (33ft);
Self powered (built-in 1000mAh rechargeable battery);
COB super bright long service life LED;
5500K Color temperature;
4 levels of light intensity;
Pack of 20 pcs color filters;
1/4″ tripod mount + included cold shoe head.
One thing that I was pleased to discover about the Ulanzi L1 Pro is that it is waterproof to a depth of 10 meters (33 ft). This makes it much more useful than it would be otherwise, as you can take it for snorkeling. The color filters are also welcomed for underwater usage.
3. Osmo Action Marco (Close-up) Lens
The Ulanzi OA-5 macro lens comes in a nice foam padded protective metal case. There is a lens cap included, which is useful to avoid scratches. In order to use it with the Osmo Action, you need first to remove (unscrew) the stock lens protector. Note: due to the large size of the lens, the camera will not fit anymore into the waterproof case.
When it comes to macro lenses, you should think that the part before the "X" represents the number of magnification times. Practically, the OA-5 X15 macro lens just shortens the minimal focus distance from 30cm to ~5cm – allowing to get very close to the subject.
Ulanzi OA-5 15X highlights
Specially designed for Osmo Action camera;
Super macro lens (life-size);
Reduce the focus distance to about 5cm (2″);
Optical glass coating;
Aluminium alloy material.
4. Osmo Action Fisheye (Super-Wide angle) Lens
Just like the above mentioned macro lens, the OA-6 Fish-eye is also well packed with included lens cover. Made from metal and optical glass, the lens is quite heavy (xx grams). With attached fish-eye lens, the Osmo Action overturns due to the extra weight.
Ulanzi OA-6 highlights
Specially designed for DJI OSMO Action;
It allows to take incredibly and dramatic rounded images;
Optical glass coating;
Aluminum alloy material.
As you can see in the sample below, the fish-eye lens cuts the corners of the frame, resulting in circular footage. Image quality is visibly degraded, especially in the edges where are very blurry. Anyway, the lens can be fun to use and capture videos with results that are different from your usual footage.
Price & Availability
All the above mentioned DJI Osmo Action add-ons can be ordered directly from the manufacturer. Ulanzi has a total of 17 action accessories – from dedicated bags to floating grips. While the video light and vlog cage are listed for $29.95, the lenses are just $15.95.
In case you have a Banggood account, there you can also find most Ulanzi camera accessories.
Bottom line
I have to admit that while Osmo Action is a great action camera out of the box, using the proper accessory you can overcome some of its limitations. By default, the subject is clear when the distance from the lens is more than 30 cm (12″). Using the OA-5 macro lens you can get as close as 5 cm.
Using an external light source can be extremely useful if you're shooting in low-light conditions – this will make your footage less noisy. Being waterproof, L1 Pro also helps when you're filming underwater, allowing you to capture more detail, or even spot fishes you'd otherwise not be able to make out.
Finally, the OA-1 cage is a must-have if you want to become a professional vlogger.