GoPro's latest Hero 10 is a superb action camera, but to get the best footage, you'll need the right GoPro accessories. Many of the best PGYTech GoPro 10 accessories listed here will work not just with all models of GoPro cameras, but also with other action cameras including 4K handheld gimbals like the DJI Pocket.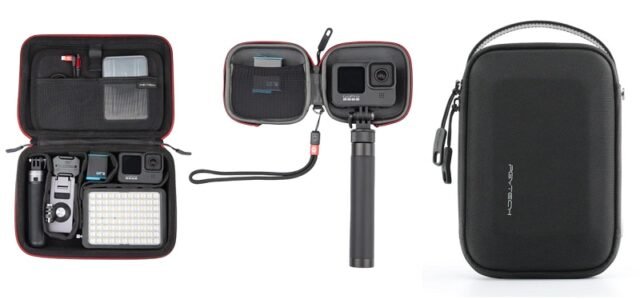 1. PGYTech GoPro 10 cases
The PGYTech protective cases make your camera easy to carry, store, and convenient to use. They have 3 sizes of cases suitable for the GoPro Hero 10 and other similar action cameras.
Action camera carrying case: It can accommodate GoPro Hero 10/9/8, DJI Action 2/DJI Action, DJI OSMO Pocket, Insta360, and several camera accessories. It features two long and four short foldable space dividers that help to customize the storage space. Price: $29.90
Mini carrying case: It can accommodate GoPro Hero 10/9/8, DJI Action 2, OSMO Action, OSMO Pocket, Insta360, and several accessories. The case is covered by a hard EVA nylon fabric waterproof shell with an accessories leaflet organizer able to hold memory cards, card readers, cables, and other additional parts you may need to carry. Price: $24.90
Action camera hard-shell protective case: The hard-shell protective case has wide compatibility that can work with action cameras such as GoPro Hero 10/9/8, DJI OSMO Pocket, DJI OSMO Action, and Insta360. It provides precise protection for the camera with an extension pole installed. Price: $16.90
2. PGYTech GoPro 10 mounts
GoPro and other action cameras were designed to handle rigorous outdoor activities like snowboarding or mountain biking, they're also being used in a variety of water sports and other ways that are just as useful, such as dash cams. For each of these usage possibilities, PGYTech has the right mounting accessory.
Action camera handlebar mount: Suitable for a wide range of camera devices and compatible with different sizes of handlebars. 360° angle adjustments and a Magic arm connector with a large thumbwheel. Price: $39.90
Suction cup mount: Use it as a car mount or when vlogging while cooking/working/exercising/doing your makeup. Uses a strong, stable, and safe absorption cup and quick-release pin for easy setup. It features 360° rotation and tilts, reaching every angle. Price: $39.90
Three-arm suction mount: Adopting 3 strong suction cups is capable of angle adjustment through damping force. Playtech's quick-release pin easily attaches and detaches your camera. Price: $69.90
Adhesive mount: Firmly mount your action camera on your helmet or dashboard. The easily detachable base is perfect for moving between shots and locations. Its magic arm mount can tilt and rotate 360° to capture any angle. Price: $39.90

Strap holder: It can be used safely and effectively to fix GoPro Hero10/9/8, DJI Action 2, OSMO Action, OSMO Pocket, and other action cameras with a universal interface in the backpack shoulder strap. It is adjustable and meets the thickness of most backpack straps, enhancing the shooting experience. Its quick-release design helps to fast attachment and removal of the camera. Price: $24.90
Hand and wrist strap: Brings FPV mode, new creative angles, and richer usage scenarios for your action camera. Price: $19.9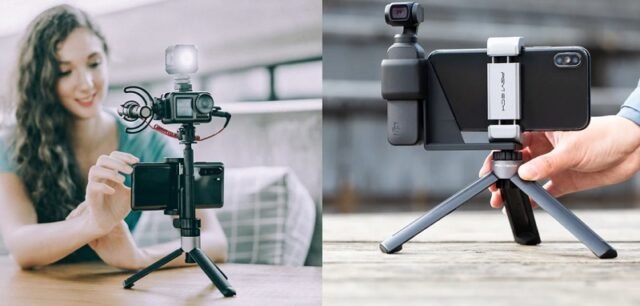 3. PGYTech Tripods and Selfie sticks for GoPro 10
Unless you plan on keeping your GoPro10 permanently in your bare hand or attached to a harness you'll need to invest in a decent grip. PGYTECH has several different styles of grip available.
Extension pole tripod plus: Two in one: selfie stick and tripod. Compact and portable, with a weight of 165g and length of 18-66cm Price: $39.90
Action camera extension pole tripod mini: Can be used for a selfie when combined with DJI Action 2, OSMO Action, OSMO POCKET, GoPro, and many other usage scenarios when an extension pole is needed. Price: $29.90

Tripod mini: It has a 1/4 screw on the top for quick connection to phone clips, action cameras, and other equipment with 1/4 thread. The three tripods are magnetically mounted for quick storage. Price: $18.90
Floating hand grip: Thanks to the comfortable grip with a non-slip handle made of soft rubber it offers a better handheld experience during underwater photography. Its floating body and wrist-strap attachment keep the camera above the surface of the water and prevent it from sinking. Price: $29.90
Handgrip & tripod for an action camera: The 2 in 1 design transforms from one-finger-camera control to a tripod in seconds. It has a GoPro mount and phone mone. Price: $39.90
Handgrip & tripod extension pole: It extends by 150mm any selfie stick, mini tripod with a standard tripod mount. Price: $14.90
4. PGYTech adapters and brackets for GoPro 10
L shape bracket+: Effectively modifies the interface position of the GoPro and other compatible action cameras to improve the multi-angles and multi-scene creative possibilities. Price: $12.00
Price and availability
All the GoPro accessories shown in this review can be ordered directly from PGYTECH or from their Amazon store. The two-in-one mini tripod + extension pole is priced at $29.90 and the full metal action camera strap holder for $24.90.