I received the PowerEgg X Wizard on Christmas eve. A flying egg is not precisely the Xmas gift you could expect for. Its design makes it more of a kind of Easter surprise. From the beginning of my review, I can tell that the concept itself is great but fails in portability.
The egg-appearance fuselage is the first thing you'll probably notice about the PowerEgg X. PowerVision had, back in 2017, another bullet-shaped drone but with foldable arms instead of removable ones. The unconventional appearance, however, could be a drag for some customers.
In addition to the standard drone mode, the PowerEgg X's modular design allows being used on the ground as a handheld stabilized camera or equipped with waterproofing accessories to be used in wet conditions, including landing on water. Waterproof drones are perfect for use in search and rescue operations, as well as for photography and videography in difficult-to-reach places.
Key features
Three package options (Explorer, All-Weather, and Wizard)
Modular transformable design
Fully waterproof. Can fly in heavy rain and land on water
Frontal obstacle avoidance sensors
4K@60 fps camera with 3-axis gimbal
Autonomous Personal AI Camera Mode
Hand-held Gimbal Camera Mode
Remote Sound Pickup with SyncVoice Technology
Face Recognition + Deep Learning
Up to 3.7 miles (6km) range in FCC or 1.85 miles (3km) in CE mode
About 30 minutes of battery life
PowerEgg X Wizard hands-on review
Disclosure: I received this waterproof drone as part of a product review collaboration with PowerVision. Product specs and quality may vary according to the manufacturer's reliability, so I cannot guarantee that you will get a product that performs the same as seen in my article.
PowerVision, founded in 2009 and headquartered in Beijing, has a clear mission to innovate the future. They claim to be the only company in the world producing aerial, water-surface, and underwater robotic devices.
I received the Wizard kit that includes, in addition to the base kit, a second flight battery, two extra pairs of spare propellers, a mini tripod, waterproof housing and a pair of water-landing floats. A stylish handbag, a pouch for the egg, and an arm bag are included for storage and transportation. Unfortunately, there is no all-in-one solution to carry the complete kit on the flight field.
At a glance
The shiny white egg measures about 18×10 cm and weighs 522 grams (including the battery). It has two protective covers and opens like a clam. The bottom shell protects the camera&gimbal system and the bottom positioning sensors. When using the drone, this needs to be removed, along with the gimbal protector. The top shell remains permanently attached except when you need to access the battery bay or install\remove the arms. The micro SD slot is inside, well protected, under the battery.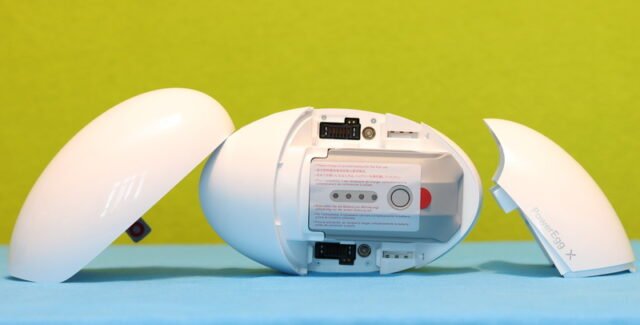 When fully assembled, it is a relatively big and heavy bird. It has a 43cm (16.8″) wheelbase (motor-to-motor diagonal distance) and weighs 1097 grams (2.41 lb). After the attachment, the arms can't be fully folded along the egg to save space during transportation. Shoed with the two floats, the arms stay fixed in the widest position and cannot be folded at all. In order to ensure high ground clearance, the arms have fold-out landing legs. Transforming from one operation mode to another can be done in less than 5 minutes.
It has two obstacle avoidance sensors on the front and another two on the bottom that double as optical flow position sensors. For low-light conditions, there are also two ultrasonic sensors on the belly. It has three status LEDs, two in front and one on the back. The power On/Off button and charging level indicators are on the top.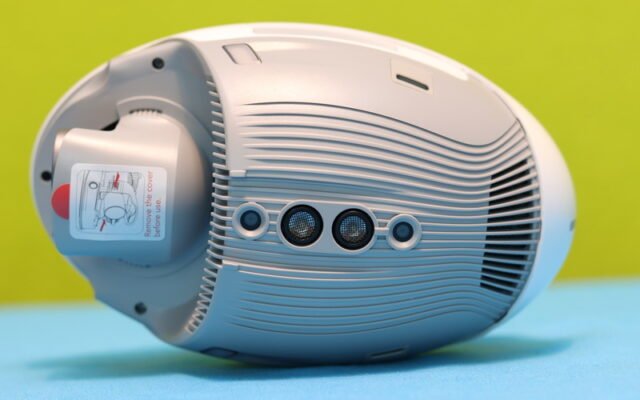 Waterproofing case
When you want to fly in wet conditions (rain or snow) or land on a water surface, the Egg must be loaded in the transparent watertight case. Action cameras use similar enclosures. It is lined with rubber on the edge to prevent water from entering. For a tight closure, it uses three buckles, two on the sides (near the arms) and one on top – near the rubber power button. The housing has two covers to blind the forward visual obstacle avoidance sensors.
Pricing, availability and options
The PowerEgg X is available on Amazon and other online retailers as well as at powervision.com and comes in three packages:
Explorer (Standard edition) – $899
All-wheater (With waterproof housing) – $999
Wizard (With waterproof housing and Pair of Water-landing Floats) – $1,249.00
Additional intelligent flight batteries are available for $150 each. The waterproof housing can be ordered individually for $399.
The company is about to release an upgraded version of the PowerEgg X with an 8K camera, improved battery life, extended range, and a landing light. The price of this new model was uncertain when I published my review.
PowerEgg X: Controller and Range
The PowerEgg X comes with an entry-level but comfortable controller with a foldable smartphone mounting system. On the front panel are four buttons (Stop, RTH, Custom and Power) and a flight speed rate switch (P/N/E). No status or live-view display. It has two shoulder buttons (photo and video) on the right and a dial knob (gimbal angle adjustment) on the left. The controller has a built-in rechargeable battery that lasts 3-4 flights and charges via a micro USB cable that you can plug into the included charger for the flight battery.
According to PowerVision, FCC mode has up to 6KM (3.7 miles) range, and in CE mode, 3KM (1.85 miles). For the first range test, I hit the RTH button when I was 2500 meters far. The RC signal had still one line out of four, so my region's expected max range is around 3000 meters. As in most countries, you are allowed to fly for recreational purposes only in line-of-sight mode (visual contact with the drone), this range is more than you could need.
PowerEgg X: Battery life
Being powered with a 3800 mAh 3S battery, the PowerEggX is advertised as having a flight time of 30 minutes. In real-world flying conditions, you can expect a battery life between 23 and 27 minutes, which is reasonable considering the drone's weight.
During my hovering battery life test, the drone stayed in the air for 25 minutes. When the quadcopter force landed, it had only 4% left. The intelligent battery pack has four status indicator LEDs and features self-discharge protection, overcharging/discharging protection, and cell damage detection. It adopts a proprietary charging interface instead of a commonly used USB Type-C port.
PowerEgg X: Camera and Video performance
PowerVision's PowerEgg X is equipped with a 1/2.8-inch CMOS sensor that captures Raw and JPEG images (or both simultaneously). In photo mode, you can opt for Single photo, HDR, Burts, AEB, or timed photo. The camera has a maximum resolution of 12MP with a 27mm fixed aperture F1.8 lens with a 78.4° field of view. ISO range for videos is 100 – 3200, respectively 100 – 6400 for photos. In addition to the inbuilt 6GB memory, it can capture on an external micro SD card, and supports up to 128GB (Class 10 or UHS-3 rating required).
It can record 4K (3840×2160) videos with up to 60fps or Full HD (1920×1080) with up to 120fps. The max video bitrate is 75 Mbps, and the files can be saved as H.265 or H.264.
A 3-axis gimbal stabilizes the 4K camera with a controllable tilt range of -90°~+20°. Unfortunately, the pan axis is controllable only in AI-camera mode.
Photos and videos taken with the Poweregg X's camera were decent, but due to the small CMOS sensor, nowhere near as good as similarly priced DJI and Autel drones.
Power Vision+ 2 APP
The PowerEgg X is intended to be used in tandem with the Vision+ 2 APP mobile APP, available for iOS and Android devices. On the first screen, you must select the desired working mode, Drone (Airborne) or AI-camera (handheld gimbal). In drone mode, you have to choose from the following three flight modes: Normal, Rainproof, or Water landing.
Through the Vision+ 2 APP, you can access active tracking and various QuickShot creative modes. You can opt for: Follow me, Point of interest, TimeLapse, Dronie, Circle, Helix, Rocket, Rocket, and Oval.
The PV Desktop utility (available for Windows and macOS) allows calibrating the vision system. This should be performed when the user is notified through the Vision+ 2 App or when the machine crashed or violently collided.
Technical specifications
Dimensions
19 x 25 x 5″
Wheelbase
16.8 in
Weight
1.9 lb
Max speed
Ascent: 11.2 mph
Descent: 6.7 mph
Horizontal: 40 mph
Wind resistance
Level 5
GNSS
GPS + GLONASS
Gimbal range
AI-Camera Mode:
Vertical: -90° ~ +20°
Horizontal: -55° ~﹢55°Drone Mode:
Vertical: -90° ~ +20°
Camera
1/2.8 inch CMOS
Effective Pixels: 12 million
FOV: 78.4°
Focal Length: 27mm
Aperture: f/1.8
Shooting Range: 1 m to ∞
Video resolution
4K: 3840×2160 24/25/30/48/50/60p
FHD: 1920×1080 24/25/30/48/50/60/120p
HD: 1280×720 24/25/30/48/50/60/120/240p
Battery
LiPo 3S 11.4 V | 3800 mAh
Max flight distance
FCC: 3.7 mi
CE: 1.85 mi
SRRC: 1.85 mi
Max flight time
30 mins
PowerVision PowerEgg X: User experience and flight performance
The PowerEgg X is an all-in-one personal camera system that can cover the needs of most users, regardless they want to capture the journey of their indoor or outdoor activity.
Handheld gimbal mode
To be honest, I'm not impressed with this working mode. The EGG does not have any control button (such as start/stop recording) nor a live-view screen to frame your footage. A single camera control button and a tiny LCD on the body would make it so much easier to use in numerous video recording situations. The way PowerVission is imagining to operate in this mode is to hold that big egg in one hand and your phone in the other one, so you would need a third hand for touching the phone's screen. Using a magic arm with a tripod mount and a phone holder, I installed my phone on the left side (see the photo below), making it work like a veritable camcorder.
Besides the handheld mode, the arm-less EGG also can be used in a fixed position using the included mini tripod. The gimbal will track the selected subject within a field of view up to 170°. PowerEgg X supports multi-gesture intelligent recognition for photos, videos, subject tracking, and group photos.
Drone mode
Despite the unusual egg shape design, the PowerEgg X is easy to fly and handles well in the air. It has three-speed rates selectable you can choose from:
P Mode (Professional Flight Mode): The drone is agile and speedy
N Mode (Normal Flight Mode): Flight speed is listed to max 10m/s (22.37 mph)
E Mode (Easy Flight Mode): It is easiest to control with a max speed limited up to 1m/s
PowerEgg X can follow subjects and fly to keep whatever you track in the frame. In Normal and Easy mode, the forward visual sensors are active and a distance warning appears clearly on the phone's screen.
Landing on water is a strange experience, at first because you are afraid that it won't be able to take off and you will have to take swim to recover it. With other of my drones, I do not approach less than two meters from the surface of the water so I won't accidentally initiate the auto-landing. The reflections on the water can easily fool optical sensors. After you get confidence flying over water, you can enjoy a new way of flying and capturing videos.
Using the housing, problems such as glare, reflection, and slight distortion may occur. If outside is cold, there will also be condesation issues. The extra weight of the waterproofing accessories heavily affects the battery life. In strong wind, the floaters behave like sails, making the drone harder to control.
PowerEgg X Wizard: Who's for?
If you want to capture the story of your water sports activities (without risking anything), this PowerEgg X is likely to be all you need. Equipped with waterproof housing and a pair of floaters, it can fly in strong rain and land on water.
On the other hand, if you want top-notch features and outstanding image quality, you should look for a DJI or Autel drone. Despite that the camera can record 4K videos with up to 60fps, the footage still lacks details. The mediocre image quality is mainly due to the small image sensor size. By comparison, the EggX has a 1/2.8″ sensor, and the EVO Lite+ has a 1″ sensor. The camera's image sensor is responsible for determining the overall quality of your videos, affecting elements like dynamic range, resolution, frame rate, and low-light performance.