Although the Mini Mavic is only for a few months on the market you can already find tons of accessories for it. I counted more than 20 compatible bags with different shapes, sizes, and features from various brands. Today, we will have a closer look at the Skyreat Mavic Mini case, a super cheap storage handbag.
Besides the multiple batteries and the two-way charger, the biggest advantage of the Mavic Mini Combo vs Standard edition is the included hand case. It allows not just to conveniently store the MM, but also protects you precious toy during transportation. In case you opted for the standard edition purchasing, a dedicated bag like this Skyreat is a must-have!
Mavic Mini case for only $18.99
Disclosure: I received this drone case as part of a product review collaboration with Skyreat. Although the product was offered for free, all the opinions in this review remain my own!
I found out about Skyreat on Facebook. Their representative was offering free Mavic Mini accessories for testing. After we agreed on which products to review, in a few days I received the package via Amazon Germany.
Skyreat Mavic Mini case highlights
Can accommodate the drone, transmitter, 3 batteries, charger, USB cable, and other small accessories;
Dedicated molded inner compartments for Mavic Mini and remote controller /w sticks;
Made out of premium hard EVA in order to provide long-lasting and protect your Mavic Mini camera from shocks;
Internal soft velvet padding;
Designed with a handle, you can take it anywhere you go, convenient for traveling;
Lightweight, only 318 grams;
Compact size, only 21 x 17 x 7 cm \ 8.3 x 6.8 x 2.7″.
Design, size, and built quality
One of my colleagues says that is very hard to bring something new in the design of smartphones as these days they are practically only a screen. In my opinion, it is the same thing in the case of drone handbags, maybe the designers can play with colors but nothing else. All look the same, rectangular shape with a handler. In order to grant some style, they used a red zipper on the edge of the black case. Overall, the built quality of the case is nice, but nothing deluxe.
As you can see in the image below, Skyreat Mavic Mini case is visibly smaller than the original DJI case. While Skyreat bag measures 21 x 17 x 7 cm, genuine MM case has 24 x 24 x 8 cm.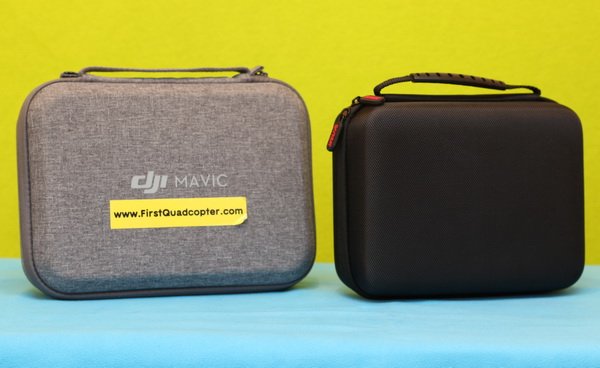 Inside, on the back flap, there are two dedicated compartments, one for the Mavic Mini and another for its transmitter. On the top flap, opposite to the drone, there is a messed compartment for batteries and smaller accessories. There are two additional small holes that allow loading the remote controller without removing the sticks. Note: do not load heavy, thick, or sharp goods in the accessories comportment, they may damage your drone.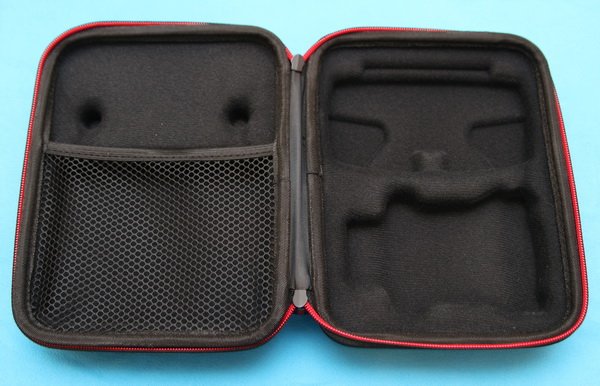 Price and availability
Skyreat products, including this case, can be found on Amazon, eBay and other online retailers. While European customers can order it from Amazon.de for € 19.99, those with US residence can get it for $ 18.99. There is also a "lite" edition of the case which has room only for the aircraft and a couple of accessories. Frankly, as MM can't work without a controller, I do not understand its purpose. Such a case would fit only for the Spark which can be controlled directly by your mobile device.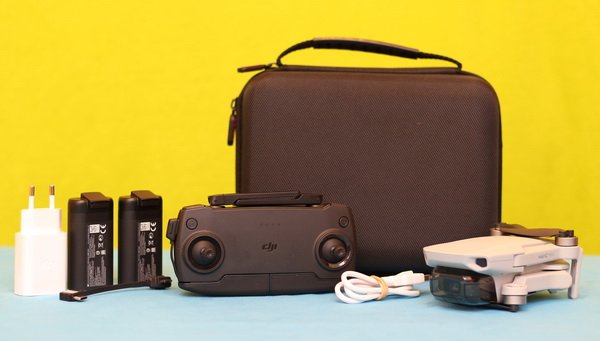 Editor's ratings
Price/value ratio

Design and build quality

Loading capacity

Protection
Verdict
The Skyreat Mavic Mini case is one of the most affordable storing and transportation solutions for your drone. It has a dedicated compartment for aircraft, controller, and accessories. Being slightly smaller than the genuine DJI handbag, it has no room for the two-way charger.
Pros
Available on Europe (DE) and US Amazon;
Affordable (half price of the genuine DJI case);
Compact, well built;
Don't need to remove the sticks from the transmitter;
Internal mesh pocket for accessories (cables, spare props,…).
Cons
No room for 2-way charger;
Lack of internal straps to secure the drone and transmitter.