Tablet harness for drone professionals by ReadyAction
At the time I started my journey in the word of quadcopters I didn't have thought about the utility of such a device like this tablet harness.
Later, when I evolved to FPV quadcopters and more intelligent drones, it became clear that I need something to hang my FPV LCD or Tablet (ground station) on my chest. Mounting my Samsung Galaxy Tab on top of the Phantom 3's transmitter makes it very heavy. Also the tablet holder is limited to 9″ models.
Checking the manufacturer's website, I found out that they produce not just hands free harness for tablets but also selfie sticks and other mounting accessories. They even have a dog harness that allows to mount a smartphone on your favorite pet :).
The ReadyAction tablet / FPV screen mount is available in two variants (sizes). While the "Regular" is suitable for smaller tablets (6.5″ to 8.5″ – opening height), the "XXL" is suitable for larger tablets (8-1/4″ to 9-3/8″ – opening height). Note: the dimensions do not represent the screen size.
ReadyAction Office tablet chest harness review
Few weeks ago I was contacted by Dave, inventor of "READYACTION Office" chest harness for tablets. Although usually I ignore requests to promote kickstarter projects, I accepted his offer to review his product because I found his email friendly and honest.
Dave dispatched immediately the package and arrived from US in 14 days.
The harness comes in a transparent zipped bag and includes a short product description and instruction guide.
ReadyAction includes in the package a second pare of longer thumbscrews which allows to mount larger tablets. Basically, those screws make the difference between the "Regular" and "XXL" version.
ReadyAction Office tablet harness highlights
Fits most of the popular tablets (with or without case);
Can be used for FPV screens;
Chest harness securely and comfortably fits most body types;
Locks in up or down position;
By removing the harness can work as desk stand for tablets;
Can be used attached to your car seat (for kids to watch cartoons).
The base plate has 3 mounts. The two side ones are used to attach the tablet holder and the middle one's utility is an enigma for me. At first impression I thought that these mounts are compatible with GoPro accessories and I will be able to use the harness as GoPro chest holder too. Although they adopt the same attaching technique like the GoPro mounts, they are a bit narrower.
In order to prevent scratching the edges of the tablet, touching parts are lined with some  kind of rubber.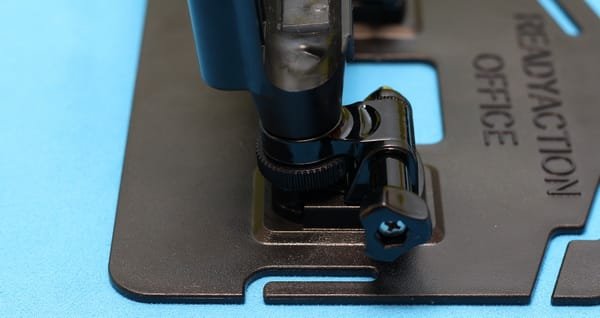 The angle of the tablet can be adjusted from vertical to horizontal by releasing two tightening screws (similar ones with GoPro accessories).
Besides the "main straps", two shorter straps (~20 cm) which offer extra security are included. They are very useful in case of heavier tablets / FPV screens. Unfortunately these extra straps can easily lose the hook. In my opinion this minor design error can be eliminated if the hooks would be oriented upside instead of downside.
By removing all the harness, the ReadyAction Office can be uses as tablet desk stand. I know there are much cheaper and nicer products for this purpose, but in case of "emergency" it does the job well.
Tablet chest harness review – First usage
As I just sold my Eachine LCD5802S FPV screen (I need a new one with built-in DVR) I was able to test the harness only with a Samsung 9.4″ Tablet (Galaxy TAB T550).
Usually I use this tablet together with my Phantom 3 Advanced. As I previously mentioned, the transmitter becomes very heavy with the 450g tablet on top of it.
Everything became much comfortable using the RA Office tablet harness. If you perform fully autonomous flights you can enjoy the view while you have a free hand for a cold beer. Unfortunately, in case of the P3A quadcopter there is an inconvenient:  the transmitter must be linked with the tablet using an USB cable.
I found the harness also very useful setting up home surveillance IP cameras. Working on a 4m high ladder it is very difficult to adjust the angle of the camera with one hand because the other needs to hold the tablet in order to have real-time view.
Mounting the tablet horizontally I had to set the mount to the narrowest position. Just for curiosity I tried to mount it vertically (later format) but proved to be higher than the maximum opening of the tablet holder.
The harness proved to be very comfortable, you can wear it all day long. When tablet is unused you can switch the holder in vertical position.
I have 180cm and 75kg and the harness fits perfectly for me. Thanks to adjustable straps, it also fits for people with more "character".
Price/value ratio

Design and build quality

Confort

Adjustablity

Compatibility
Chest harness review - Verdict
Although it doesn't have a superior build quality, the ReadyAction Office offers exactly what it promises: comfortable way to operate your tablet / FPV screen. Whether you are a drone pilot or just a crazy guy who hunts Pokémon's.
This device can be also helpful for those with disabilities, allowing to use the tablet everywhere in a comfortable way.
What I liked
Suitable for larger tablets;
Simple and easy to use;
Very comfortable;
Adjustable straps.
What I didn't liked
Bulky;
Doesn't fit smaller screens (horizontally);
Not compatible with GoPro mounts.
Updates on 2/20/2017
I just got an email from David regarding that he solved the issue of the hook by adding a tiny piece of Velcro.
"We did find a great solution for the straps slipping off the tabs of the tablet holder. That is we stuck a heavy duty piece of Velcro onto the top of both tabs as pictured below! This prevents the stability straps from coming off the tabs when the harness stressed by tablets. We shall now include this Velcro on all our tablet products going forward."