The GensAce Tattu 4S High Voltage LiPo battery with 1550mAh capacity offers a very long flight time for FPV drones. The 100C discharge rate gives you enough power for impressive acceleration and crazy punch outs. In addition to the above, the Tattu R-Line 4s 1550mAh adopts high voltage technology. Let's discover more thoughts in our review.
In a nutshell, high voltage batteries are like nitro for racing cars. While standard LiPo packs can be charged with up to 4.2V/cell, the Tattu HV LiPo allows to safely charge it up to 4.35V per cell. While a fully charged standard 4s LiPo pack has 16.8V, an HVLi battery pack has 17.4V. Furthermore, theoretically, LiHV can store more energy than LiPo per unit of weight. Unfortunately, this increased energy density seems to have a negative impact. Many FPV pilots complain that LIHV batteries have a shorter life cycle than standard LiPo packs.
Tattu 4S 1550mAh 100C HV LiPo battery review
Disclosure: I received this drone battery as part of a product review collaboration with Gens Ace. Although the LiPo was offered for free, all opinions in this article remain my own and I was in no way influenced by my partner.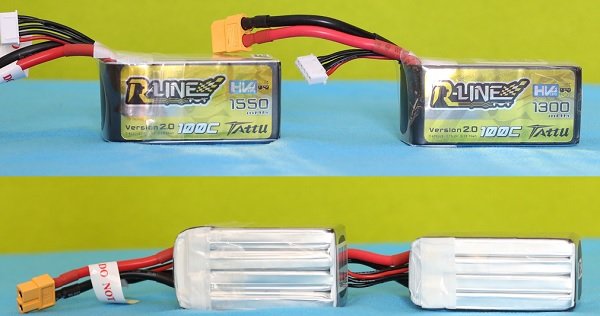 As usual for Tattu's R-Line, the battery comes well packed with a charging plug protector and safety instruction. The box in which came the 1550mAh 100C is almost double compared to the one in which the 1300 mAh HV 100C is packed.
Battery pack measures around 75 x 35.5 x 38 mm (L, W, H) and weighs 188 grams. Most hobbyists, when they are choosing LiPOs for their drones, are looking for the cheapest ones. This is not necessarily wrong, but when it comes to racing quads they should be considering the performance, weight, and size of the battery as well.
Tattu 4s 1550mAh 100C features and specs
Designed for professional racing drones;
Stable automatic stacking technology enables single-cell capacities of 1550mAh;
Higher max voltage than standard LiPo packs (4.35v/cell instead of 4.2/cell);
Better storage capacity than comparable size packs;
No memory effect;
Minimum of 1550 mAh storage capacity;
4 cells of 3.8v. The total voltage of 15.2V;
Ultra-high discharge rate of 100C;
Max Burst discharge Rate: 200C;
JST-XH charging plug;
XT60 discharge (drone) plug;
Net Weight: 187 grams (±20g);
Dimensions: 75 x 35.5 x 38 mm (L, W, H).
For many years, the standard voltage for LiPo cells was 3.7 volts. Therefore, the chargers of that time were designed for this voltage. Now, in the age of High Voltage Lithium Polymer (HVLi or LiHV) batteries, you need chargers that are compatible with 3.8v/cell. In the case of smart chargers, this compatibility was solved easily by a new firmware. Unfortunately, chargers are unable to detect whether you have plugged in LiHV or regular LiPo, so the selection must be done manually. Note: Never try to charge standard 3.7V LiPo packs with HV chargers, this could dramatically shorten your battery's life or even cause a fire.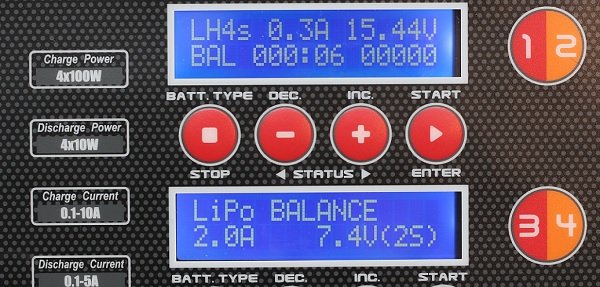 Charging test and real-world performance
Prior to any tests, I performed 5 circles of charging/discharging. As you can see in the comparison table below, both 1300 mAh and 1550 mAh LIPOs finished the charging process at 17.41V. While the 1330 mAh LiPo ended with 1460mAh, the 1550mAH did it with 1789mAh. Both batteries remained cold (21~24 °C) during the charge.
LiPo
Start voltage
End voltage
Cell1 (v)
Cell2 (v)
Cell3 (v)
Cell4 (v)
Final capacity (mAh)
Time (minutes)
High Voltage

4s 1550 mAh 100C

 12.51
17.41
3.10/4.36
3.13/4.35
3.16/4.36
3.13/4.36
1789
 159

(at 0.7A)

High Voltage

4s 1300 mAh 100C

13.51
17.41
3.39/4.35
3.38/4.36
3.39/4.36
3.38/4.36
1460
127

(at 0.7A)
When it comes to LIPO performance, the most important thing is how it behaves on the drone. Besides the raw specs (voltage, storage capacity, and C-rating) it is very important the weight/power ratio. During my LiPo tests, I noticed that even the shape of the battery pack can influence the flight performance and total flight time.
Like in the case of my previous LiPo reviews, I used my Kopis 1 drone. It is a very powerful machine that can heavily stress the battery. Allowing super-fast continuous flips and rolls, it showed up the advantage of the high "C" rating.
While I got about 1 minute of extra flight time with the Tattu 4S 1550mAh 100C HV over its smaller brother, I felt like the drone was less agile. It seems that the extra weight and larger size had some negative impact on flight performance.
Editor's ratings
Price/value ratio

Build quality

Flight time

Punch-out
Summary
Maybe the Tattu R-Line 1550mAh 100C is not the cheapest high voltage LIPO out there, but besides its great specs, it is worldwide available. You can order it from China as well as from US and Europe warehouse.
As I mentioned in my previous HV LiPo review, for everyday usage you probably will not need the advantage of higher voltage. However, if you want to become one of the best drone racing pilots, the extra boost of a High Voltage LiPo can help you win the competition.
For those who need the advantages of a LiHV battery, this one can be ordered from here (delivery from both, US and EU, is available). There is also available a newer version with a detachable balanced cable. This feature will cost you extra 5 bucks.
Pros
Excellent build quality;
Higher voltage than regular LiPo;
100C, ultra-high discharge rate.
US/EU availability.
Cons
Requires dedicated charger;
Too heavy for smaller builds.