Before the coronavirus outbreak, budget action cameras like the Vantop Moment 5C were the ultimate gadget for filming yourself catching an epic wave when surfing, carving across snowy mountains on your snowboard, or having fun at a pool party. Now, things have changed a lot, borders are closed, lots of peoples are quarantined or self-isolated in their homes. The legit question would be if is worth now to invest in such gears especially that most of its functions are available on your phone.
After staying at home for more than 3 weeks I became bored watching Netflix movies and started to think about what else you can do during this Coronavirus lockdown. In the Vantop Moment 5C review, besides the evaluation of the product, I will give you some fun ideas that you can do with your action camera during the pandemic period.
Vantop Moment 5C review, ratings & samples
Disclosure: I received this 4K action camera as part of a product review collaboration with Vantop. Product specs and quality may vary according to the manufacturer's reliability, so I cannot guarantee that you will get a product that performs exactly the same as seen in my article.
Personally, I never heard about Vantop till I received their email regarding the possibility to test their brand new Moment 5C action camera. Checking their website I found out that they are focused on action cameras and dash cams. The company was founded and leaded by Vincent Zheng with a market presence since 2017.
The Vantop Moment 5C camera comes in a pringles type tube box with transparent upper part allowing to see the camera at a glance.
The bottom part of the tube is filled with lots of accessories. Honestly, from all the action cameras I reviewed the Moment 5C is packed with most extras. In addition to the wide range of GoPro compatible mounting accessories (Tripod mount, Helmet base, Fixed mount frame, 360° adapter, bicycle handlebar, surface J-hook buckle, belt clip, and few straps) there are included the following: waterproof case, remote controller, two batteries, 2-channel charger, micro USB data/power cable, and lens-cleaning cloth. There is also included a user manual (English\French\Spanish) which explains the basic functions of the camera.
Reading the manual I found out that this Vantop camera is based on i-Catch V39 4K SoC and Sony iMX078 CMOS image sensor. FYI, the popular SJCAM SJ5000x Elite camera also uses the same type of image sensor. Back to 2015, 4K videos have been one of the big selling points for the premium GoPro Hero Black series, but now, 4K is appearing in the latest batch of budget action cameras, including the Moment 5C.
At a glance
The Moment 5C looks like most action cameras, with a removable 100 feet waterproof housing that is secured by a compression lever lock. Note: the Vantop camera does not feature a rugged design like the GoPro 8 or Osmo Action, so therefore using the case during water sports activities is a must-have!
When placed side-by-side against the Xiaomi Yi 4K, you can see that is considerably smaller. Moment 5C measures 2.34 x 1.62 x 0.88 inch and weights 2.32 oz. Overall build quality feels nice, despite the fact that we are dealing with a budget action cam after all.
On the front panel, besides the 170° lens, there is only the power button (no selfie screen nor status LED). On the back you have the generous 2 inch LCD and status LEDs (recording and charging indicators). While on the right side you have two navigation buttons (Up/Previous and Down/Next) and speaker, on the left side it can be found the micro USB data/charging port, HDMI out, and micro SD card slot. Like on any other action camera, the shutter button is on the top right side along with the second recording indicator.
Loading the 1050mAh battery I happily found out that on the bottom of the Vantop M5C camera is a standard tripod mount allowing to install the camera on tripods without the waterproof case.
Vantop Moment 5C action camera highlights
4K recording with up to 60 fps;
20MP still photos;
Slow-motion (720@240fps), fast mode, time-lapse and burst modes;
Built-in electronic image stabilization (EIS);
170° ultra-wide-angle lens;
2″ Touch Screen IPS LCD;
iSmart DV mobile APP;
Wide range of included accessories (Waterproof case, remote controller, and 2 batteries).
Controls, user interface, and settings
As I previously mentioned, in addition to the 2″ touchscreen LCD the M5C camera has 4 control buttons (Power, Shutter, Up, and Down). By short pressing the "Power" button you can toggle between video, photo, and main menu were you can access Playback feature, Video Setup, and Photo Setup screens. You can navigate through menu items either by touching the screen or by using navigation keys from the right side of the camera. Everything is intuitive and easy to use.
Under the camera settings menu, you can format the memory card, set time/date, sounds, white balance and other common settings. Here you can also enable "Power ON Auto Record" which is a great feature if you plan to use it as dashcam in your car. Even with the battery removed, video recording automatically starts after connection to a USB charger.
The USB port can be configured as MSDC (card reader/file transfer) or PCCAM. My windows 10 discover it instantly as a USB webcam and became available in all video conference apps. A great feature especially when you are locked in your home.
Using the included remote controller you can take photos and start/stop video recording remotely. Note: the RC is not waterproof and cannot be used underwater.
iSmart DV Mobile APP
Besides remote control and configuration, the iSmart DV provides live-view. There is a small delay, but still usable in case you need a larger FPV screen or the camera is mounted onto your helmet. In order to connect your mobile device with the M5C Vantop camera, you need to enable WIFI connection by short pressing the "Down" button. The default pass-key is "1234567890".
As you can see in the image above, the iSmart DV's user interface is very bulky. Somehow I felt that is a pre-release version. Specific functions are mostly available but they still have a lot of work around the design part.
Image quality, resolutions and creative modes
When it comes to video resolution, Moment 5C offers a good selection from high-resolution 4K@60fps for capturing stunning vistas to smaller 720p video at 240 fps for slow motion. The camera also features EIS (electronic image stabilization), but this works only at 1080p and not as good as GoPro's HyperSmooth.
In addition to "Normal" video mode, you have the following creative modes: "Seamless video", "V-TimeLapse", "SlowMotion" and "FastMotion".
Over the last few years, I reviewed plenty of action cameras and the Osmo Action had far the best image quality and, of course, it was the most expensive too. For its price, the Moment 5C offers quite good video quality. Colors are nice and realistic, sharpens decent as well. Bit-rate at 4K is around 60Mbit. The wide-angle 170° lens gives you a very good field view with a little fisheye distortion along the edges. Enabling time-stamp I found out that on some resolutions it is very fuzzy, being almost unreadable.
Sample photos
The Moment 5C is also capable to take still images with resolution from 2MP (1600×1200) to 20MP (5120 x 3840). You can take burst images, time-lapse and long-exposure photos, besides single image. You also have the possibility to set auto ISO or manual (100-3200) and EV compensation.
Battery life
In terms of battery life, according to the technical specs, the 1050mAh battery should last about 1 hour at 4K resolution, and the M5C definitely doesn't disappoint. During my tests, I managed to continuously record 1080@60fps videos for 90 minutes before the battery finally died. As Vantop includes a second battery in the package, this time is doubled. Furthermore, there is also included a 2-channel battery charger which allows charging the spare battery while the camera is in use.
Price & Availability
At the time I agreed to review this action cam, it was listed on Vantop website for $69.99. Checking the price again now is listed for $79.99 (dropped from $99.99) – still not a bad price for a 4K@60fps camera. Being a new model it is not yet available on Amazon, eBay, or from other online retailers.
Editor's ratings
Price/performance ratio

Design and build quality

Image quality

Video Stabilization

Battery life
Verdict
If you're looking for a budget family action camera, then the Vantop Moment 5C is a good choice. It's packed with a waterproof case, two batteries, and lots of mounting accessories. With scope for adjusting video resolution and frame rates from 4K@60fps to 720@240 fps, you have plenty of options for creative shooting. In photo mode, you can also play with burst-photo, time-lapse, and log-exposure. The webcam mode and HDMI-out are also great extras.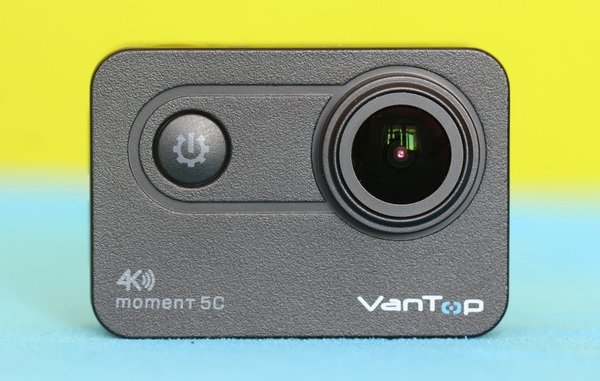 What I liked
Lots of included accessories, including 2 batteries;
It can be used as USB WEBCAM on your desktop computer;
Touchscreen live view LCD;
Good battery life;
Compact and lightweight.
What I didn't like
Not the best image quality;
Audio isn't too great;
TimeStamp sometimes is fuzzy;
Poorly developed APP.
Bottom line
At the beginning of my review, I promised to give you some ideas on alternative things that can be done with an action camera while you need to stay home due to the COVID-19 pandemic.
The webcam function is for sure the handiest feature when you need to stay at home and keep in touch with your family and friends through video calls. The provided image quality is better than one of the cheapest laptop's built-in cameras.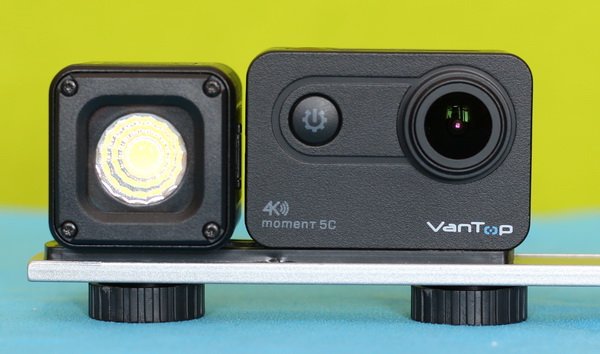 I'm a technical guy interested to find out how things work. I always wanted to peek inside a dishwasher while it works. For this project I will need to use my Ulanzi L1 Pro waterproof action camera light, being completely dark inside the machine.
A more fun job for the action camera could be to attach it to your pet, allowing to record some cool animal POV footage. Frankly, I'm thinking of doing this for a long time, but I didn't want to risk losing a $400 GoPro. Budget cameras feel more suitable for jobs like this 🙂
#StayAtHome #StaySafe!