Walksnail entered the FPV world with its AVATAR HD digital FPV transmission, which wanted to offer an affordable alternative to the existing solution. Now, the company started to provide other accessories for FPV enthusiasts, such as GPS modules, VTX antennas, and more. In this review, we will have a closer look at the Walksnail WS-M181 GPS module.
Besides the telemetry information such as flight distance and altitude, a GPS module on your long-range FPV drone allows fail-safe return to home (RTH) in case of RC signal loss. The latest v4.4 BetaFlight provides DJI-like RTH and smooth landing for your custom-made quadcopter.
Key features
Small size, lightweight, fast positioning, and stable connection;
Suitable for FPV, RC airplanes, quadcopters, and other RC machines;
Six positioning modes: GPS, GLONASS, GALILEO, BZENSS, SBSA, and BDS
Ultra-low-power u-blox M10 platform, UBX-M10050 GNSS chipset, and BUILT-IN QMC5883 magnetic sensor
The ultra-thin ceramic antenna uses a special spray painting process to prevent oxidation and scratching, ensuring consistent positioning performance
Built-in battery for hot start and quick positioning
Walksnail WS-M181 GPS review
Disclosure: I received this GPS module as part of a product review collaboration with Caddx. Although the product was offered for free, all opinions in this article remain my own, and the sponsor in no way influenced me.
The WS-M181 GPS module comes in an antistatic bag with a 6-pin JST cable. No wiring diagram or other instructions were provided. The module measures 18x18x4.6mm and weighs roughly 3 grams.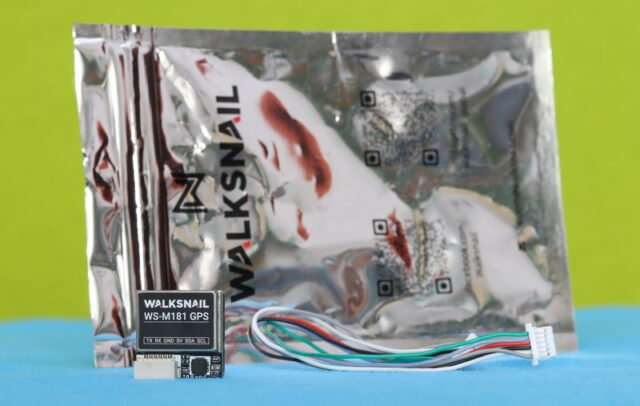 One side is covered entirely by the ceramic antenna, which according to Caddx, has antioxidation counting for a longer lifespan. Always install the module on your drone with the antenna facing the sky. On the other side is the metal-shielded RF module with a tiny backup battery inside and the 6-pin JST connection header with the following pinout: TX, RX, GND, 5V, SDA, and SCL. Typically, you need to use just four of them. The SDA and SCL signals are only necessary if you plan to use the built-in QMC5883 3-axis magnetic sensor. The built-in compass is helpful for navigation-orientated firmware like iNav. Unfortunately, it does not have soldering pads for hardwiring between the flight controller and GPS module.
Despite its small size, the Walksnail M181 GPS is packed with powerful features. It uses the latest generation UBlox M10 chip, which provides accurate data and supports GPS, GLONASS, BDS, Galileo, SBAS, and QZSS satellite providers, ensuring global coverage.
Technical specifications
Main chip
M10 (Ten-generation chip)
Frequency
GPS L1,GLONASS L1,BDSB1,GALILEO E1,SBAS L1.QZSS L1
Power input
DC 5V
Antenna
Ceramic (oil spraying process, prevent scratching and oxidation)
Receiving channels
72 search channels
Compass
QMC5883
Output protocol
NMEA UBLOX (dual protocol)
Output frequency
1Hz-10Hz, Default 10Hz
Receiving sensitivity
Trace-162dBm
Capture -160dBm
Accuracy
Horizontal positioning: 2D ACC1.5m
Speed: 0.05m/s
BetaFlight compatibility
4.3 or newer
Connector
6 pin JST
Dimensions
18x18x4.6mm
Weight
3gr
Wiring, Configuration, Performance Test, and Results
Wiring the Walksnail M181 GPS module to my JHEMCU GF30F722-ICM flight controller was straightforward, just cut one end of the provided cable and solder it to a free UART port on the FC (TX to RX, RX to TX), and power it with 5V.
Using a 10-generation chip, the WS-M181 is compatible with BetaFlight 4.3 or newer. As I previously mentioned, Betaflight GPS Rescue mode is similar to "Return to Home" on a DJI and other consumer drones. This advanced function returns your FPV drone to the take-off point and lands it automatically using GPS coordinates. RTH can be triggered manually when your video feed is too noisy or in the event of an RC signal loss (failsafe).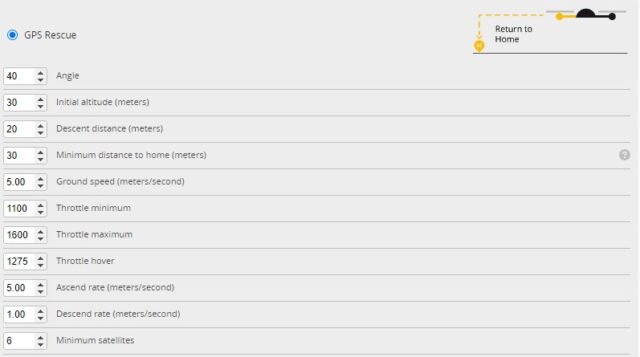 In the Ports tab in Betaflight, select GPS under "Sensor Input" for the UART that is connected to the GPS receiver. In my case, UART1, as the SCL and SDA pins are close to it. If you are not sure about the baud rate of your GPS, simply select Auto and let Betaflight choose for you. RTH speed, altitude, throttle value, and other parameters can be set in the BetaFlight configurator under the "Failsafe" section. It is very important to have at least six satellite locks before take-off.
Next, you need to set the telemetry data you want to show on your FPV screen. In the OSD tab, you can enable GPS coordinates, distance, flight speed, direction to home, and more. My Avatar HD Pro video feed looked now even more professional with those details. After the drone is powered on, it takes about 10 seconds till the FC transfers data to OSD from the Walksnail M181 GPS.
Outdoor in a wide open field, I got a 3D fix within two minutes and 17 satellites after waiting 5 minutes. Thanks to the built-in battery, you can get six satellites (required for GPS rescue) on "hot start" in just a few seconds. It can find 4 sats even indoors two meters away from the window. By comparison, my BN-180 usually got a 3d fix in two to three minutes. Remember that these values can vary according to your geographical position.
As you can see in the image below, the BN-180 and WS-M181 are about the same size, so the upgrade for a faster satellite lock can be made easily.
Price and availability
The Walksnail WS-M181 GPS can be ordered directly from Caddx or other retailers for $16.99. This is probably one of the best prices for a GPS module with a built-in compass. By comparison, the BN-880, which has similar specs, is priced at around $20.
Satellite positioning network compatibility
GPS – GPS is the most prevalent GNSS. Other nations are fielding, or have fielded, their own systems to provide complementary, independent PNT capability.
GLONASS – Globalnaya Navigazionnaya Sputnikovaya Sistema, or Global Navigation Satellite System (GLONASS), is a global GNSS owned and operated by the Russian Federation. The fully operational system consists of 24+ satellites.
BDSB1 – BeiDou, or BDS, is a global GNSS owned and operated by the People's Republic of China
GALILEO – Galileo is a global GNSS owned and operated by the European Union. The EU declared the start of Galileo Initial Services in 2016 and plans to complete the system of 24+ satellites in 2021
SBAS – Satellite-Based Augmentation Systems (SBAS) are used to enhance the accuracy and precision of an existing GPS system
QZSS – QZSS is a regional GNSS owned by the Government of Japan and operated by QZS System Service Inc. (QSS). QZSS complements GPS to improve coverage in East Asia and Oceania. Japan officially started QZSS services in 2018 with 4 operational satellites and plans to expand the constellation to 7 satellites by 2023 for autonomous capability.
Update: I just got the confirmation from Caddx that the SCL and SDA pins are mislabeled on the GPS unit. They are reversed by accident! Due to this mistake, you can encounter difficulty in using the built-in mag sensor.