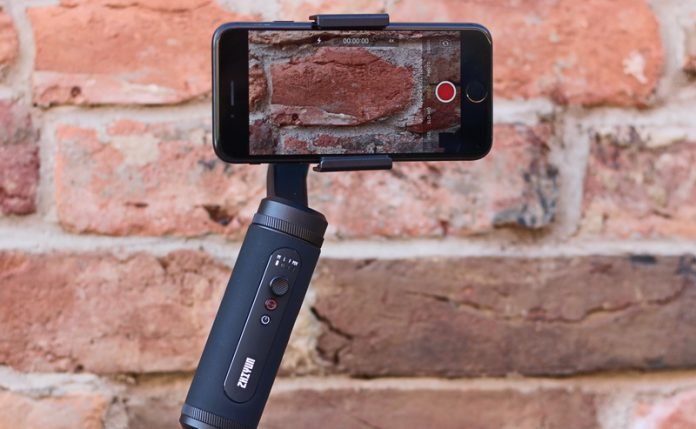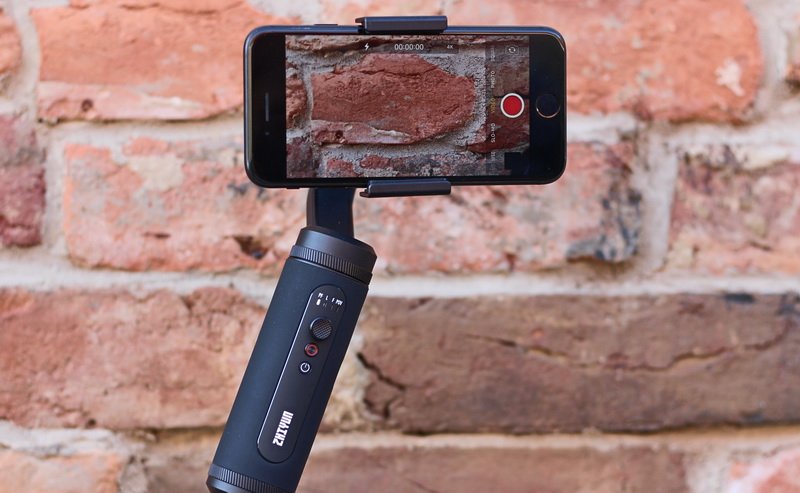 Like many awesome gadgets, the ZHIYUN SMOOTH-Q2 also started on Kickstarter. While the project goal was set to $100050, they managed to raise more than $300k from about 2300 backers – and the numbers are growing hour by hour. SMOOTH Q2 promises not just to be one of the smallest phone gimbal, but also the most easy to use. Furthermore, it claims to offer all-day-long usage with up to 16 hours battery life.
Over the last 5 years, ZHIYUN Tech became one of the most active and devoted player on the gimbal industry. They provide stabilization for a wide range of cameras: DSLR, Mirrorless, Point and Shot, Action cams and Smartphones.
Besides its shrink size, the second generation Smooth-Q comes with lots of new cool features over its predecessor. My favorite one is the endless 360° rotation aka Vortex mode.
ZHIYUN SMOOTH-Q2 highlights
Super compact size;
Durable aluminium body;
Portrait/Landscape mode;
Quick-release mobile mount;
360 degree infinite Vortex mode;
Subject tracking (via APP);
Motion lapse (via APP);
Direct control of compatible cameras.
Up to 16 hours of battery life.
SMOOTH Q2 gimbal review: Truly pocket phone stabilzier
Disclosure: I received this gimbal as part of a product review collaboration with ZHIYUN. As I received a pre-sale testing unit, I cannot guarantee that you will get a product that performs exactly the same as seen in my review.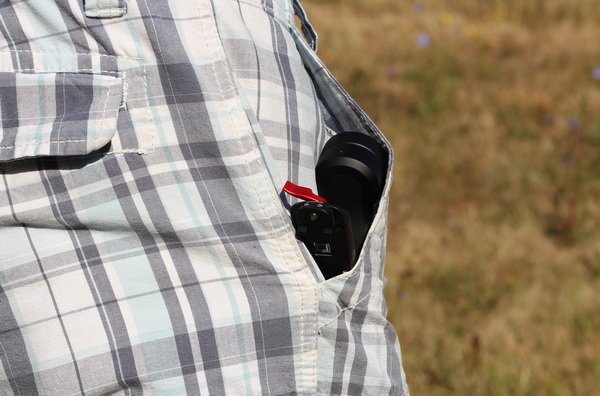 Despite that I'm over 200 product reviews, I always get excited when the delivery guy calls me that he has a package for me. He said that will arrive in 30 minutes, after 7 hours of waiting I called him back founding that due to a car accident he will bring me the package only next day in the morning. I was a bit upset, because I prepared myself to shot some test videos.
What's in the box?
Besides the gimbal, there are only a Type-C charging cable and the quick-release phone holder included in the "standard" box. There is also a "Premium" edition, which includes the following extra accessories: phone charging cable, mini tripod and portable bag. While the tripod could be very handy balancing the phone and for taking panoramas, the case allows convenient and safe transportation. If you want those two accessories, you'll pay about $30 more for the Premium version.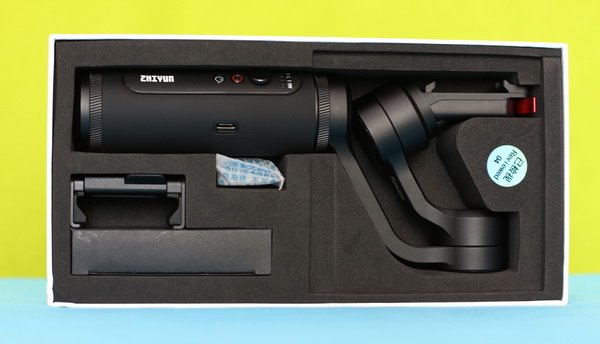 Design and controls
While the trend is to make smaller and smaller gimbals by folding them up, ZHIYUN managed to design a gimbal which is compact enough to fit into your pocket without any folding. By comparison, it is about 5cm taller than the folded Osmo Mobile 3 and 8cm shorter if unfolded.
As you can see in the image bellow, there is about 10cm difference between the two generations of Smooth-Q. While the first S-Q had height of 30cm, the new Q2 has only 20cm. The handle was shrunk from 15 cm to 12cm as well. Top of that it became more powerful, 260g vs 200g max payload.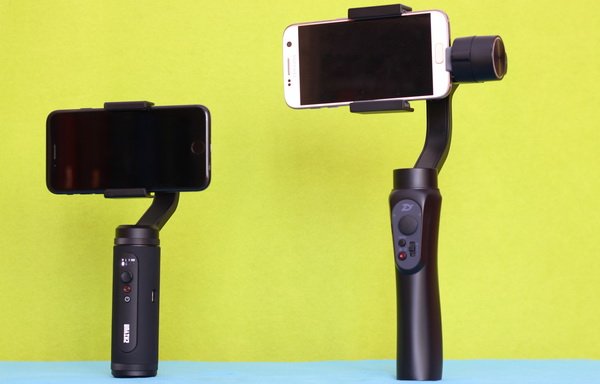 In terms of build quality, there is also huge improvement. ZY Smooth-Q2 is made of aluminum, which is a nice upgrade from the plastic Smooth Q. The rubberized grip fills comfortable in your hand.
Ingeniously, the four mode LEDs (PF, L, F and POV) serves as well as battery level indicator. Smooth Q2 simplified all the controls to two buttons (power & photo/video) and a 5-way mini joystick.
Toggling between working modes can be done by pressing the joystick as a button (one press to move forward, and double to change backwards). Selfie mode can be activated by triple pressing the power button.
The shutter button can be configured to work via Bluetooth with native camera apps, as well as paid tools like Moment Pro.
Thanks to the quick-release mount, in case of a call you can remove the phone from the stabilizer by no time. After you ended the call and slide it back, don't forget to secure the mount with the red locker (as shown in the picture bellow).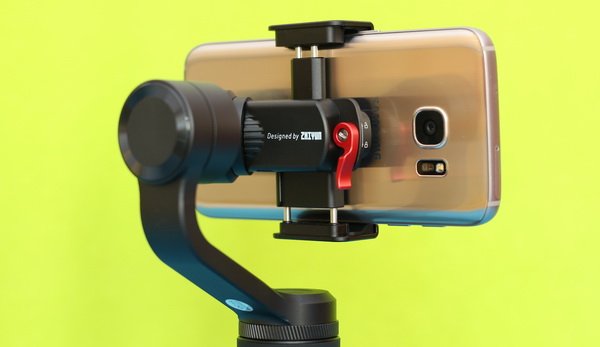 Battery life: All day long stabilization
Recently I was lucky to review another ZHIYUN gimbal. I found the Crane-M2's 7 hour battery far enough in most cases. The Q2 pushes run-time close to a hole day. According to the manufacturer's specs, the 4500mAh battery allows up to 16 hours of working time. Furthermore, if you are participating in a 24-48h marathon or you are into a remote area without electricity, the battery is replaceable by unscrewing the cap at the bottom of the handle. The Q2 uses standard, 21700 type LIPO battery. Actual battery level can be checked by double pressing the power button.
The ZHIYUN SMOOTH-Q2 can work as power bank. In case of emergency you can charge your phone through the tilt arm's micro USB port.
Shooting modes
Besides the usual shooting modes (Pan follow, Lock, Full follow and POV), the Zhiyun Smooth-Q2 has a fifth mode called Vortex. Here's what they do in a nutshell:
Pan follow (PF): Phone camera pans left/right following the movement of the stabilizer handle while the tilt and roll axis motors are locked. Push the joystick up/down to control the tilt axis;
Lock (L): The three motors are all locked and the phone is fixed at a certain angle. Push the joystick up/down and left/right to control the tilt axis respectively pan axis. One of my fellows with good sense of humor, named this mode "chicken head" :);
Full follow (F): The camera pans and tilts following the movement of the stabilizer. Push the joystick left/right to control the roll axis;
POV – Point of view mode: All three axes move following the movement of the gimbal handle;
Vortex (V): The tilt axis rotates 90° and revolves following the movement of the stabilizer handle. Push the joystick left/right to control the pan axis. Using this mode you can create cool vortex-like videos.
ZY Play APP: Panorama and Subject tracking features
Although the user manual refers to the ZY Play application, even includes QR code for downloading and installation. At the time I published my review the SMOOTH-Q2 was not supported by the APP. Hope they fix this issue soon.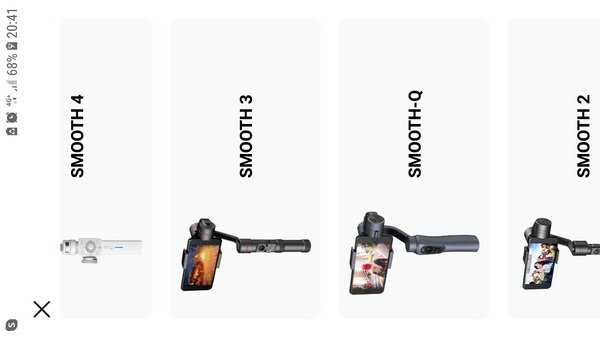 Besides professional grade manual settings and firmware upgrade, the APP promise effortless panoramas and time-lapse videos. Advanced subject tracking features will be added as well.
Updates: I received the beta Zy Play, here is the first test video.
Price & Availability
As I said in the introduction of my review, for now, the SMOOTH-Q2 is available only on Kickstarter. The founding system runs on the "All or nothing" principle, which means that no one will be charged for a pledge towards a project unless it reaches its funding goal. There are 6 custom pledges. My favorite one is "Pledge HK$ 1,708" and you will receive two Smooth-Q2 with US$60 off. Here, I should mention that the estimated retail price for the Q2 will be around $140. As the founding campaign ends on September 27, I expect that the first batch of gimbals will be delivered somewhere in October.
Note: FirstQuadcopter does its best to share only the projects that look legitimate and come from reliable creators, but as in the case of any other crowdfunded campaign, there's always an extra risk compared to buying a fully developed product from a local store.
How to use it?
Because I received it without an instruction manual, I need it to figure out by my self how to use it. Controls are very intuitive and if you used before such gear, in no-time you can accommodate with the Q2. The shutter button is very handy, you can start/stop recording without touching the phone's screen. By default, on the native camera APP the button was set for "Zooming" and needed to switch to "Record video".
First videos where a bit shaky and the stabilizes failed on faster movements like jumping on trampoline.
When ZHIYUN saw my first test video they asked if I balanced before, said no and they send me some pictures how to do it.
Smooth Q2 balancing
Instinctively I put the phone in the quick-release mount on its center, which does not necessarily mean also center of gravity of the system resulting in poor performance.
For a easy balancing I suggest you to use a mini-tripod. The process is simple just need to slide the phone in the mount left-to-right or right-to left till the system is balanced like a scale.
In case of my wife's iPhone balancing not just made the stabilizer to work smoother, but completely eliminated the motor from the frame (see picture bellow).
Editor's ratings
Design and build quality

Video Stabilization

Battery life

Easy to use
The verdict
While today's smartphones promise gimbal-like electronic and optical stabilization, their footage are not even close to the one using a motorized stabilizer. Furthermore, through the ZY APP you will have cool tricks like Object tracking and Auto-Panorama. Vortex mode will definitely be appreciated by YouTubers and vloggers as well.
In the past, camera stabilizers were big, heavy and quite expensive. ZHIYUN managed to bring on the marked a powerful, pocket size phone gimbal which you can have it without robbing a bank. While my first gimbal had about two hours battery life, the SMOOTH-Q2 can be used almost all-day long.
It would be unfair to say that the Smooth-Q2 is perfect in all aspects. Due to its small size it has problems with wide angles phones. You will need to learn how to use it without framing the tilt motor. Also, if the phone is not well balanced, the stabilization can fail on fast movements like jumping on a trampoline. I also find it hard to toggle between portrait and landscape modes.
Pros
Affordable.
Super compact
Quick-release phone mount;
Excellent battery life;
Shutter button works with native camera apps;
Standard and swappable battery;
Smooth quiet motors.
Cons
In some cases tilt motor is visible in the frame;
Can't be used with action cameras (for now);
APP not supported yet.
ZHIYUN SMOOTH-Q2: Best alternatives for 2019
Surely, the most widespread gimbals are for smartphones. Why? These days every one has at least one phone in his pocket. Since the first iPhone, smartphones became very versatile gadgets. No-one cares about legacy phone calls, it is more important how fast can run a new game and how good are the recorded videos – here are coming stabilizers in the picture.
You can find many good phone gimbals in the price tag of SMOOTH-Q2 and we selected 3 of them in the table bellow. While the FEIYU Vlog Pocket is the lightest of them, it has also the smallest capacity battery – thus shortest working time too. The Osmo Mobile 3 promises pocket size by folding it up, but when it is ready to use it is actually bigger than the Q2.
Charging your phone through the gimbal it is a handy bonus feature. The MOZA Mini-MI comes with wireless phone charging, which is nice but not compatible with all smartphones. Maybe the SMOOTH-Q2's micro USB plug could be considered outdated, but at least with the compatible cable you can charge any modern phone (Type-C or Lightning).
| | | | | |
| --- | --- | --- | --- | --- |
| | ZHIYUN Smooth-Q2 | DJI Osmo Mobile 3 | FEIYU Vlog Pocket | MOZA Mini-MI |
| Size | 204x102x41.5 | 285x125x103 | 242x90x66 | 143x107x290 |
| Weight | 450 grams | 405 grams | 272 grams | 543 grams |
| Max Payload | 260 grams | 230 grams | 240 grams | 300 grams |
| Foldable | No | Yes | Yes | No |
| Full metal body | Yes | No | No | No |
| Quick-release mount | Yes | No | No | No |
| Portrait/Landscape mount | No | Yes | Yes | Yes |
| Run-time | 16 Hrs | 15 Hrs | 8 Hrs | 10 Hrs |
| Battery capacity | 4500mAh | 2450mAh | 1300mAh | 2100mAh |
| Phone charging | Yes, wired | Yes | No | Yes, Wireless |
| Standby mode | Yes | No | No | No |
| Subject tracking | Yes | Yes | Yes | Yes |
| Time/Motion lapse | Yes | Yes | Yes | Yes |
| Native camera control | Yes | Yes | Yes | No |
| Price (USD) | $139 | $119 | $99 | $99 |