Three weeks ago I received for review the Zhiyun Smooth Q handheld gimbal. Prior to write any word about it, I decided to test it in multiple environments.
Firstly, I took it with me on a hiking where I tested its endurance. First few hours were heavy rain, later, at heights over 1,800 meters, rain turned into snow, temperature dropped below -5° Celsius and the wind became very strong.
Secondly, I used the Zhiyun Smooth-Q gimbal to capture my journey of visiting Vienna. It proved to be perfect in the Schonbrunn Zoo as well as on the famous Wiener Riesenrad Giant Ferris Wheel.
Over the last few years, ZHIYUN Tech became one of the world's leading tech companies of professional stabilization system. While their "Crane" series is optimized for DSLR and mirrorless cameras, the "Smooth" gimbal family is specially designed for mobile phones. For GoPro owners, ZhuYun has a very robust gimbal, called Z1-Evolution.
Zhiyun Smooth Q phone and GoPro gimbal
Disclosure: I received this gimbal as part of a product review collaboration with TomTop. Product specs and quality may vary according to the manufacturer's reliability, so I cannot guarantee that you will get a product that performs exactly the same as seen in my article.
First of all, I need to underline that although most of the Zhiyun Smooth Q reviews say that it is powered by a 26650 mAh battery, it is not true! That number refers to the battery format and the actual capacity is "only" 3400 mAh.
Zhiyun Smooth Q features and specs
3-axis stabilization;
Suitable for Android phones, iPhones, GoPro and other alike action cameras;
2-way mounting clamp (horizontal/landscape or vertical/portrait phone mount);
Easy, one-step balancing;
Continuous horizontal rotation (360° Pan angle);
Object (Face) tracking (

doesn't work well with all phones!

);
3 operation modes (Pan following modes, Locking and following mode);
Up to 12 hours working time;
Phone charging port;
Bluetooth connection for remote control;
1/4" threaded tripod hole;
75~200 grams payload;
Multiple color options (Black, Gold, Rose and Gray);
Optional GoPro adapter.
The gimbal comes in a nice solid hard case, which reminds me about a tiny violin case. User manual and micros USB cables are included. In order to use the Zhiyun Smooth Q gimbal with my Xiaomi Yi 4K camera I also requested the PGYTECH GoPro mount adapter.
At a glance
While initially I found it cheapy that the handler is made of plastic, not metal as the rest of the gimbal, this proven to be useful during my tests. Just imagine how it would feel to use the gimbal without gloves when the thermometer shows -10 degrees Celsius or even less. Not just that your bare hands will fill more comfortable, but also the built-in battery.
As functionality and construction, drone gimbals and handheld gimbals are very similar. To achieve the possibility of 3D movements and stabilization on all 3-axis, these devices are equipped with 3 brushless motors, gyro and accelerometer sensors and a controller board. In addition to the control buttons, the Zhiyun Smooth Q gimbal features Bluetooth connection which allows to control it wirelessly via phone APP or dedicated Bluetooth remote controller.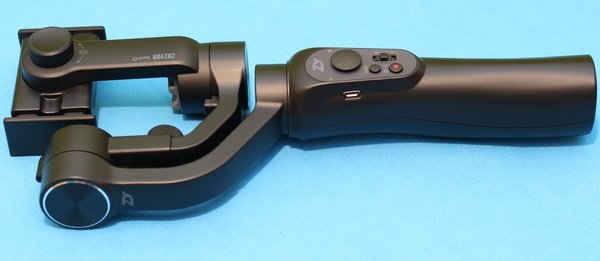 Like the DJI Osmo Mobile, Smooth Q also has a 1/4″ thread mount that allows to use the gimbal onto anything such as tripods, selfie sticks or stands.
The Smooth-Q has two USB ports, a micro one which allows to charge the gimbal and a second one (Type-A) which allows to use the gimbal as a power bank for your phone (portable battery charger).
Both, landscape and portrait, position are allowed by the Zhiyun Smooth-Q for your phone. The spring loading device holder fits for almost any size of phones. Thanks to the adjustable arm length, larger devices can be balanced quite easily. Using a GoPro camera without dedicate adapter it is possible, but screen will not be visible/accessible.
Controls
On control panel, besides the two status LEDs (Bluetooth and battery level indicator), there are two buttons, a slider and a tiny joystick.
Power On-Off / Start-Stop button
The button with the red dot in the middle is in-charge of switching On and Off the Smooth-Q. While long pressing this button you can turn On/Off the gimbal, by short pressing it you can start and stop video recording for the ZY Play App (Android or IOS).
Mode button
Shooting mode button allows to toggle between 3 operation modes (Pan following, Locking and Following mode).
While on Locking mode, all axis are locked, keeping the camera stable and pointing in one direction, on Following mode, all axis are unlocked and the phone will smoothly follow the movement of the gimbal.
Unfortunately, there is no indicator to show what working mode is selected.
W-T Slider (Zoom in/out)
While "W" stands for Wide angle, "T" for Telephoto respectively. Through this slider you can zoom in/out if ZY Play application is used. Firstly, I was quite enthusiast by this feature, but it works by interval and the zooming effect is not too smooth.
CVT Joystick
You can use the CVT Joystick to pan, rotate, and adjust the tilt of the gimbal (depending one the working mode you're in). Smooth-Q is able to rotate continuously around on its horizontal axis (endless panning), which allows you to capture pretty nice 360 degree videos.
Field test
First of all, never power On the gimbal prior to attaching the phone, it can go crazy and even lead to motor failure. Because of the hard mount springs, it's very tough to insert the phone with one hand.
As I mentioned at the beginning of my review, I wanted to put the gimbal in several field tests before I pronounce my final verdict.
Last week, I was with the kids on a skying weekend at the nearest mountain. The first day all went beautiful, but the next day came a heavy rain like in the summers. Being bored, I thought it would be fun to go up hiking on the top of the mountain and test the gimbal there, if the rain stops. Besides the gimbal, I packed some water, chocolate and a cola in my backpack and I left the warm chalet.
After two hours the rain finally stopped, it was time to get out the Smooth Q of my backpack and mount the phone on it. Although inside the backpack everything was wet, the gimbal was completely dry. I don't say that the gimbal case is fully waterproof, but I can confirm that protects its content very well. Excepting some strung wind gusts, the gimbal has retained its position very well.
As you can see in the above video, even if sometimes I sink in the big snow, the camera still remains very stable.
Even if it was very could, after about 30 minutes of usage the battery level dropped only a bit. It remained enough power to charge my phone, which discharged quickly searching for GSM signal.
Does it worth?
Price/performance ratio

Design and build quality

Video Stabalization

Battery life

App Features
Summary
For me, is definitely worth it. Allowing to use it with almost any size of phones as well as with a GoPro, Zhiyun Smooth Q is a must have in my traveling backpack.
It managed to keep my camera steady even when I'm running upstairs.
The fact that is able to charge your device on the go is very useful. Action cameras runs out of battery pretty quickly and I feel this is a good feature in order to ensure filming the whole day.
Bottom line is that whether you are a passionate traveler or a professional drone reviewer like me, the Zhiyun Smooth Q gimbal will improve the quality of your videos, and at $139, it is a good deal to go for.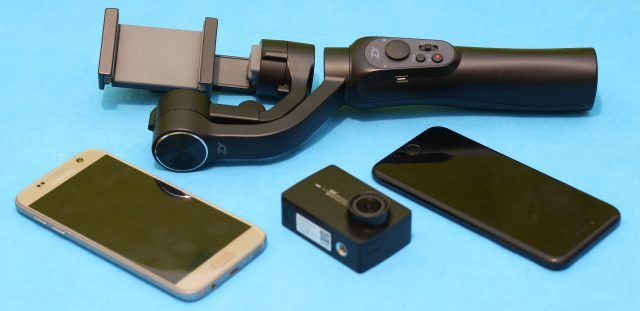 What I liked
Universal, suitable for phones as well as for action cameras;
Multiple operation modes;
Silent operation;
Continuous panning;
Can charge your device;
1/4″ tripod hole.
What I didn't liked
App is very rudimentary and allows to record only with 30fps;
Very hard to attach the phone with one hand;
Panning through joystick is too fast.