To help my readers find the best drone for their budget, I recently created the "Drones by Price" section on FirstQuadcopter. I thought it would be also helpful to share some great drone savings. Especially that 11.11 will be next weekend and usually it comes with huge drone discounts.
Probably Double Eleven is the world's second most expected day for shipping enthusiasts, of course, after Black Friday. While "Black Friday" (the day following Thanksgiving Day) became popular thanks to the massive price drops in the US local stores, "11.11 aka Single's Days" was introduced by Chinese online stores (like AliExpress, Banggood, Geekbuying, Gearbest, TomTop, …).
Drone deals during 11.11.2017
During 11.11, you can also win coins playing various games, which can be converted into additional discount coupons.
On Double Eleven there are also unique deals, applied for only one-pieces. If you have luck and catch one, you can get a Phantom 4 Pro for only $100 or even less. Firstly, I thought these deals are fake in order to attract more customers, then, last 11.11, one of my friends managed to purchase a 150$ drone for only $9.99.
VISUO XS809HW, a Mavic clone with 30% discount
In 2017, various Mavic Pro clones have been announced. IMHO, one of the most successful of them was the VISUO XS809HW. While keeping a friendly price tag, it perfectly reassembled the DJIs design. You can opt between two versions, one with a 0.3Mp camera and one with a 2MP camera.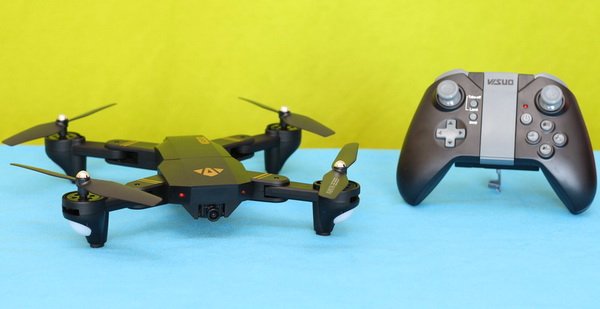 Thanks to the 900 mAh battery, the XS809HW has one of the best flight autonomy among toy grade drones.
Eachine Racer 250 PRO, an FPV racing quadcopter with 40% off
When it comes to drone racing, you definitely need to spend a lot of money on gears and spare parts. Eachine's Racer 250 PRO drone, offers excellent flight performance and durability at a very low price tag. All kinds of spare parts can be found relatively cheap.
Powered with a 4s Li-Po battery, can achieve impressive flight speeds and punch-outs.
During 11.11, can be found in combo with Eachine I6 (aka FlySky FS-i6) transmitter for only $180. It's a bargain for such a nice brushless FPV racing quadcopter!
Eachine E013, a mini TinyWhoop alike mini FPV racer with 64% off
Like most of the micro FPV racing drones, the Eachine E013 follows the ducted propeller design of the popular Tiny Whoop / Blade Inductrix. The basic idea of this concept is to improve the efficiency of the propellers.
Maybe it's not the fastest machine but it is very safe for indoor practice. Thanks to the onboard 5.8G AIO camera, you can pair it with almost any 5.8G FPV display.