Surely, 11.11 is the day when you can find the best drone deals at Chinese retailers. Double 11 is the world's second most expected day for shopping enthusiasts, of course, after Black Friday. While "Black Friday" (the day following Thanksgiving Day) became popular thanks to the massive price drops in the US local stores, "11.11 aka Single's Day" was introduced by Chinese online stores (like: AliExpress, Banggood, Gearbest, TomTop, HobbyWow, …).
Online retailers slash their prices and offer some huge discounts. Often, limited quantity has very low prices and you got to be quick. Firstly, I thought these deals are fake in order to attract more customers, then, last double 11, one of my friends got lucky and succeeded to purchase a 100 bucks quadcopter for only $9.99 including free shipping.
Since there are only 10 days till 11.11.2018, my phone already started to show popups with deals from the installed online store APPs.
Best drone deals during 11.11 of 2018 (Top 5)
If you're searching the market four your first drone, you may be overwhelmed by the choices. With each model being built using a different design and approach along with unique features, it often feels like comparing apples with pears. We selected five type of drones in order to help you find the best quadcopter for your money. From a cheap toy drone to an ultra fast FPV racing quad. Of course, I included in our "Top 5 Best Drone Deals" list the latest and probably most expected drone at the end of 2018, the FiMI A3.
Disclosure: Some of the links bellow are affiliate links, meaning, at no additional cost for you, I will earn a small commission if you click through and make an order.
1. Eachine E012 Mini RC drone for only $12.99
Type: Indoor | Skills: Beginner | Camera: None | FPV: None | Flight time: 5 minutes | Features: Headless flying & RTH | Package: RTF
Currently, the Eachine E012 is probably the cheapest drone on the market. Despite its low price, it features nice Tiny Whoop alike design. It comes with its on remote controller. No additional devices required to fly.
Due to its small size and large propeller protectors, the E012 Mini quadcopter is just perfect for indoor practice, even for completely newbies. The frontal LED light will help you to track the orientation of the aircraft. The Eachine E012 has an upgraded version called E012HC which features altitude hold and on-board 720P camera. View 11.11 Deal
2. Eachine E58 foldable drone with 2MP camera and 3 batteries
Type: Learn-to-Fly | Skills: Beginner | Camera: 0.3/2MP | FPV: WiFi | Flight time: 7-9 minutes | Features: Foldable design, Altitude hold, Headless flying, Multiple flight speed rates & RTH | Package: RTF
Due to its cool foldable design, the Eachine E58 is also known as "Mavic's baby" :). You can opt for two type of cameras: 0.3MP and 2MP. Of course, the second one, with higher resolution, provides more enjoyable aerial videos. Thanks to the altitude-hold feature it is incredibly easy to use it, even for first time pilots.
The 3.7V 500mAh Li-Po battery provides up to 9 minutes of flying time. While the flight battery is changeable, I suggest you to rest few minutes before loading a freshly charged one in order to let the motors cool down.
Now, during Double 11 sales promotion, you can find it with 30% off. According to your needs, you can opt for 1, 2 or 3 flight batteries. View 11.11 Deal
3. VISUO XS812 GPS enabled camera with 26% off
Type: GPS camera drone | Skills: Beginner & Intermediate | Camera: 2MP/5MP | FPV: 5G WiFi | Flight time: 15 minutes | Features: GPS positioning system & Smart flight modes | Package: RTF
Like the above mentioned E58, the VISUO XS812 also has foldable arms and on-board camera. In addition to the headless flying and altitude-hold features, it has accurate GPS positioning system.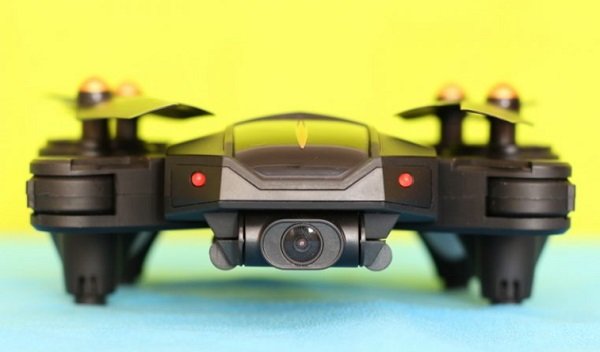 Its attractive design is paired with excellent flight performance. At highest speed rate it is capable to fight with moderate wind. The "Auto return to home" feature works really great, pressing the "RTH" button, the VISUO XS812 returns automatically to the take-off position.
While, according to the advertised specs, the high capacity (1800mAh) Li-Po battery should allow about 15 minutes flying time, the real world tests proved to be a bit less (only 9 -12 minutes). Check 11.11 deal
4. Xiaomi FiMI A3 GPS brushless drone, now only $269.99
Type: Cruising | Skills: Intermediate | Camera: 1080P w/ 2-axis gimbal | FPV: 5.8G | Flight time: 25 minutes | Features: Brushless motors, GPS, RC with FPV screen & Smart flight modes | Package: RTF
The new FIMI A3 is a GPS enabled drone with Full HD camera on a 2-axis gimbal for less than $300. This quadcopter has some remarkable specs that puts it firmly in competition with the more expensive DJI Spark.
According to the advertised specs, the 3cell/2000mAh Li-Po battery allows up to 25 minutes flying time. The up to 1000 meters control range is also pretty impressive for its price tag.
Announced just few weeks ago, you can only pre-order the Xiaomi FiMI A3 drone. According to BG, the first batch will be delivered starting with November 12, 2018. But, you know "hope for the best and prepare for the worst", especially if you want it under the Christmas tree. View 11.11 deal
5. Holybro Kopis 2 SE FPV Racing quadcopter w/ 15% off
Type: FPV Racing | Skills: Intermediate & Professional | Camera: RunCam Swift Micro | FPV: 5.8G | Flight time: 25 minutes | Features: Brushless motors, GPS, RC with FPV screen & Smart flight modes | Package: RTF
Among the many FPV racing drones we reviewed in 2018, the Holybro Kopis 2 finished in pole position. It proved to be not just very durable but also insanely fast and agile. Equipped with top notch hardware (Kakute F7 flight controller, Atlatl HV V2 VTX and T-Motor F40 PRO2 2400KV motors), it seems to be excellent deal even at its full price.
Like its predecessor, the Holybro Kopis 2 SE has also two variants: PNF (Plug-N-fly) without receiver and BNF (Bind-N-Fly) with FrSky XSR radio receiver. Both versions are delivered without battery, charger and transmitter. View 11.11 deal
Bottom line
This is all about the discounts for the moment, guys. Be sure to order as early as you can before the prices revert back to their original level. Moreover, since the stock is limited for most crazy deals, the quicker you act the better price you get.