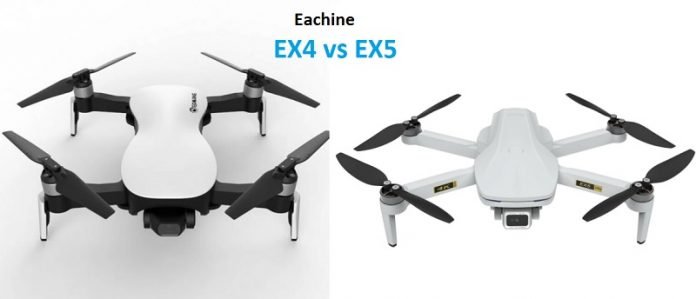 Although, the Eachine EX5 is a newer model, it doesn't necessarily mean that is better than the older Eachine EX4. In this article, I will try to make things clear so you can make the right decision on which is is the best bang for your buck.
While the EX4 Aurora was revealed in November 2019 and has a Mavic Air alike design, the EX5 Mini in July 2020, and follows the Mavic Mini's design. Both drones feature foldable arms and a 4K camera.
Weighing only 229 grams, the EX5 does not require FAA registration. It's smaller than the EX4, too. By comparison, with folded arms the EX4 measures 104x85x57mm, and its older brother 177x196x70mm. Being larger and heavier, the EX5 Aurora has better wind resistance than the smaller EX5 MINI.
Despite the fact that it has a small capacity battery (2S/2200mAh vs 3S/2400mAh), the EX5 promises 5 minutes extra flight time compared to the older Eachine EX4.
Eachine EX4 vs Eachine EX5 comparison chart
In the table below, I compared the most important specs and features of both Eachine drones. I highlighted with red were the EX4 Aurora excels and with green were the EX5 MINI shines.
| | | |
| --- | --- | --- |
| | Eachine EX4 Aurora | Eachine EX5 Mini |
| Folded size (L×W×H) | 177x196x70mm | 104x85x57mm |
| Weight | 437g | 229g |
| Satellite positioning | GPS | GPS |
| Indoor Positioning | Optical Flow + Ultrasonic | Barometric altitude hold |
| Camera | 4K | 4K |
| Gimbal | 3-axis | NO |
| Bit rate | 8Mbps | N/A |
| Image sensor | 1/3.2 CMOS | N/A |
| FPV range | 1.2KM/3KM | 0.2KM/1KM |
| FAA | Yes | NO |
| Battery capacity | 3S/2400mAh | 2S/2200mAh |
| Flight time | 25 minutes | 30 minutes |
| Flight time | EX4 full specs | EX5 full specs |
| Price | $214.99 | $111.99 |
Bottom line
Despite that the EX5 is a newer model, its camera capabilities are far behind the EX4 ones. The 3-axis gimbal allows pro-grade smooth aerial videos. The control range of the Eachine EX5 is also much better compared to the one its smaller brother has.
On the other hand, the Eachine EX5 MINI does not require FAA registration, it is much portable and claims to have a better battery life (30 vs 25 minutes). The sub 250 grams design makes it one of the best Mavic Mini alternative around $100.