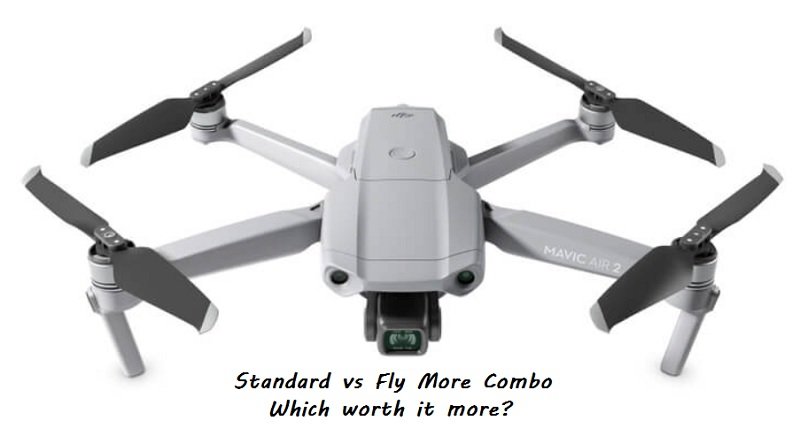 Like most DJI drones, the new Mavic Air 2 was also announced in two variants, "Standard" and "Fly More Combo". Let's find out what you get for the extra 189 bucks!
Both Mavic Air 2 box options come ready-to-fly with included remote controller. As you can guess, the "Fly more combo" is dedicated for those who need extended flight time. Combo comes with 3 flight batteries and one charging hub which allows to charger 3 batteries in a sequence. This configuration will allow you to fly close to 100 minutes in a row. Combo also includes 3 extra pairs of spare propellers, a pack of ND filters and a shoulder bag. Furthermore it also includes a power bank adapter, which turns your Mavic Air 2 battery into a veritable power bank. In contrast, the "Standard" option comes with the bare necessities to get flying – it doesn't even include a memory card for recording.
Sponosored AD
What you get for extra $189? Difference between Standard & Fly More Combo pack
Included parts and accessories:
Mavic Air 2 – Standard
Mavic Air 2 Fly More Combo
Aircraft
1
1
Remote controller
1
1
Flight battery
1
3
Battery Charger
1
1
Low-Noise Propellers (Pair)
3
6
RC Cable (USB Type-C Connector – New Android devices)
1
1
RC Cable (Standard Micro-USB Connector – Old Android devices)
1
1
RC Cable (Lightning Connector – Apple devices)
1
1
Camera Gimbal Protector
1
1
Type-C Cable
1
1
Pair of Spare Control Sticks
1
1
ND Filters Set (ND16/64/256)
–
1
Battery Charging Hub
–
1
Battery to Power Bank Adapter
–
1
Shoulder Bag
–
1
Price
$799
$988

order from DJI
Is The DJI Mavic Air 2 Fly More Combo Worth It?
To figure out if you should grab the more expensive fly more combo version, you have to think about how you are going to use the DJI Mavic Air 2 and what all the accessories costs individually.
| | | |
| --- | --- | --- |
| Mavic Air 2 Combo extra accessories | Quantity | Price (total USD) |
| Intelligent Flight Battery (3s/3500 mAh) | 2 | $230 |
| Low-Noise Propellers (Pair) | 3 | $33 |
| Battery Charging Hub (3 batteries in sequence) | 1 | $59 |
| Battery to Power Bank Adapter | 1 | $19 |
| ND Filters Set (ND16/64/256) | 1 | $65 |
| Shoulder Bag | 1 | $49 |
| Total price of bonus stuff | | Total worth of $455 |
Bottom line
The math shows that going with a combo pack you will make a good deal. Paying just $189 more you will get accessories in value of $455, this is a saving of $266! Of course combo fits especially for those who will use their Air 2 more than once in a week.
On the other hand, if you are only an occasional drone user, I think the standard pack will be just fine for you. There is no sense to invest in extra batteries or a multi-battery charging hub. Based on my experience, the only thing you will need is the shoulder bag which allows to conveniently store and transport your Air 2 Mavic drone.
Finlay, if you are looking for something more affordable, you should check our list of Best Mavic Air 2 alternatives. There you can find few pretty nice 4K drones for less price.