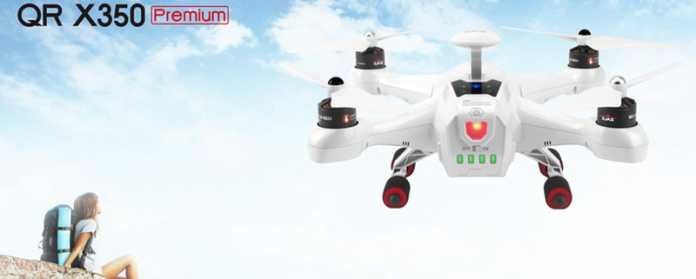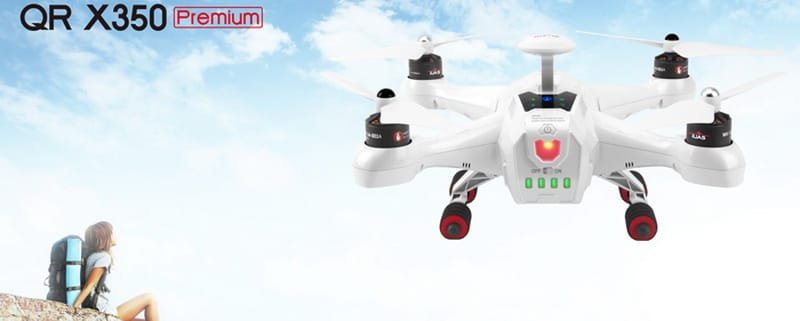 Walkera QR X350 Premium with dual GPS and FPV
This recently announced new quadcopter from Walkera has a completely different design and many new features compared to the previous QR X350.
Walkera QR X350 Premium has a very robust design with integrated FPV front camera. In addition to the onboard camera, this quad can be equipped with a 3D gimbal and GoPro camera for more demanding AP (aerial photography).
The unique and innovative dual GPS System allows the aircraft to overcome GPS glitches and provides more accuracy and redundancy in autopilot mode.
The QR X350 Premium quad paired with the Walkera F12E transmitter will provide a unique flight experiences. The pilot will receive on the transmitter's display not just live video feed from the quadcopter's camera but also useful flight information like: flight height, speed and distance, flight time, GPS coordinates and battery voltage.
Powered with a very high capacity 8s 29.6V/3Ah Li-Po battery the QR X350 Premium has an up to 25 minutes flight autonomy.
This Walkera QR X350 Premium will remain, probably for most of us, dream but certainly every new model will drop the price of the older ones. The QR X350 Pro will be cheaper and this will bring me closer to my first GPS quadcopter.
Walkera QR X350 Premium features:
GPS and GLONASS dual navigation system;
Ground Station Control System (

Walkera

GCS). Using your smartphone or tablet, you can set waypoints for autonomous flight mode;
Wireless telemetry. Flight parameters like: flight speed, flight duration, GPS coordinates, battery voltage are displayed on the screen of the Devo F12E transmitter;
360° Auto Rotation (Circle Mode) and follow me flight mode;
One key to start – Auto take off;
One key return to home;
No signal and low battery failsafe return to home and lands;
Onboard HD camera and optional secondary camera with gimbal;
G-2D, G-3D, G-3DH, G-3S gimbal camera mount support;
Flight duration: up to 25 minutes;
iUAS Walkera QR X350 Premium control range: up to 1000 meters;
FPV video range: up to 800 meters.
QR X350 Premium includes:
Flight controller;
GPS modules (GPS and GLONASS );
4pcs of brushless motor and speed controller;
Receiver module;
Groundstation;
Devo F12E transmitter;
FPV Full HD wide-angle lens camera;
8cell 29.6V3000mAh li-po battery;
Li-Po battery charger;
QR X350 Premium user manual.