AKKTek released their first all-in-one camera with an onboard DVR unit, called AKK EIO. I was lucky enough to snag one from the first production batch for review.
When it comes to racing drones, weight and space are critical. In addition to the low weight and compact size, AKK EIO allows recording the journey of your flight right on the quadcopter without any additional device.
Aside from a good FPV monitor or a wearable FPV goggle, the second most important piece of an immersive FPV flight is the camera. Serving as your eye on the sky, choosing a camera that's both durable and high quality are two main points to consider.
AKK EIO camera main features:
4 in 1 FPV camera (DVR, VTX, Antenna and 600TVL camera);
Lightweight and super mini size;
Low input voltage (3.2~5.2v);
LED status bar;
48CH. 5.8G VTX with 25mW broadcast power;
VGA @ 30fps video recording (640 x 480).
Dipole antenna.
AKK EIO VTX DVR camera review
Disclosure: I received this EIO FPV camera as part of a product review collaboration with AKK. Although the product was offered free of charge, all opinions in this review are my own.
The usual delivery time from China to my country is about 20-30 days, but this time HongKong Post broke the record. I received the camera after 69 days. I honestly have already given up on ever getting the package.
Unlike other AKK products that I reviewed, the EIO comes in a colorful, but bulky box. In my opinion, it is even mislabeled. The box says that contains a 3-in-1 camera, Transmitter+FPV Camera+Antenna, nothing mentioned about the DVR feature. Actually, the AKK EIO should be advertised as a 4-in-1 camera.
Besides the camera, I found inside the box only a short user guide and a lens cap. Unfortunately, there aren't included any mounting accessories and you have to improvise something by yourself.
AKK EIO camera review: At a glance
The EIO standalone AIO camera weighs about 5.8 grams and measures 22 x 20 mm without an antenna. The dipole type antenna is directly soldered on the top of the camera's mainboard. Micro SD slot is located between the two electronic boards. According to the manufacturer's specs, the EIO DVR camera is compatible with up to 32GB memory cards.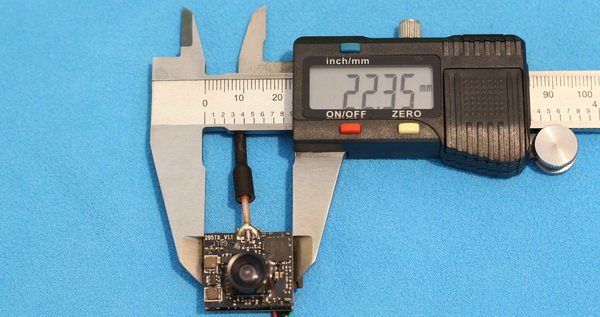 On the back of the camera are located 8 status LEDs and 2 micro push buttons (B1 and B2). While the outer LEDs are red and show the actual channel, the inner ones are blue and show the selected band. There is an additional red LED (near the camera cable) that shows the recording status.
Through the "B1" button you can toggle between start/stop video recording. Button "B2" serves to change bands and channels. While short pressing you can switch between 8 CHs, by long-pressing you can toggle between 6 bands.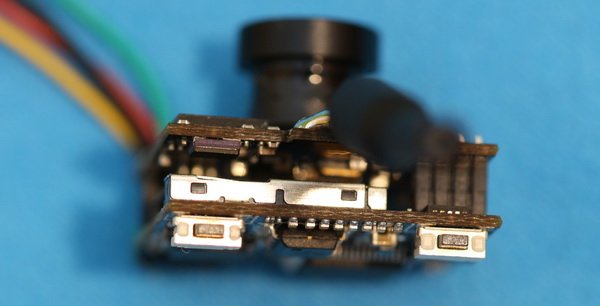 The connection cable is directly soldered and glued to the DVR board. Cable color coding:
Green: Video IN;
Yellow Video OUT;
Black: Ground;
Red: Power (3.2~5.5V).
If you plan to use the camera without OSD video input, you need to connect the yellow and green wires together.
Unlike the Eachine DVR03, the EIO does not have an OSD menu nor playback feature.
AKK EIO review: Performance
As I previously mentioned, AKK does not include any mounting accessories with their EIO camera, how you mount it is entirely up to you. I have taken two approaches to my installation techniques. The first was the "emergency" approach, using a piece of rubber band I attached the camera to the frame of my drone. For a long-term solution, I plan to make a dedicated mounting stand using a 3D printer.
In order to test the EIO camera, I used a 1s LiPo battery and the Eachine ROTG02 Android FPV receiver. NOTE: the AKK EIO camera can be powered by up to 5.5V!
Unfortunately, the recording does not start automatically on power ON. Also, you need to stop it manually after you finished your flight, otherwise, the recorded file will be corrupted or lost.
Four minutes of recorded video (640 x 480 @ 29.95 fps) occupies about 180 MB on the micro SD memory card.
The feed from the camera to my phone was very quick, providing real-time visual feedback without too much latency. The image quality was decent, though not spectacular. FPV range is just perfect for proximity park flying. However, FPV range and image quality are widely dependent on the FPV receiver and FPV screen you are using.
Is the AKK EIO AIO FPV Camera Right for Me?
Price/value ratio

Design and build quality

Performance and image quality
Summary
If you are looking for a compact, ultra lightweight VTX camera with integrated DVR and decent image quality, the AKK EIO probably fits for you. Paired with a low-priced FPV headset it allows you to enter in the world of FPV without investing a large amount of money.
While both, light sensitivity and response time, on light level changes are quite nice, I would not recommended it to be used on ultra fast racing drones.
If you'd like to purchase this camera or find out more information, go to the manufacturer's website.
Pros
Compact size;
Easy operation;
Recording directly from the source (no RF noise);
Can be interlinked with OSD modules.
Recording indicator LED.
Cons
No playback feature nor OSD settings;
Only 25mW transmission power;
No microphone.