FPV drones are ridiculously fun to fly and most enthusiasts (myself included) consider mini racing quadcopters like this Helifar X140 PRO the perfect gear for newbies to start their journey in this hobby. For less than 150 bucks, the Helifar X140 PRO is an impressively fast and nimble FPV racing drone.
There are two versions of this FPV drone: the Helifar X140 PRO PNP (without receiver) and the Helifar X140 PRO BNF (optional FrSky or FlySky radio). All versions are offered without remote controller, battery and charger.
Usually, numbers in a drone's model name refer to the diagonal size in millimeters measuring the distance from rotor to rotor (wheelbase). The Helifar X140 PRO is build on a robust 140 mm sized carbon fiber frame.
Key specifications
145mm wheelbase carbon fiber frame with 4mm arms;
Tower design (FC, ESC, VTX);
Helifar F4 flight controller w/ MPU6000 and BetaFlight OSD;
3600KV brushless motors with 4-blade 3041 propellers;
Helifar Blheli 32 4-in-1 25A ESC with oneshot125, oneshot42, multishot, Dshot150 / 300 / 600 / 1200 support;
600TVL FPV camera w/ 1/3″ SONY super HAD II CCD sensor annd 145 degree field of view (2.3mm) lens;
5.8G-48Ch, 25mW to 200mW switchable VTX, PIT modes suported;
Sound buzzer and programmable LED strip.
Helifar X140 PRO review
Disclosure: I received this X140 PRO mini FPV drone as part of a product review collaboration with GearBest. Although the quadcopter was offered free of charge, all opinions in this review are my own. Note: product specs and quality may vary according to the manufacturer's reliability, so I cannot guarantee that you will get exactly the same drone as seen in my review.
As I already own a Taranis Q X7 remote controller, I opted for BNF version with FrSky radio receiver. The package was delivered fast and smooth, without any paper work or extra fees.
Inside the box, beside the drone, I found the following accessories: two sets of red 4-leaf propellers, FPV antenna, XT60 plug, 4x zip ties, 2x shrink tubes, 1 set of prop nuts and Helifar stickers (4colors). The FrSky XM+ comes connected, but not installed in its place. No user manual or any documentation included :(.
Helifar X140 PRO review: Initial impressions
First of all, the X140 Pro 's Stretch-X frame is made of the most resisting material currently used in drones, 3K carbon fiber. The 4mm thickness of the arms ensures that your drone will resist practically to almost any crash and hit, against trees, walls, doesn't matter, this frame should remain in one piece.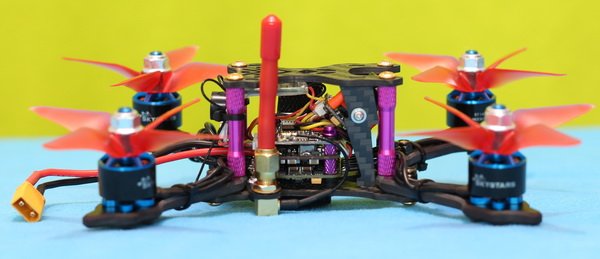 Instead of a unybody design, Helifar (Ex FuriBee) opted to use 4 individual arms screwed together. All electronic parts are found between the bottom and top plate. Because the battery is attached under the belly of the drone, it remains enough space on its top for a second DVR camera.
Helifar X140 PRO adopts tower design, bottom layer is the 4-in-1 25A ESC, middle layer is the F4 flight controller and top layer is the 5.8G VTX. FPV antenna is linked to VTX through pigtail, this will save you from troubles during crashes.
At the end of each arm is located is a 1408 3800KV brushless motor. Wires are organized and secured using zip ties.
Out of the box it comes with XT30 battery connector, but the manufacturer includes also a XT60 plug. You will need a soldering iron to change the LIPO plug. IMHO it would've been more helpful to include a XT30 to XT60 adapter.
On the back there is a tiny board with a buzzer and two RGB LEDs (indicator lights).
Helifar X140 PRO review: Camera, FPV and OSD
During crashes, the 600TVL FPV camera is well protected by the frame. No exposed parts! The angle of the camera can be adjusted after you loosen two screws. The real-time image transmission is achieved using a 5.8G 48CH VTX w/ adjustable broadcast power (PIT mode, 25, 100 & 200mW). Always install the FPV antenna prior to powering ON!
Image quality is nice, with good response on light level changes. The 1/3″ SONY super HAD II CCD does its job very well. Personally, I found the 145° FOV just perfect for first person flights. As previously mentioned, those who want to record their flight should know there is still room on top to mount an action camera such as a GoPro Hero Session or Foxeer Legend 3.
OSD is very detailed, you can display lot's of flight parameters (such as flight time, flight mode, battery voltage, flight altitude,…), changes can be done through BetaFlight Configurator.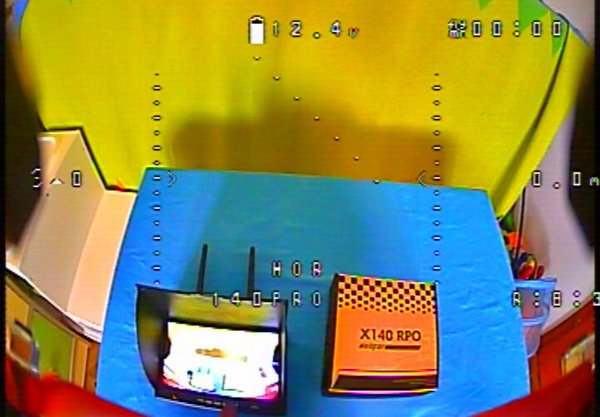 Remember, the quadcopter does not come with any FPV monitor or FPV goggles, so you have to find your own!
Flight preparation
Firs of all, never-ever power ON the drone with installed propellers prior to initial setup. Those sharp blades can produce nasty injuries.
1. Binding the Helifar X140 PRO FPV drone with Q X7 transmitter
Firstly, I created a new model on my transmitter and named it "X140 Pro". After that, under the "Model setup" screen I set "Internal RF" operation mode to "D16". Finally, I selected the "[Bnd]" option.
Next, I powered ON the drone while pressing the radio module's F/S button. Successful binding will be confirmed by solid green light.
2. Helifar X140 PRO BetaFlight settings
By default, none of the switches are configured. Like usual, I opted to use left shoulder switch to Arm/Disarm the motors and the right 3 position switch to toggle between preferred flight mods (Angle/Horizon/Acro). I assigned a third momentary switch to the beeper if something goes wrong and I crash it. I suggest you to fly firstly with standard PID settings, at least if you are not an expert in the field.
3. Test without propellers
Without propellers you can test if all motors run smoothly and rotate in the right direction. Also, what happens when motors are armed (if rotation is with zero throttle). If everything looks OK, you go out for maiden flight.
Flight experience
For my first flight I opted to use a Tattu 3S 850 mAh LiPo battery. I read in another Helifar X140 PRO review that can be powered by a 4S also.
Because using the 3s was already damn fast and agile, I can imagine what insane speeds can achieve this mini FPV drone with a 4s. If you want to test it, you will need large open spaces in order to unleash its full power.
Flight time is somewhere between 4 and 6 minutes. It is widely depending on how much throttle you give. When the battery is near empty, the buzzer will let you know that is time to land and recharge.
The rear indicator LEDs are useful when you are flying in line of sight mode (without FPV). The LEDs allows you to know whether the motors are armed (green light) or disarmed (blue light). An additional super bright head-light would have done LoS flights even more enjoyable.
In FPV mode, props and frame are a bit visible in the corners of the live-video stream.
Is it the Best mini FPV drone? aka Editor's rating
Price/performance ratio

Build quality

Camera & VTX

Flight performance
Conclusions
Should you get one? My answer is a big YES. The Helifar X140 PRO is one of the best mini FPV drone we reviewed in 2018. It comes with versatile F4 flight controller, sturdy frame, detailed OSD and good quality FPV rig. It has explosive flight performance even using only a 3s. Newbies, as well as experienced pilots, will have fun with it. Even if it comes without any documentation, preflight settings are easy to make.
If you are on limited budget or don't want to invest too much in this kind of hobby, you can grab the Helifar X140 PRO from here for $155.99 with FrSky receiver (at the time I published my review). Compatible LiPo batteries can be found with prices starting from 15 bucks.
Pros
Robust carbon fiber frame;
Top-notch hardware;
Detailed OSD;
Super fast;
Compatible with 3s & 4s LiPo batteries.
Cons
Lack of documentation;
Frame & props are visible in FPV.
Bottom line
Thanks for reading this Helifar X140 PRO review and I hope it will help you find the best mini FPV drone for you. If you find anything you think I missed or want to ask something regarding this quad, please leave a comment bellow.
I almost forgot to mention, those who haven't heard yet, it seems that FuriBee changed their brand name into Helifar. So, practically the Helifar X140 PRO is an upgraded version of the Furibee x140.