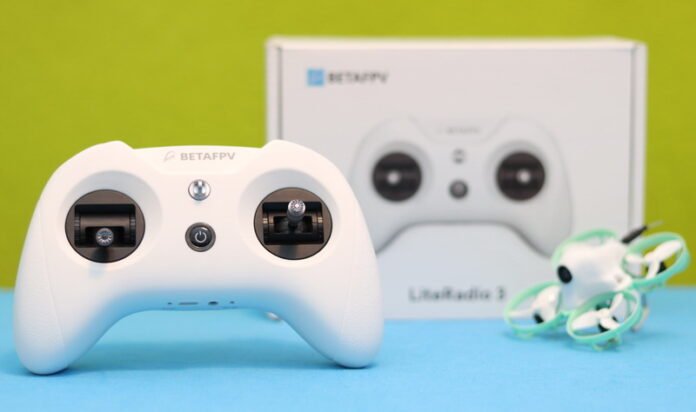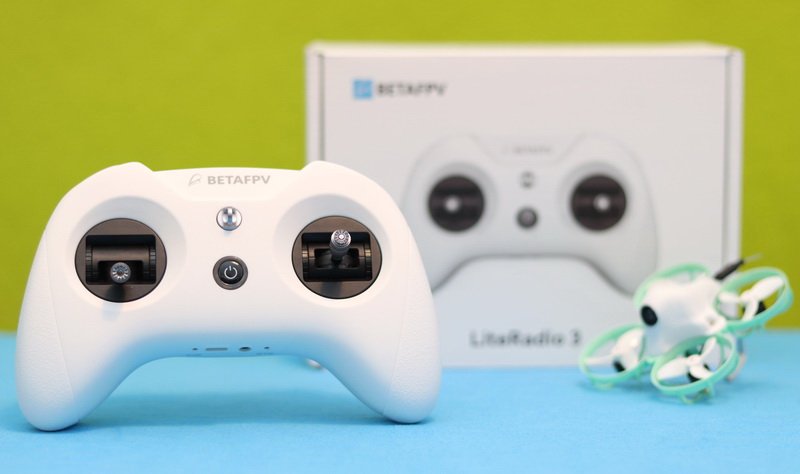 BetaFPV's third-generation radio transmitter, the LiteRadio 3, comes with a few cool upgrades, including new nano gimbals, neck strap hook, extended working time, and updated shoulder switches. In addition to the inbuilt TX module (ELRS or FrSky) now has an external Nano TX bay on the back for future protocols.
A radio transmitter should be one of the very first gear to buy when getting into FPV, as you can use it to play with flight simulators before even owning a real quadcopter. Currently, there are many drone radio communication protocols such as FrSky, FlySky, TBS Crossfire, Spektrum, Futaba, and ELRS. You can find four configuration setups according to the stick functions -mode 2 (throttle stick on the left) being the most commonly used. The main function of a radio controller (TX) is to transmit the pilot's commands to the radio receiver (RX) which is connected to the flight controller.
BETAFPV LiteRadio 3 features
Ergonomic game-controller style design with anti-slip texture coating;
UP to 8 usable channels;
Built-in ExpressLRS 2.4G (25mW/50mW/100mW) or Frsky TX module (100mW);
Nano module bay for external TX module;
Newly designed nano gimbals for longer usage life;
USB Joystick emulation for PC simulators;
Support BETAFPV Configurator for updating, configuring, and tuning;
Built-in 2000mAh battery (15hours working time) and USB charge supported.
LiteRadio 3 hands-on review
Disclosure: I received this drone radio as part of a product review collaboration with BetaFPV. Product specs and quality may vary according to the manufacturer's reliability, so I cannot guarantee that you will get a drone that performs the same as seen in my article.
Due to DHL's incompetence, I got the package on the last day of the year. They made a mistake in the customs declaration, and instead of apologizing, they held the package for a few more days. Besides the dedicated case that I requested, Iris included two neck straps, a set of cool stickers, and a nice BetaFPV shopping bag as new year's souvenirs.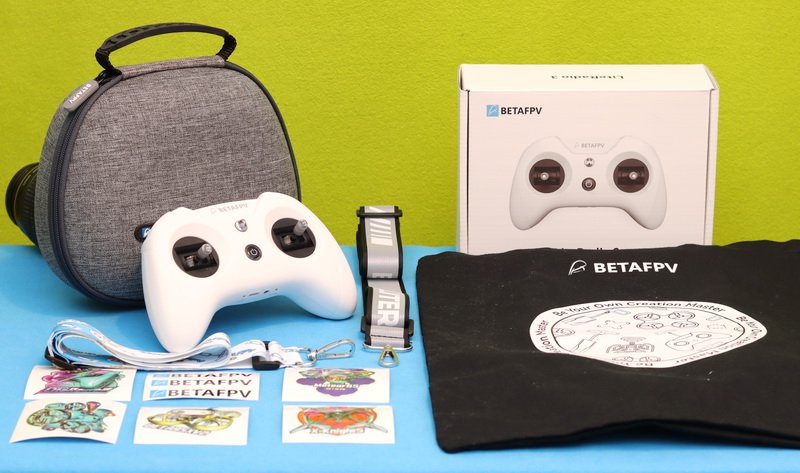 At a glance
The LiteRadio 3 comes with two silicone gimbal covers that protect the sticks during storage and transportation. In my hand, it feels comfortable and well built. Tough plastic is the primary material, some of it is slightly textured in order to add some grip, and there isn't a hint of creakiness or flex anywhere. The front panel is still minimalist but at least now it has a neck strap hook, which is the first visible difference between the LR3 and LR2SE.
As you can see in the image below, in terms of size and design the LiteRatio3 is comparable to the Jumper T-Lite. The LR3 has a built-in antenna instead of an external removable\upgradable one.
A USB-C port at the bottom is used for battery charging, configuration/firmware update, and PC controller mode. As it stands, the 2,000mAh built-in battery delivers up to 15 hours of use per charge, which is amazing for its price tag. The blue light flashes slowly when the battery is near empty, and the buzzer beeps continuously. Also, on the bottom, there is a 3.5mm trainer port and two buttons (bind and settings -you will need a toothpick to press them).
Instead of those old-school metal switches, it has some new two-stage, respectively three- stages buttons (from each one on both sides).
A status RGB LED ring is around the power button. When is connected to your computer (for configuration or PC game controller mode), you don't have to power it on. During charge, the LED turns red and breathes slowly.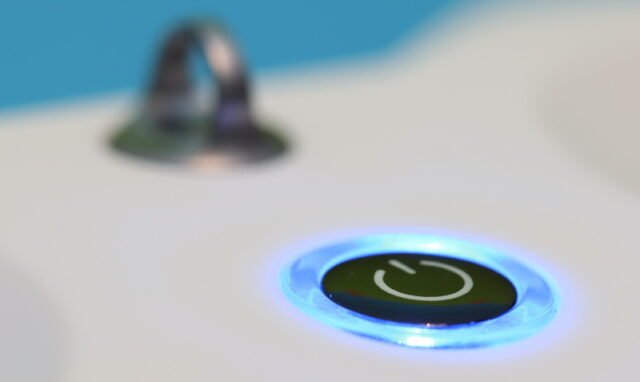 The optional storage case has a dedicated compartment for the Nano TX module and a meshed internal pocket for charging cable, user manual, and other small accessories.
Price, availability, and options
As I mentioned at the beginning of my review, the LR3 is offered with two inbuilt protocol options (ExpressLRS 2.4G and FrSky). Both versions are available for $59.99 at betafpv.com. You can opt for mode 1 (throttle on the right) or mode 2 (throttle on the left) stick layout.
Optional accessories:
Neck-straps (Printed white or Reflective black) – $4.99/$5.99;
Storage case – $19.99;
ELRS Nano TX module – $39.99;
Replacement nano gimbal – $5.99 (each).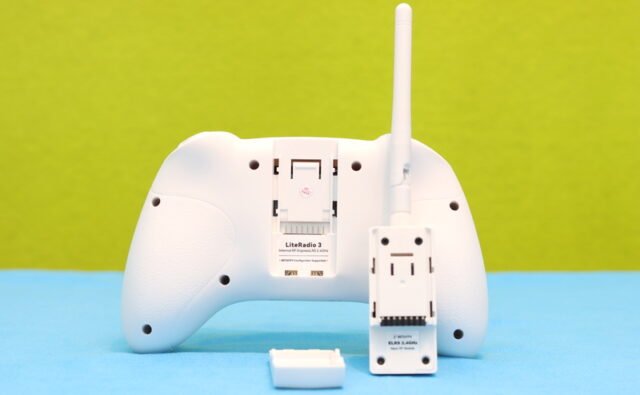 Status LED ring color coding
According to the internal radio receiver-type, the following statuses are possible:
Internal

Frsky D16 FCC (ACCST 1.X Version)

Internal

Frsky D16 LBT (ACCST 1.X Version)

Purple Flash Three Times Quickly

Internal TX Module Off and Run External TX Module
I

nternal

ELRS

Purple Flash Three Times Quickly

Internal TX Module Off and Run External TX Module
BetaFPV LiteRadio 3 settings
BetaFPV configurator has two working modes. In native mode, you can configure drones that come with proprietary BetaFPV firmware. By switching to radio mode, it allows you to set up your LiteRadio radio conveniently.
From the main interface, you can toggle between mode 1 (Japan – throttle on the right) and mode 2 (US – throttle on the left). Interchange of the gimbals is also required!
Turning ON/OFF internal RF module, respectively setting-up external RF module can be made also from the APP. For the ExpressLRS version, you can change the power and packet rates. By default, no ELRS passphrase is set and you can bind by pressing the button on the back of the radio.
While the ELRS version's power can be toggled between 25, 50, and 100mW, the FrSky edition is fixed at 100mW. FrSky edition can be configured with the following protocols: D8, D16 FCC (US), D16 LBT (EU), and Futaba S-FHSS.
My Windows 10 instantly recognized the LiteRadio 3 as a USB HID joystick, no driver required. I did a short test with the FPV Freerider simulator, the controller worked well. It is just perfect for training during rainy days.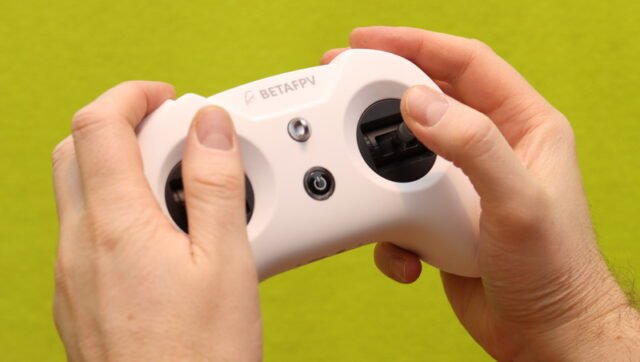 Price/value ratio

Design and build quality

Ergonomy

Features

Compatibility
Summary
The BETAFPV LiteRadio 3 is an excellent entry-level radio transmitter. It has FrSky and ELRS versions, as well as an external port for other radio protocols. The small form factor makes for great portability and the high-capacity battery for long-lasting operation.
Pros
Excellent entry-level radio transmitter;
Lanyard hook;
Built-in ELRS or FrSky TX + External Nano TX module;
HID joystick mode for computer drone simulators;
Excellent battery life.
Cons
No status display;
Built-in ELRS is limited to 100mW.