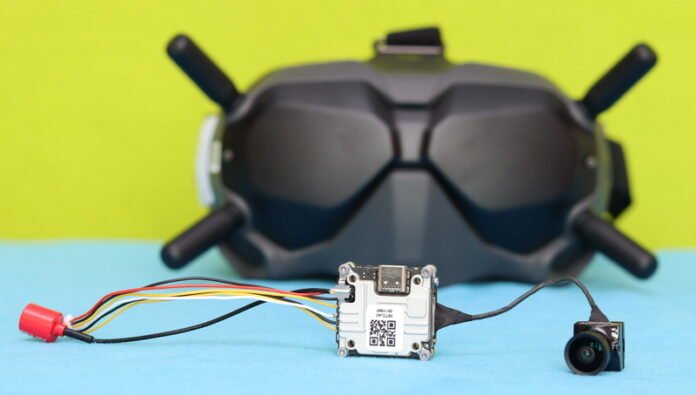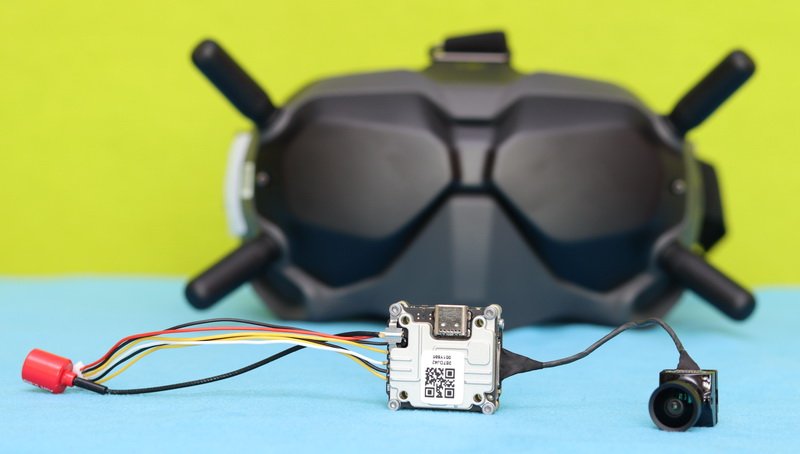 The CaddxFPV Vista Nebula Nano is the most affordable and probably the lightest HD digital transmission system compatible with the DJI FPV goggles. With a total weight of just 24 grams, it can be installed on compact FPV drones. You can also find it in pre-build systems such as the BetaFPV Pavo30 CineWhoop.
Caddx is the only company licensed by DJI to manufacture digital FPV transmitters and compatible cameras using their technology. Caddx has 2 types of HD VTXs (Air Unit Micro and Vista) and 4 versions of the Nebula camera (V1, V2, Pro, and Micro).
The biggest concern of FPV systems is latency. Caddx promises 32ms end-to-end latency with the Vista VTX and Nebula Nano camera. This combo has only one working mode. By comparison, the Nebula Pro has two working modes, a High-Quality one with 30-40ms and a Low-Latency with 21-28ms.
Caddx Vista Nebula Nano hands-on review
Disclosure: I received this Caddx digital FPV kit as part of a product review collaboration with BetaFPV. Technical specs and quality may vary according to the manufacturer's reliability, so I cannot guarantee that you will get an identical product, as seen in my article.
After I published my DJI FPV goggles V2 review, I started converting my drones from analogue to digital FPV. Iris from BFPV was kind and offered me a Vista Nebula Nano kit to install on my existing Pavo 30 drone. The process will be described in detail in the following article.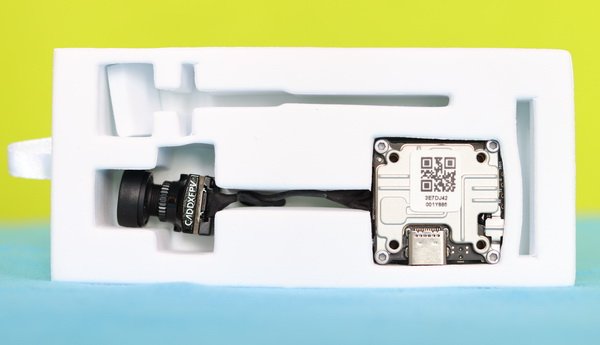 I received the 'OEM' aka 'drone builder' edition without antenna, FC cable, camera bracket and user manual. Initially, I thought that this will be a problem but, luckily, I found at home all the accessories I needed for the digital FPV conversion.
At a glance
The Caddx Vista Nebula Nano weighs 24 grams (5g camera and 19g VTX). The two units are linked together with an 8cm coaxial cable (for larger drones there is available also a 12cm cable). Vista VTX measures just 30x29x13mm and has only one antenna socket instead of two, like the DJI Air Unit or the Caddx Air Unit Micro. The antenna port is positioned right above the battery soldering pads, which is not a great idea because during a crash short-circuit can occur easily. The Caddx Vista has two main parts (camera and transition modules) connected together via an internal socket.
The Nebula Nano camera has a form factor of 14x14mm, but there is included a 19x19mm extension bracket if needed (in the full package).
I forgot that the Caddx Vista does not have an onboard recording solution and looked desperately for the micro SD slot on all sides of the device. Right under the USB Type-C port, there is a bi-colour status LED and a tiny bind button.
Caddx Vista Nebula Nano kit specifications
Vista VTX

Input Power: 7.4-26.4V (2-6S);
Operating Frquency: 5.725-5.850GHz;
Power Output: 25mW / 200mW / 500mW / 700mW
Transmitter Power: (EIRP) FCC/SRRC/MIC: <30dBm / CE: <14dBm;
Max.Transmission Distance: FCC/SRRC: 4km / CE: 0.7km;
Min.latency: (end-to-end) Low Latency Mode (720p 120fps): 21-28ms;
High Quality Mode: (720p 60fps): 30-40ms;
I/O Interface: USB Type-C, Ipex3, 3-in-1 port;
Supported Flight Controller System: F3 / F4 / F7;
Weight: 20.8g (unit only);
Dimensions: 30x29x13mm (20×20 mounting pattern).

Nebula Nano camera

Image sensor: 1/3 inch CMOS sensor;
Resolution: 720p/60fps;
FPV/Recording FOV: 150°;
Lens: 2.1mm;
FPV Latency: 32ms;
TV system: NTSC&PAL (switchable);
Weight: 4.5g;
Dimension: 14*14*21mm(can be extended into 19*19mm).
Wiring, Activation, Binding and First usage
In order to install the antenna and solder the flight controller cable, you need to take apart the Vista unit. In the picture below you can find the pinout, respectively the colour coding of the FC cable.
For the activation, you need to download and install the DJI Assistant 2 APP (available for macOS and Windows computers). Additionally to the USB connection, you need to power the Caddx Vista module from a battery (2-6S) or from a working flight controller. The APP recognized the device as 'DJI FPV Air Unit (Lite)'. After activation was completed, DJI Assistant prompted that a firmware upgrade is required. The v01.00.0600 promises 50Mbps bitrate mode, an optimized power algorithm, and solving some known bugs. During the process, the Vista VTX gets very hot and you should perform the process in spaces with good ventilation.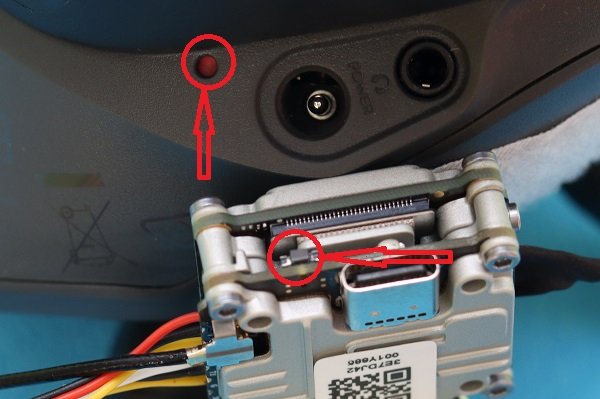 For pairing with the DJI FPV Goggles V2 you need to press both bind buttons (goggles and VTX).
For the initial tests, I used a BetaFPV F722 flight controller. While the Caddx Vista is connected to an FC and motors are not armed, broadcast power is limited to 25mW. In this low-power mode, you can't record videos with the goggles.
I have to admit that there is a huge difference between analogue and digital FPV. Looking for the first time into the DJI goggles I was impressed by the image quality. I watched some comparison videos between the Nano, Pro, and the original DJI FPV camera. The Nano is considerably worse than its competitors, but still a huge upgrade from analogue FPV. I can't wait to finish rebuilding my Pavo30 and do the final test.
Price, availability and alternatives
Since I received the Nebula Nano kit, this version has been discontinued by Caddx and they released a second version named V2. They also have a 'Pro' version of the Nebula that features a higher frame rate (720P@120fps). While the Vista Nebula Nano kit was priced at $135.00, the more capable Nebula Nano Pro kit is listed at $165. BetaFPV has three FPV drones built on this HD digital system, the Pavo30, Beta95X V3 and the X-Knight 360.
If you are looking for a digital FPV system with superior low-light performance, you should also check the newly released Caddx Polar.
Caddx Vista Nebula Nanon & Pavo30 footage
Editor's ratings
Summary
The Nebula Nano provides better image quality than any of my analogue cameras but isn't great as the Nebula Pro. Also, the Vista is smaller and lighter than the Air Unit but it has only one antenna and lacks onboard recording.
Pros
Compact and ultra-light;
Easy implementation;
Wide range of input voltage;
Out-of-the-box basic telemetry (Battery voltage and Elapsed flight time);
Natively compatible with DJI FPV transmitter and goggles.
Cons
Lack of onboard recording;
Image quality was not as good as I expected;
No Low Latency / High-Quality mode switch option.